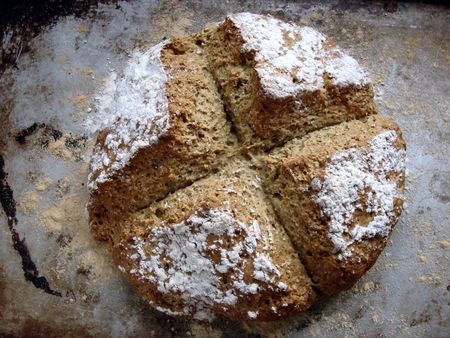 I woke up yesterday to the harsh reality of January.
Time to set the alarm.
Time to start packing school lunch again.
Time to help with homework—that is perhaps the suckiest part of it all. Isabella spent 35 minutes on it today, and only got halfway through one day's assigned workload. She knew it was coming, and had a horrible bout of anxiety at the mere thought of it. In hopes of calming her to sleep, I gave her my locket to sleep with.
Then broke out the lavendar sachet.
And when those both failed to assuade her into a restful slumber, I curled up next to her, and gently brushed her eyebrows as my mother used to do to me. This was in an Ikea mini-loft bed I might add. Yes, it was quite a sight.
How insane is the education system when it becomes easier to make a simple loaf of bread than decode a math word problem?
Yes, that oat soda bread you're looking at is easier to make than trying your hand at second-grade math. And it's ready from start to finish in less time than it takes a seconder grade and her mom to finish a day's homework.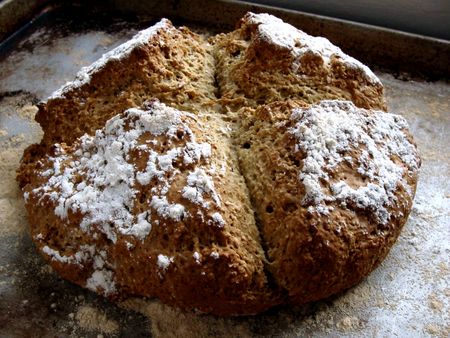 I have Heidi to thank for the inspiration to make this bread. After a busy few months, I took the opportunity to curl up with a proof of her next book Super Natural Every Day. It comes out in April, and this is one book you want to pre-order. The day it arrives, you'll also want to set aside a block of time because I found it impossible to put down. By day two, I'd devoured it from cover to cover.
I want to make mostly everything, but her Rye Soda Bread piqued my interest immediately. Homemade bread that doesn't require any rising time and is ready in less than an hour is too tempting to resist.
I didn't have rye flour on hand, but I did have old fashioned oats. I figured a could easily make my own flour. You can make it too. See for yourself at my new site Simple Scratch Cooking.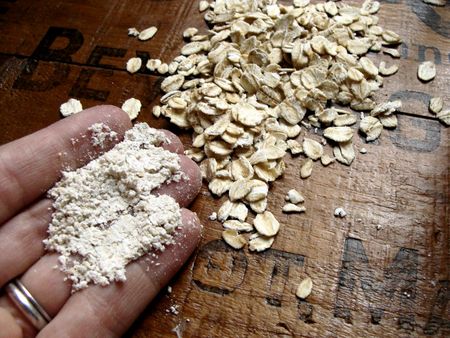 Since I was improvising, I decided to add a smidge of sugar because I think every bread really benefits from a tiny bit to balance out the flavor. I might even try honey or maple syrup the next time around. I recently came across a bag of fleur de sel my friend brought back from France this past summer, so that seemed a nice choice too.
This hearty, rugged loaf is the answer to fresh baked bread for even the busiest among us. I have many plans for this recipe. Sweet versions. Savory ones. In fact, as many as my imagination brings forth. But first, there's homework to be done.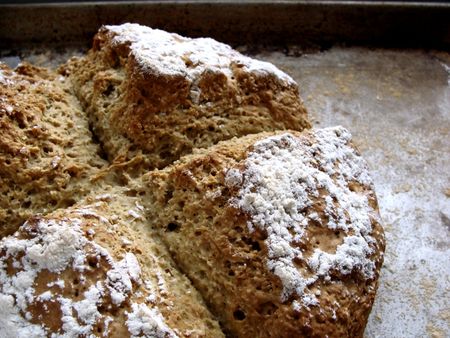 Oat Soda Bread
makes one generous-sized loaf
Inspired by Heidi Swanson's Rye Soda Bread in her forthcoming book Super Natural Every Day (April 2011).
Michael Ruhlman has christened the New Year with a new mission—a loaf of homemade bread in every hearth. You have to do the bidding though, since it'd be quite a resolution for him to bake enough for us all. Check out his post and spread the word. After you bake this recipe, you'll find it hard to stop baking fresh bread of any kind.
p.s. This bread was wonderful two days later, toasted with a slather of butter and fleur de sel. I even served it the day it was made alongside a red sauce. So, don't relegate it to the breakfast basket alone.

7 ounces oat flour (learn how to make it from scratch)
10 ounces all purpose flour, plus more for dusting and sprinkling
1 teaspoon (4 grams) granulated sugar
1 3/4 teaspoons (12 grams) baking soda
1 1/4 teaspoons (6 grams) fleur de sel
2 cups (450 ml) plus 2 tablespoons buttermilk
Arrange rack in center of oven. Preheat to 400ºF.
Add flours, sugar, baking soda and salt to a deep bowl. Whisk together to mix well. Pour in 2 cups of buttermilk and stir using a wooden spoon until just combined.
Lightly flour a clean countertop or large cutting board. Dump dough onto surface and knead briefly, 30 to 60 seconds until it forms a relatively smooth ball. Place on a lightly floured rimmed baking sheet. Slightly flatten ball of dough.
Brush sides and top with remaining buttermilk. Sprinkle top with a generous amount of flour, 2 to 3 tablespoons. Using a very sharp knife, slash a deep "X" on the top of the loaf, making sure not to cut all the way through.
Bake for 25 minutes, then move tray to upper middle rack of oven and bake for 15 more minutes until it becomes a deep golden color and temperature registers 185ºF. It should sound hollow when tapped with your knuckle. Transfer to a wire rack, and let cool for at least an hour before slicing.