gingerbread crispy treats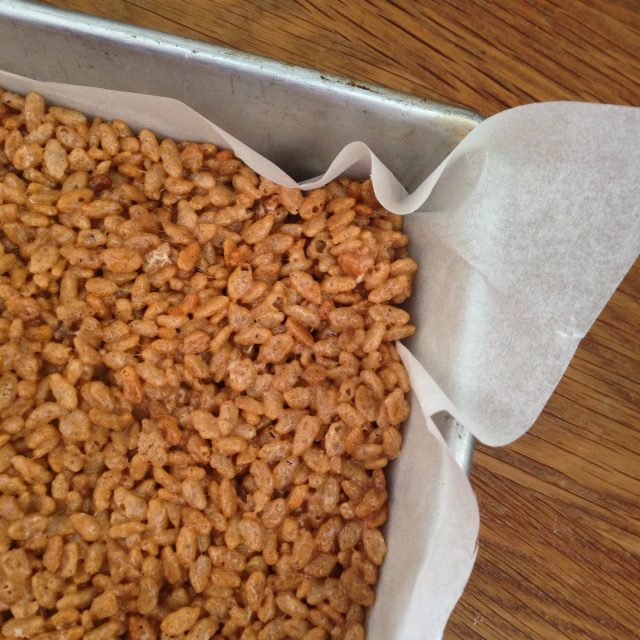 Last week when I told Isabella I wondered what gingerbread rice crispy treats would taste like, she rolled her eyes and said "oh here we go…gingerbread this, and gingerbread that". It was a page right out of the Michael Perillo playbook. He would've teased me incessantly about the tear I've been on the last two weeks. I just.can't.stop.
I won't stop.
But, I think we covered that with my last post, you know the one where I made a NO-BAKE GINGERBREAD CREAM PIE. Sorry, but that one got me really excited—I had to get that out, and only all caps would do. Can you tell I'm feeling punchy tonight? I'm just feeling a groove I haven't felt in quite some time, and truth be told—it's nice to be my own muse, of sorts. I've nothing more witty to say about this recipe, just that it's so easy, and the perfect thing to make when you're short on time (and who isn't this week?). Provided you have the ingredients on hand, these treats are ready to eat in about 45 minutes, from start to finish. You can make a tray, wrap it in a cloth, and bring it as a hostess gift (the gingerbread twist ups the ante, making them worthy in my opinion). Last minute class party? It's great for those, too.
I suppose you can add a fancier finish to them. A drizzle of chocolate? Maybe a swirl of melted butterscotch chips? I prefer to keep the presentation simple, and watch the wow when people bite into them. I went with a gluten free cereal, to make them more inclusive. Next batch I'll try some dairy-free alternatives for the butter to really make them a fun treat that everyone can truly enjoy. I'm off to finish baking some sugar cookies. I've got a date this week with 24 kindergarten and first graders to decorate cookies to sell out our school fundraiser this Friday.
See you in a bit, and if I can keep up with the crazy schedule this week, I might have ONE MORE gingerbready recipe to share!
Gingerbread Crispy Treats
makes 24
Music Pairing: Must Be Santa by Bob Dylan
4 tablespoons (56 grams) butter
1 teaspoon (2 grams) ground ginger
1/2 teaspoon (1 grams) ground cinnamon
1/2 teaspoon (1 grams) ground cloves
10 ounces (280 grams) marshmallows (mini or regular)
Pinch of fleur de sel
6 cups (180 grams) crispy brown rice
Line a 9-inch (22-cm) by 13-inch (33-cm) pan with a sheet of parchment paper long enough to hang over the sides.
Add the butter, ginger, cinnamon, and cloves to a 4-quart deep pot. Cook over medium heat until completely melted. Reduce the heat to medium-low, and add the marshmallows. Stir until the marshmallows are completely melted (it'll look like warm fluff). Stir in the salt. Add the crisped rice, and stir quickly, until well coated. Scrape the mixture into the prepared pan. Use a rubber spatula to press it out to the edges of the pan, and into an even layer. Let cool for about 30 minutes, until it's set. Using the ends of the parchment paper as handles, lift the treats from the pan. Cut into 24 squares. Store in a tin, in a cool dry place for up to three days.