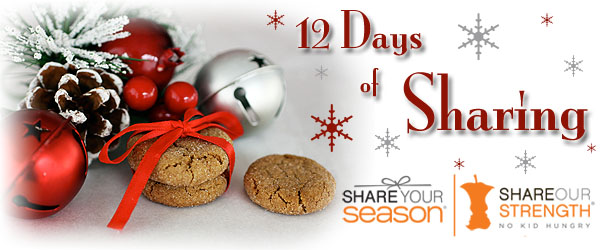 I have to apologize for being MIA in my posting yesterday. It was a crazy day with IRP's winter recital, class holiday party, deadlines and then we ended it with a mommy-daughter night on the town to see The Nutcracker at Lincoln Center. I hope you stopped by and took a peek in the virtual cookie jar. Gaby, of What's Gaby Cooking, brought some very tempting peppermint bark smookies for the occasion. The cookie jar is now brimming with over 60 recipes from some amazing food bloggers. As for yesterday, I needed to make my dear, sweet daughter the priority. In some ways  the memories and traditions I'm trying to create for her are a way of easing the troubled ones I have from my own childhood. 
Remember the 17 million children that go hungry every day? The face of hunger comes in all different colors and economic backgrounds. After my dad suffered a work injury when I was younger, we went through some pretty tough times. I remember quite often visiting my aunt for dinner and leaving her house with a bag or two of groceries. Thankfully we never went hungry, and were lucky to have family that could help us out. But what if they hadn't been there to help out? Hunger knows no boundaries, and it doesn't discriminate. Falling on hard times, especially during this economic crisis, can happen to anyone.
Traca from Seattle Tall Poppy knows this well too. Do you believe in fate? I do, and there's most certainly a reason Traca and I were brought together. Read her story and you'll see what I'm talking about (and don't miss her recipe for chocolate crinkles at the end). It's so easy to help if you think about it. So, on this last day of the 12 Days of Sharing, take a minute to donate and help make sure no child goes hungry.
$25 can feed a child three healthy meals a day for one month
$50 can feed two children nutritious meals for the entire summer when school is out
$100 provides 25 bags of healthy foods to a family at a local food bank
$500 provides a child with healthy afterschool meals for an entire year
And in case you need a few more incentives, your donations are tax-deductible, and there's only 13 days left in 2009. Another bonus? Each donation is an automatic entry to win some great prizes, including a Cuisinart Stand Mixer, a Wusthof Knife Set and a Scharffen Berger Chocolate Gift Basket.