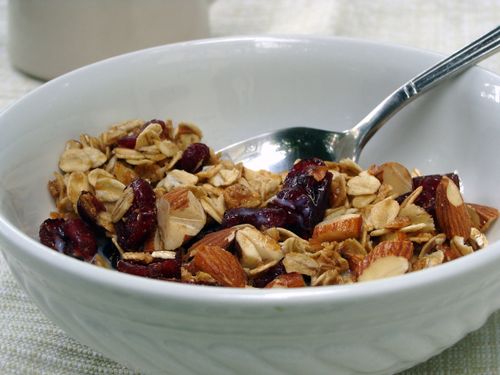 I'm a simple girl, so store bought granola—even the high-end bakery stuff, never quite measures up. Check the coconut and wacky flavors at the kitchen door, and leave the clusters there too. Oats, nuts, dried cranberries or raisins with just a touch of sweetness is what I want. The baby loves oatmeal, so I usually always have old fashioned oats in the pantry. Skip the prepackaged ones and go to the bulk foods section of your market. At my local health food store, organic ones only cost $1.39 a pound (they used to be 99 cents until food prices skyrocketed). Dried cranberries and almonds are usually sold in bulk too. Keep those staples along with brown sugar, maple syrup, vanilla bean and cinnamon on hand and you'll be able to make homemade granola in the same time it takes to get dressed and go shopping for the packaged stuff.
You may want to consider making this in a double batch too, so you can keep the fun flowing with homemade granola bars. A lot of bar recipes call for honey and or corn syrup to bind the mixture while some even require eggs. Agave nectar and brown rice syrup were my winning combination. And when you're feeling sinful, sprinkle some crushed bar bits into vanilla ice cream (try using this one and just swap out the cookie dough with one cup of crumbled granola bar pieces). Another sweet treat: keep reading to the end of this post for a cool free giveaway.


MY GRANOLA
Makes about seven cups plus a few husband-size handfuls.
Formerly named Jennie's Granola, the Mr. renamed this recipe, so please get your karaoke mic ready. Chopping nuts is quick and easy using a food processor—my Cuisinart mini-prep is perfect for small jobs like the 1 1/2 cups of almonds in this recipe.
2 Tablespoons butter
3 cups old fashioned oats
1 1/2 cups almonds, chopped
1/4 teaspoon salt
1 teaspoon cinnamon
1 vanilla bean — split lengthwise, beans scraped and seeds reserved
1/3 cup brown sugar (light or dark is fine)
1/4 cup maple syrup
1 1/2 cups dried, sweetened cranberries
1. Preheat oven to 300ºF. In a deep skillet, melt butter over medium heat. Add oats and saute until fragrant, about 1 to 2 minutes. Add almonds, salt, cinnamon and vanilla bean seeds. Stir well. Sprinkle brown sugar over mixture and pour in syrup. Stir well, making sure mixture is coated. Transfer to a rimmed baking sheet.
2. Bake for 30 minutes, until granola is golden and fragrant, stirring halfway through. Let cool completely. May be stored in an air-tight container for up to one week—but it never last that long in my house.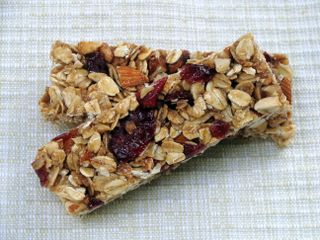 JENNIE'S GRANOLA BARS
Makes twelve 1 ½" x 3 ½" one ounce bars
If using store bought granola, be sure to read the ingredient label. Just because it says granola doesn't mean it's healthy. The first few ingredients should be oats, nuts and dried fruits if they are included. Avoid any that have high fructose corn syrup or partially hydrogenated oils.
1/4 cup brown rice syrup
1 Tablespoon agave nectar
1 teaspoon canola oil
2 Tablespoons packed brown sugar
2 ½ cups granola (one that includes nuts and dried fruits)
1. Preheat oven to 350º.  Combine the brown rice syrup, agave nectar, canola oil and sugar in a small, heavy bottom pot. Bring to a boil then reduce to a simmer for two minutes, or until the sugar is completely dissolved.
2. Add granola to a large heat-proof bowl. Pour syrup mixture over granola, stirring well with a non-stick rubber spatula. Using same spatula, spread mixture into a greased 8"x8" glass baking dish. Bake for 10 minutes, or until slightly golden. Remove from oven and let cool at least 30 minutes. Cut into 12 bars and transfer to a metal rack to cool completely. Store in an airtight container.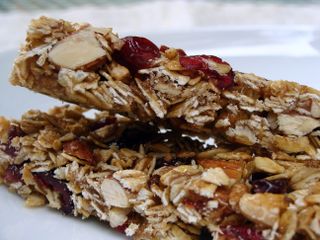 RELATED LINKS
Make Your Own Yogurt (Eggs on Sunday)
GIVEAWAY ALERT
It's no secret that I develop recipes for Cuisinart. Today I get to pass a great benefit along to all of you. Cuisinart is giving away a 4-cup Mini-Prep Food Processor to one lucky reader at In Jennie's Kitchen. So what do you have to do? Just leave a comment answering this question: how many attachments are available for the Cuisinart Stand Mixer? (hint: you can find the answer here).
FINE PRINT: Please only one comment per person. Duplicates will be deleted for fairness. Prize can only be shipped to an address within the 48 contiguous United States. Contest ends at 11:59 pm on Thursday, and the winner will be chosen using random.org.
***Updated 6/19/09 – Congratulations to Ginavon on winning the Cuisinart 4-cup mini-prep! Thanks to everyone for participating.***