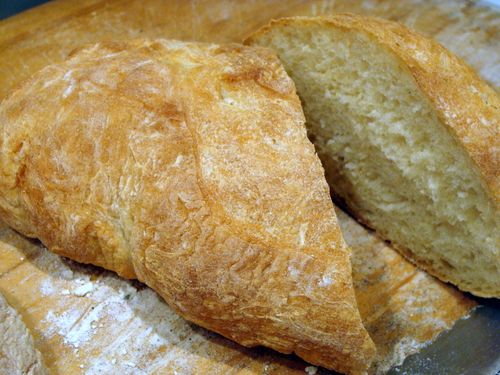 I don't feel old enough to remember when a loaf of bread cost 75 cents at the Italian bakery, yet I do. As the years have passed, I've watched the change increasingly shrink from the one dollar, now two dollar bills I hand over when paying. A simple loaf made of flour, water, salt and yeast now costs $1.95 cents.
I've been flipping through an advance proof of Peter Reinhart's new book, Artisan Breads Every Day, due out this November, so that may explain the sudden urge to make my own. Saving money and enjoying fresh-baked bread from my own kitchen seemed like a win-win situation. Reinhart's method in Artisan Breads casts aside traditional kneading for a stretch and fold technique. The dough also does a slow rise in the refrigerator overnight to develop its flavor. I loved the idea of it but wanted to eat my bread the same day, so I wondered what would happen if I worked with his ratios and applied some traditional techniques.
I started with the recipe for "lean bread". The first thing I did was halve it I since I just needed bread for one meal. After mixing the ingredients, all seemed on track—the dough was indeed wet and sticky as Reinhart notes. Rather than stretch and fold it with oiled hands, I gave it a brief knead on a lightly floured countertop, just a minute or two to form a smooth ball. I could tell there was something special about this dough by the light and airy feel of it.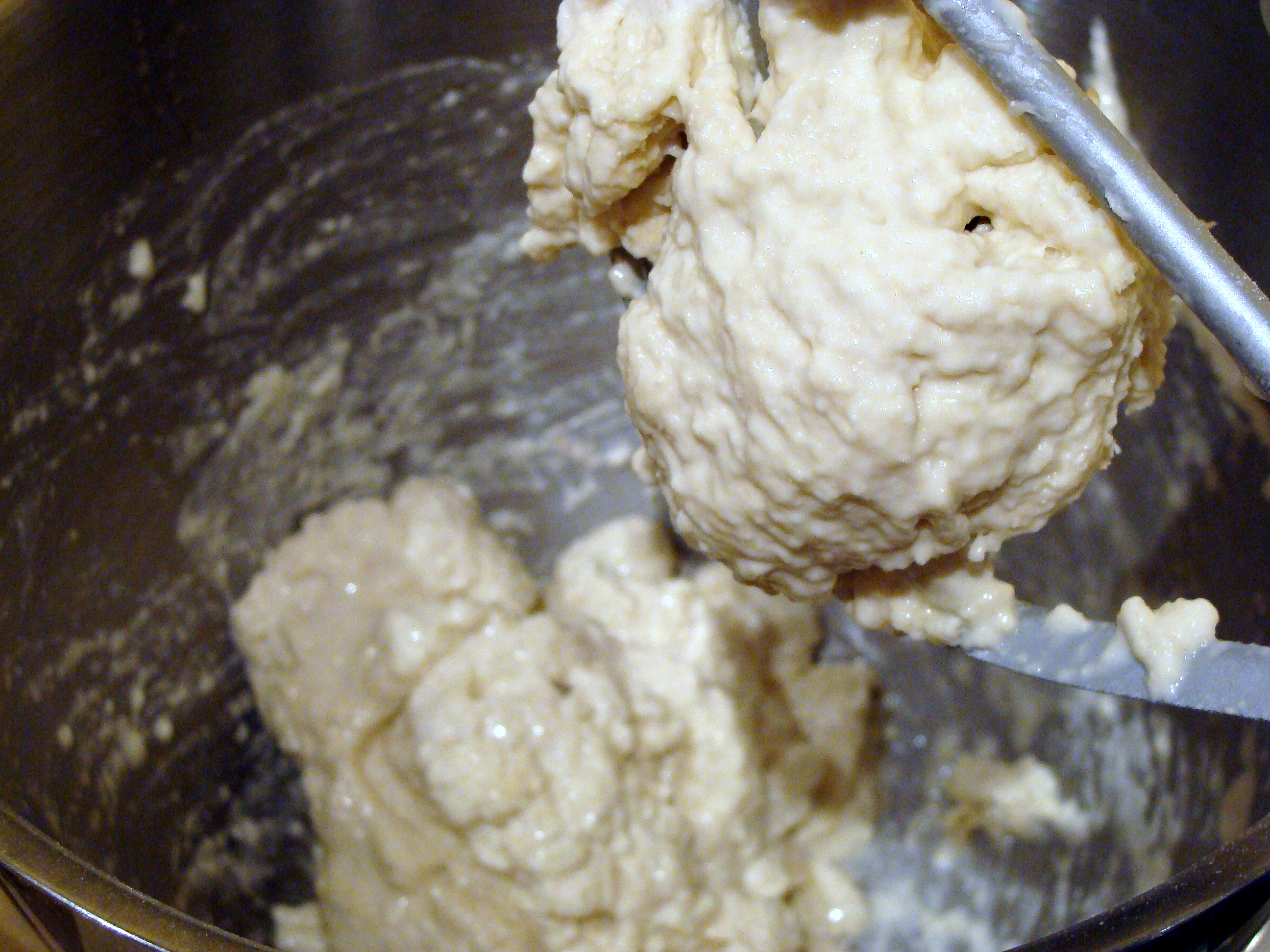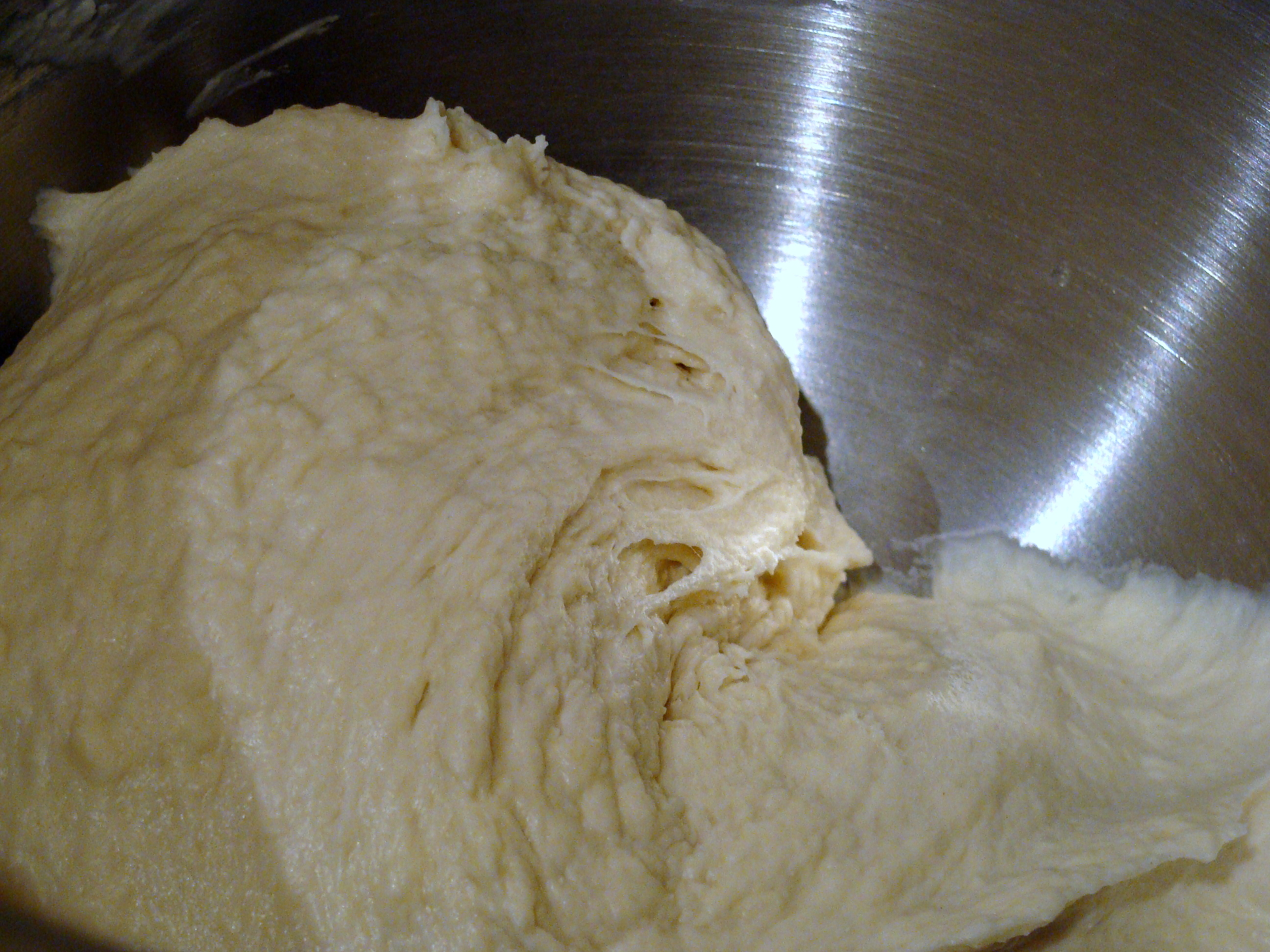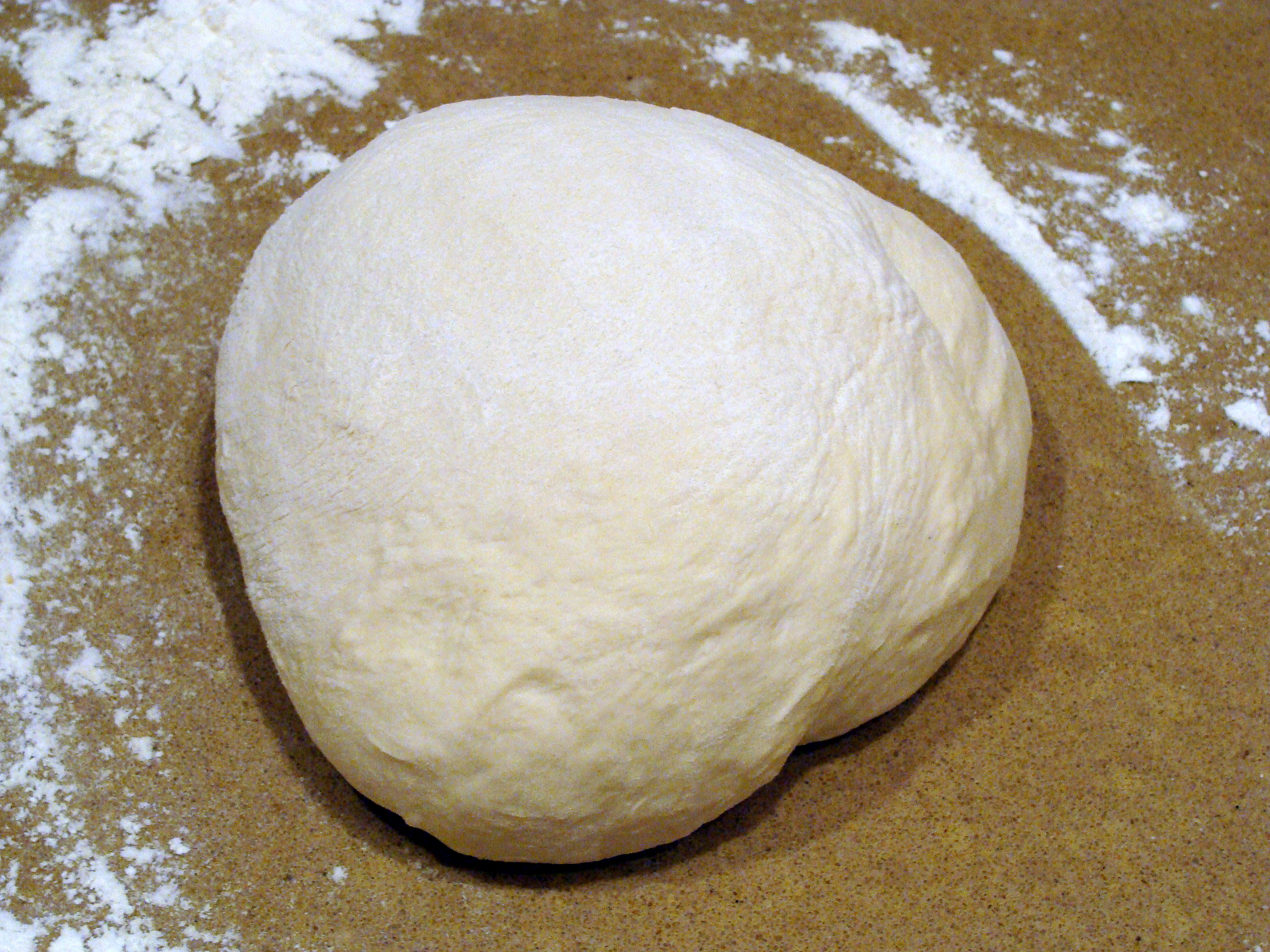 I swapped the overnight fridge fermentation, and let it rise in the oven, turned off, with the oven light on—this creates the perfect proof box. Just under two hours later the dough had doubled in volume. A brief second knead, again on a lightly floured countertop, it went back into the oven for another rise, this one much quicker at about 45 minutes.
After the second rise, the dough, still tender and light, easily shaped into an oval loaf. I cut a few slits on the top using a very sharp knife and let it sit on the stovetop covered with a damp towel while the oven was heating. I stuck with Reinhart's cooking method, and a pizza stone + very hot oven was a very delicious combination. Slathered with some butter and freshmade strawberry jam, it was a nice touch to our Father's Day brunch table. 
Tune in tomorrow for a delicious giveaway courtesy of Gina von Esmarch, resident chef over at Bowl Licker. Gina's become a dear Twitter pal and virtual kitchen buddy. She's sharing a copy of her new book Taste This! with one lucky reader tomorrow.



Everyday Bread
Makes 2 small or 1 large loaf
Inspired by Peter Reinhart's Artisan Breads Every Day (Ten Speed Press, November 2009)
Homemade bread is easier than you think with this recipe. Most of the work is done after you walk away, while the dough rises. Turning the oven light on creates the perfect proofing box—just make sure the oven itself is off.

2 2/3 cup all purpose flour
1 teaspoon salt
1 teaspoon quick acting yeast
1 cup plus 2 tablespoons lukewarm water
plus additional flour for kneading & dusting surface
Cooking spray or oil
1. Add all ingredients to the bowl of your Cuisinart Stand Mixer. Using paddle attachment, mix until combined, starting off on low speed, then gradually increasing to speed 6 (medium speed).
2. Remove paddle attachment and fasten on dough hook. Beat on speed 8 (medium-high) for 2 minutes (don't forget you can set the timer). Turn dough out onto a lightly floured surface and knead until it forms a smooth ball, about a minute or two. If using a bowl with a lid, coat the part that will cover the bowl with cooking spray or oil so the dough doesn't stick to the lid. Alternately, tear a piece of plastic wrap long enough to cover bowl. Coat one side of the plastic wrap with cooking spray or oil. Place dough in a medium bowl, cover and let rise until doubled in volume (see recipe headnote).
3. Position rack in center of oven. Place pizza stone on rack and heat oven to 550ºF. Meanwhile, turn dough onto lightly floured surface, and gently shape into a long oval loaf. Using a sharp knife, cut a few slashes diagonally on top. Let loaf stand, covered with a damp towel on a pizza peel or parchment lined baking sheet, on top of stove while oven is heating. Once oven temperature is ready, slide bread directly onto stone and reduce oven temperature to 450ºF. Bake for 15 minutes, or until an instant read thermometer registers 200ºF. Turn off oven and let bread sit on stone for 5 more minutes for an extra-crisp crust. Remove bread and transfer to a cooling rack. Serve warm or store tightly wrapped, once completely cooled, for up to one day.
Note: This recipe was created for Cuisinart's Stand Mixer blog but you can make it with any mixer that has dough hook attchment, or even mix it by hand using a wooden spoon.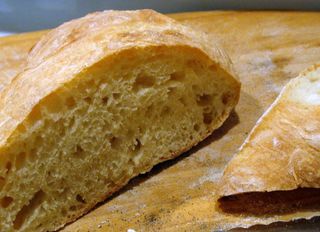 RELATED LINKS
Daring Baker's Challenge: Pizza (Zoe Bakes)
Panzanella (Bread and Tomato Salad – David Lebovitz)
Garlic Scape Pesto (addictive delicious with a warm loaf of bread – Dorie Greenspan)