There's nothing like a nut-studded, fudgy brownie to cure a chocolate hankering. Problem is many recipes lure me in with promises of chewy, chocolate squares of goodness only to leave me crestfallen from the first bite. Thankfully, I've created the perfect brownie recipe to satisfy my craving whenever the mood strikes.
The first hurdle to overcome is the notion of a one bowl batter. Like all good things, this one comes at a price—a few extra dishes to wash. One for melting the chocolate and butter, another for combining the dry ingredients, and the last for the most important part—whisking the eggs and sugar. This last bowl is where all the other ingredients will eventually land to create the batter for the best brownies…ever. Yes, I'm that serious about this recipe.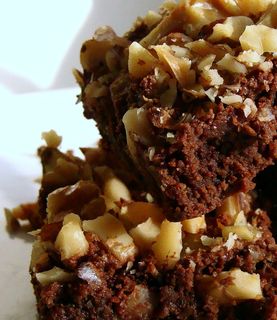 I'll let you in on a little perk of my day job. Scharffen Berger stocks my test kitchen. Yep, that means I've got premium quality chocolate at my fingertips, and let me say it gets my waistline into a lot of trouble, like when testing out brownie recipes. I tried this recipe with both bittersweet and semi-sweet chips, so rest assured you can use whichever one you like best. I also added a bit of instant espresso granules to enhance the chocolatey richness without imparting a coffee flavor (mocha and caramel brownies are in the works, but that's another post and potentially pant-size).
The last tip is actually from a Cook's Illustrated brownie recipe. They claimed it to be the best but it didn't impress me enough to make again. What was quite genius, if not also common baker's  sense, is to add the nuts as a topping, rather than in the batter itself. This way you get a layer of toasty walnuts instead of steamed bits weighing down the already rich, moist end product. If you love your brownies free of nuts, then just skip them all together—and prepare for an insanely intense experience. Sure, these brownies temporarily derailed my Ten in 10 goals, but the caramelized onion dip I'll be posting in time for Super Bowl Sunday more than makes up for succumbing to the temptation. 
Walnut Fudge Brownies
6 ounces semi or bittersweet chocolate chips
1/2 cup flour
1/4 cup cocoa powder
1 teaspoon instant espresso granules
1/2 teaspoon sea salt
8 tablespoons butter, cut into pieces
1 teaspoon vanilla extract
2 large eggs
3/4 cup sugar
1 cup walnuts, chopped (optional)
Preheat oven to 350ºF. Grease an 8-inch square glass baking pan; set aside. Measure out 1/4 cup of the chocolate chips and set aside. In a small bowl, whisk together the flour, cocoa, espresso powder and salt; set aside.
Add remaining chocolate chips to a medium bowl with the butter. Cook on high power in the microwave for 60 to 90 seconds (depending on microwave watts*) until chocolate and butter are melted. Add the vanilla extract to the bowl and stir to combine; set aside.
Add the eggs and sugar into a clean, large bowl. Whisk until thick and pale yellow. Whisk in the melted chocolate mixture. Using a rubber spatula, fold in the flour mixture and remaining chocolate chips. Pour batter into prepared pan. Evenly sprinkle chopped nuts over top, if using, and press very gently into the batter. Bake for 40 minutes until center is set and edges gently pull away from the sides of the pan. Let cool completely before cutting.
*My microwave is 1000 watts.