2-Ingredient Chocolate Mousse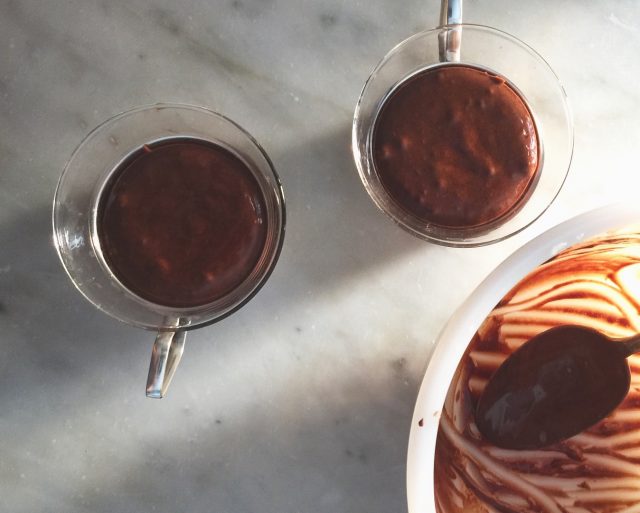 Last week I became obsessed with making chocolate mousse, but an easy recipe, hence this one for 2-Ingredient Chocolate Mousse. I'm a firm believer that life's too short to skip dessert, so that's what kicked off what became a pattern of making chocolate mousse three days in a row.
In case it wasn't obvious, there's no dieting or detoxing happening around here, as is popular during the month of January. The original inspiration came from a woman I follow on Instagram. It sounds kind of creepy when I put it that way, right? How did we evolve into a culture where it's acceptable to stalk people from a distance? 
Okay, I'm not a stalker—how did I get myself into this mess? Words matter, people. I suppose I can edit this whole bit out, and you'll be none the wiser. Except, I've been thinking a lot about how we use our words to convey our connection to food. They have the power to unite or alienate. More on why this on my mind later, maybe…
So, about the recipe. Back in December, Anja shared the ratios for her mousse, and it stuck in the back of mind, ready to be plucked out on a snowy January morning last week. Her recipe is 50 grams chocolate + 1 large egg (double, triple, etc. this ratio as you like).
In that post, Luisa asked how to prevent chocolate from seizing when adding the yolks. I reverse engineered the method, so to speak. The issue here is ensuring the melted chocolate and egg yolks are the same temperature, which can be tricky. Rather than adding the egg yolks to the melted chocolate, I dribbled the chocolate into the beaten egg yolks a bit at time, while whisking them. The mixture blended together beautifully, and I then folded in the whipped egg whites.
There's more I'd love to chat about regarding this recipe. Like how I've been playing around with my own ratios since first making it, and even adding sugar plus tipping some vanilla extract into the egg whites before whipping them (I think mint extract would be nice, too).
I'm short on time today, though, and need to turn my attention back to this copywriting project I've been working on the last few months. It's so far removed from the work I love to do, but I'm ever so thankful in this increasingly difficult freelance market for honest work that sustains the roof over our heads. Hope you're all doing well, and thank you for all the kind, thoughtful words of encouragement on my last post.
p.s. one quick question before I go. As you might know from following me on Instagram, I began using a homemade starter a few months back. I've been working on converting some of my old dough recipes to use the starter, and creating new ones. Is this something any of you would be interesting in reading more about? xo
This recipe is now part of my new site, Simmering. It can be found here.
Nine Years Ago: Seriously Delicious Ribs (made in the oven!), Buttermilk pancakes, Brownies Made Better.
Eight Years Ago: Parmesan skillet croutons, Homemade manicotti, Caramelized onion dip, How to poach an egg, Vegetarian French onion soup.
Seven Years Ago: Maple syrup poached peaches, Homemade Yogurt, Oat soda bread, Kale ravioli & white bean soup.
Six Years Ago: Clementine rosemary marmalade, Slow-roasted tomato soup, Whole wheat chocolate chip cookies.
Five Years Ago: 5-Minute pizza dough, Oatcakes.
Four Years Ago: A hearty winter soup, Magic custard cake.
Three Years Ago: Hard to fathom, but I didn't write any posts here in January 2015!
Two Years Ago: Galette des rois, Clementine, honey & olive oil cake, Light rough puff pastry, Pasta & potato soup.
One Year Ago: Citrus, ginger & turmeric tonic, Homemade garlic knots.
SaveSave