Citrus, Ginger & Turmeric Tonic
After watching yesterday's pathetic attempt at a press conference, I'm thinking this should be a gin & tonic. Since that won't help any of us stay healthy during cold and flu season, a Citrus, Ginger & Turmeric Tonic will have to suffice. Of course, the best salve for the next four years might be a group cryogenic freezing session for the 65 million + of us who voted for sanity, equality, and humanity.
But there's no rest for the weary or bereaved. In eight days the reality, one that has been unfolding painfully with each suggested appointment and late night votes to strip Americans of affordable healthcare, takes hold. As our current President, a man of prestige and honor, said in his farewell address, it's up to us now.
Writing so candidly here is not an easy task. No matter how thick a skin I grow, the rude emails and comments take their toll. That's why I took a much needed break from here, and social media while I was on vacation in Europe. I'll be honest, there were some moments when I thought of just leaving this all behind. Stepping back gave me time to really think about the world in a larger perspective. I've been pondering what really matters with regards to how I spend my time while trying to balance work and motherhood.
I've no definitive answers on what will happen with this space. I'm not one for grandiose declarations. What works today, might not be what I need the day after, or the day after that one. I do like keeping this a space where people can come, and share in their solidarity of hope, even when so much of what we see happening leaves us feeling hopeless.
And I love sharing recipes that inspire me, and in turn hopefully inspire you. So, for now, I'm going to keep this pot simmering here. I won't censor myself, but I also won't force myself to feel like I have to be here, just as if you don't like what I write, you don't have to be here.
As for this Citrus, Ginger & Turmeric Tonic, freshly squeezed clementine and lemon juice ensure it's filled with Vitamin C. The ginger and turmeric have natural healing qualities to help with inflammation (muscle pains and soreness), upset stomachs, nausea, and immunity. My turmeric tea is what inspired me to make an elixir I might be able to get the kids to drink. I love it straight up, but suppose you could water it down if you wanted. One quarter cup a day is how we've been drinking it the last few days. You can have more if you like, I suppose. As with any homeopathic remedy I share, remember I'm not a doctor, so feel free to research the healing properties of each ingredient on your own.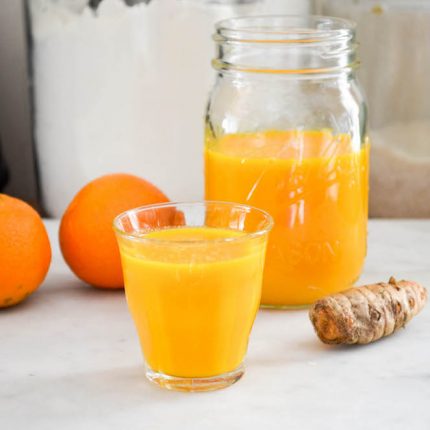 Citrus, Ginger & Turmeric Tonic
If you have a juicer, you can throw the ingredients in it, and there's no need to strain the pulp. Since I've got limited kitchen space, I use my blender (nothing fancy, just an old Oster) to make this soothing winter tonic, filled with Vitamin C.
Ingredients
5

clementines

peeled

1

lemon. peeled & cut into quarters

1-

inch

piece of fresh ginger

cut into pieces

1-

inch

piece of fresh turmeric

broken in half
Instructions
Add the clementines, lemon, ginger & turmeric to the bowl of a blender. Blend until smooth.

Set a fine mesh strainer over a bowl. Pour the mixture through in batches, gently pushing down the pulp with a rubber spatula to release the juices. Discard the pulp. You should have about 1 cup of juice when done. Feel free to double or triple the recipe, as desired (you may need to blend it in batches depending on the size of your blender). One serving is 1/4 cup.