kale, white bean & ravioli soup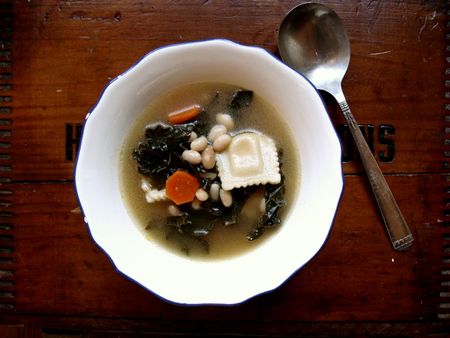 I'm a perfectionist, and while I know there's really no such thing as perfect, it's the drive that propels me forward each day. The problem is, I often feel like life is moving in slow motion, all the while my brain shuttling fast forward to the end game.
Sometimes I need to be reminded to stop and breath. I owe a big thanks to each and everyone of you for your emails, messages and comments. I'm eternally behind in email and if I didn't actually tell you how much your words of support and cheers meant, then forgive me. Honestly, every word has reinvigorated my energy and made me ready to roll up my sleeves and forge ahead.
In addition to spending last week launching Simple Scratch Cooking and clearing the mental cobwebs, I also decided to take a break from eating meat. If you've been reading for a while, you know many of my recipes are meat-free anyway. Five years ago I stopped eating commercially produced meat and made the switch to locally sourced options from farmers using ethically sound ways to raise and process their flock. It has affected the way I allocate dollars when shopping. The bottomline is animal protein is costly, as it rightfully should be. Raising animals in harmony with the earth, and treating them respectfully during their life cyle is an expensive venture when done thoughtfully.
I've tried meat from many different farmers and my trust for eggs, chicken and beef is whole-heartedly with Grazin' Angus Acres. Flying Pigs Farm offers the most flavorful and conscientious pork products I've ever tasted.
Am I going to become a vegetarian?
I really can't answer that question right now. As a matter of fact, there's a chicken thawing in the fridge, destined for tomorrow night's dinner. I'm already feeling anxious about eating it. The cooking part is no problem, but I'm not sure if I want to eat it.
This isn't an ethical issue. Something just happened on New Year's Day. I made a simple breakfast of scrambled eggs and bacon. As I sat at the table, I looked at the dish and had no urge to eat that crisp slice that normally brings me much delight. I felt no remorse for it having once been alive. I just didn't crave it. I'm pretty sure the Mr. was ready to dial 911 the moment I uttered the words.
It's an interesting crossroads.
Between cutting out meat and eating more whole grains, I felt pretty awesome last week—headcold aside. From a physical perspective I felt less bloated. One would think loading on up beans and whole grains would have the opposite effect, but not at all.
From a cooking perspective, it's like I suddenly opened my eyes and started seeing ingredients in a new way. My go-to flavor boost had always been bacon. There's a reason they say it makes everything taste better, and if you've had Flying Pigs smoked shoulder bacon, then you know what I'm talking about.
There's one kink in this new path I'm headed on—my carnivorous kid. See, I've raised a meat eater for the last 7 1/2 years. I was also in a soup mood last week. Winter aside, I love soup. I don't need cold weather to justify making a pot. Isabella on the other hand, rolls her eyes at the thought of soup.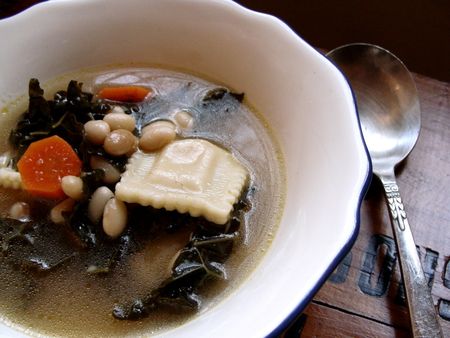 A week without meat AND a week of soups was perhaps her worst food nightmare. Not willing to cede defeat, but accepting I had to meet her halfway, I realized there was thing I could do that would act as a culinary white flag of sorts. I made sure every soup had a grain in it she liked. A crusty loaf of soda bread and butter were also plentiful, arming her with foods in her comfort zone. Since I love dipping bread into my soup, and she loves to be my mini-me, she eagerly follows suit too.
This soup I'm serving up today was my absolute favorite last week. I eagerly greeted the leftovers each day come lunchtime. The mini-ravioli were from the local Italian shop, and while I initially included them to appease Isabella, I can't imagine the soup with any other way. It had a lovely balance of comforting flavors to steadily guide me through a week full of many new beginnings.
kale, white bean & ravioli soup
serves 6
I'm getting a little ahead of myself with this post because I meant to fill you in on how to make a simple pot of white beans first. Here's the quick version: Add 1 cup of small white beans to a pot. Cover with 3 cups of water and set overnight to soak. Drain beans and discard soaking water. Add enough fresh cold water to cover the beans. Bring to a boil, then reduce heat and simmer until beans are tender, about 35 to 40 minutes, adding more water if beans absorb too much before they are fully-cooked. Season with salt, to taste, during last 10 minutes of cooking.
p.s. Whenever serving a soup with grains or pasta, I prefer to cook them separately, unless the whole pot will be consumed in one sitting. Otherwise I find the grains become mushy when stored in the soup leftovers. This is one instance where I don't mind washing one extra pot. You can store leftover pasta or grains in a covered container in the fridge and add the amount you like to each portion when reheating.

8 cups vegetable broth (I used this bouillon)
6 lacinato kale leaves, ribs removed & thinly sliced
3 carrots, sliced into 1/4-inch thick coins
1/2-inch thick rind of Parmesan cheese
2 cups cooked small white beans (or one 15-ounce can)
8 ounces frozen mini ravioli, prepared according to package directions
Freshly ground black pepper, to taste
Combine the broth, kale, carrots and Parmesan rind in a large pot. Bring to a boil, then reduce heat and let simmer 20 minutes. Add the beans and cook for 5 to 10 more minutes, at this point the carrots and kale should be tender.
Stir in the cooked ravioli and cook for 1 minute until pasta is heated through. Ladle into deep soup bowls and season with black pepper before serving.