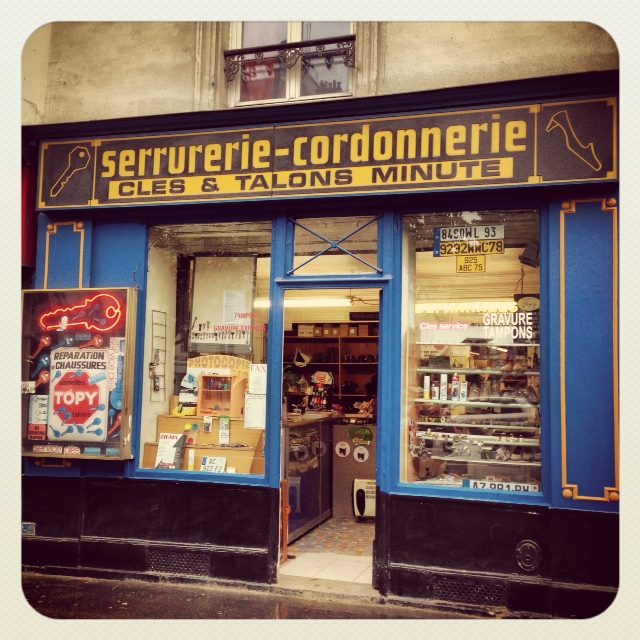 I'm not really sure where to start. See, this is my inherent problem. A million things always seem to be whirling in my mind, and I can't keep up with them, let alone prioritize which ones to focus on. A couple of things suddenly became quite clear in the last 12 hours.
The less serious, and kind of funny one, was the realization that I was actually correct is saying "c'est fin" in my last post. As I made my way up the Metro stairs in search of caramels, a conversation Isabella and I had at dinner one night popped into my head. Saying "je suis fin" is the incorrect way of saying "I'm done"—that actually means you're dead. "C'est fin" is akin to saying "that's it". It can be used interchangeably, depending on the inflection in your voice at the end of the sentence—either saying it with a period at the end, or with a questioning tone, as a waiter will often ask when he sees you've finished eating.
I know, this doesn't seem significant. I mean, who hasn't stumbled in a foreign language? For me, this was a bit of a revelation. One of those lightbulb moments, where you say "aha!" to yourself. I knew all along the correct phrase to say, and doubted myself the rest of the day, feeling foolish, as if I'd made some colossal mistake. I profess that mistakes are a part of life, both to my children, and to the crowds of people that came out to support me the last six weeks. Like many others, though, I'm good at doling out wisdom, but not always capable of applying it to my own situation.
I tucked into bed last night rather early, at least for a woman on parole from motherhood for a few days. And yes, I did just insinuate motherhood is a jail sentence. The reality is I love my daughters. I'd fight to the death for them. I'm still trying to accept my new role as a single parent, though. This wasn't what I signed up for when we had children. It's not so much the everyday race and juggling act that is hard. It's more the feeling that I never have the time I want and need for myself. It's the overwhelming mental and emotional pressure I put on myself, thinking that one fuck up and my kids are doomed for life.
It sounds crazy, I know. And while many of you have commented that I'm doing a great job, we are, and always will be, our own worst critics. That's human nature I suppose, and healthy to a degree. It's good to be able to see our own faults. What's not good is holding onto them. Process, let go, and repeat.
So, after a pretty restless sleep, waking up up every couple of hours, each time with a vivid dream clouding my mind, I finally awoke with a calm and peace (the jitters I'm feeling right now are no doubt the espresso pulsing through my veins).
Life is not a sprint. It is a marathon. I so desperately want happiness. Combine that with my fear of dying before I find it again, and it's no wonder I don't sleep well anymore. I've never been a great sleeper. I require very little to get by, and Saturday nights were where I made up for my deprivation when Mikey was alive. He used to take the Sunday morning shift, letting me sleep in. Somehow back then, my body got into a rhythm, and knew come Saturday night, my mind and body where allowed to go into deep charge mode. I don't have that anymore. Instead, it's all on me. My happiness, they're happiness, that's all on me every second, of every day, of every year—until "je suis fin".
Looking at it that way makes me realize that I need to pace myself. My path is filled with so many twists and turns. This journey is not just one dimensional. In the midst of all this, I'm trying to learn who "Jennifer" is, and what she wants, likes, dislikes, needs, etc. I met Mikey when I was 21. He was 35. Doing the math alone makes it evident that he had the time to experience life more than I did. He had the time to work on figuring out who he was at his core. I settled into a relationship very young, and it is only now that I'm beginning to understand I sacrificed my relationship with myself a little. This is not to say I regret one second of being with Mikey. I simply wouldn't be the person I am today without him. Not to mention that "who we are" changes and morphs with time. My needs at 39, are no doubt different than what they were before, and will be in the future. Our needs all evolve with time, and putting limits on them is similar to putting a noose on our dreams.
Now it's time to pull myself up by the bootstraps and get ready to walk my own path. It doesn't always seem clear, and the insecurity of the unknown is often terrifying. One thing that is undoubtedly true, is that my will to thrive, and not simply survive, is stronger than any fear I've yet to encounter.
Music Pairing: What's Up by 4 Non Blondes