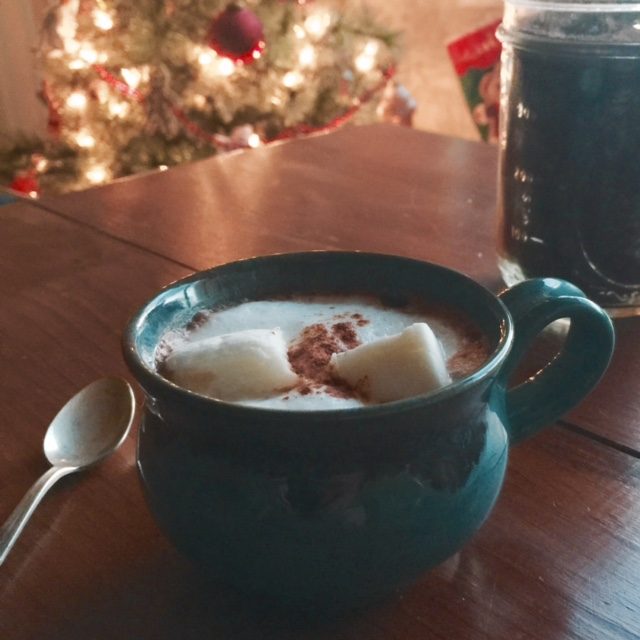 I know. Another gingerbready kind of recipe (and I'm sure that's not even a real word, so forgive me, Ilina). It's okay if you're rolling your eyes; everyone else in my house is fed up with my obsession, too. The good news is that this recipe for gingerbread hot cocoa is the last of its kind that I'll be sharing for 2015. Don't worry—I already have a few gingerbread recipes in the bank for 2016!
It's hard to believe today is December 21st. There was this quiet moment, just after Thanksgiving, where I felt like there would be time to savor this holiday season. I remember letting out a huge exhale (much as I just did while writing that sentence), and pressing the mental slow motion button. In hindsight, I'm especially thankful for that relaxing Thanksgiving weekend. Slowing down for those few days helped shore up energies for what has been a very busy December. We've clocked more than 1,500 miles this month to visit friends in Woodstock, Brooklyn, and North Carolina. And this weekend, we shall make one last visit to our house in upstate NY to unwind for a few days before welcoming a new year, and new possibilities.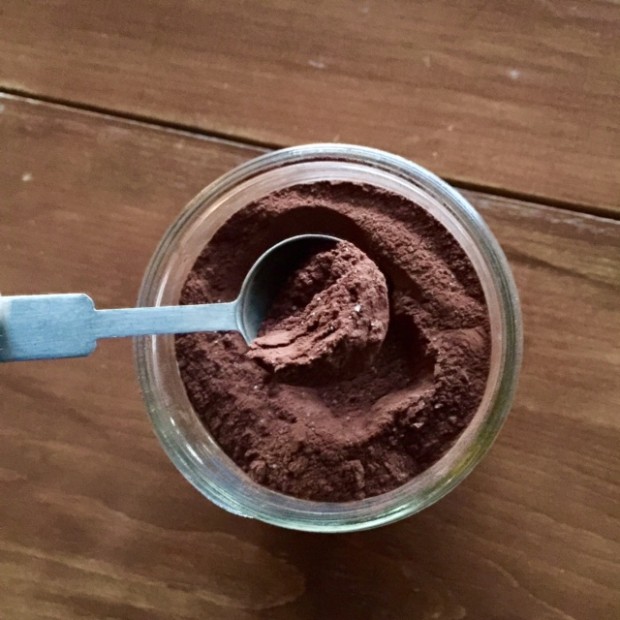 There's still a bit to be done before we settle into hibernation for the holidays. Some more baking for friends (pizzelles, gingerbread cake, and candied pecans if you're curious), and lots more gifts to wrap. And then there's listening to Christmas songs and watching Christmas movies. Like gingerbread, they have a short shelf life in terms of acceptability.
If you're caught up in the last minute hustle and bustle, but still want to pull together a homemade gift, this gingerbread hot cocoa mix is super easy, and no-bake. The kids can even be in charge of it, while you tackle some other things on your To Do list. I'll be back later this week with a special Christmas Eve Thankful Thursday post. I might even have a fun cocktail video to share before Christmas, but early next week, in time for the New Year's Eve holiday is more likely. I hope everyone's week begins peacefully, and that momentum continues well through these last days of 2015. Let's all remember to breath, and savor every little moment and memory.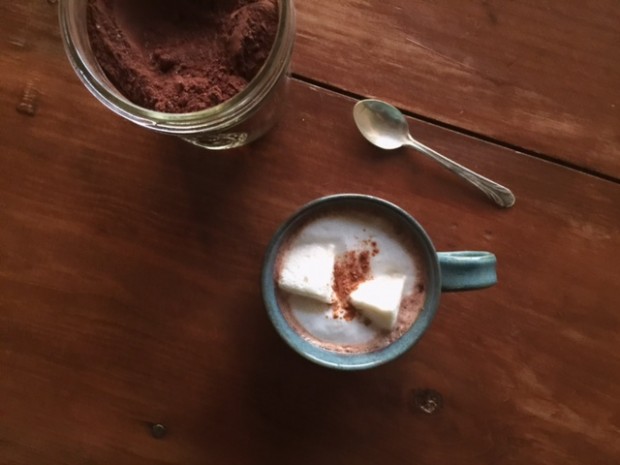 Some more easy, no-bake homemade holiday gift ideas.
Gingerbread Crisped Rice Treats 
All-Purpose Baking Mix (store in a jar & pack with a copy of my book)
Gingerbread Hot Cocoa
Makes 1 cup (180 grams) of hot cocoa mix
I've been making hot cocoa with Virginia's class this last month, and to keep things a little healthier, we use coconut sugar. It's an even swap, so feel free to do so for a refined sugar-free version. I love making it with maple sugar, too. In that case, use only 66 grams of maple sugar since it's sweeter than cane sugar and coconut sugar. When I make the hot cocoa for my girls, they prefer regular milk. I use hot cashew milk for a dairy-free drink, and love it.
Video Pairing: The Christmas Song by Nat King Cole
3/4 cup (75 grams) unsweetened cocoa powder
1/2 cup (100 grams) granulated natural cane sugar or coconut sugar
1/4 teaspoon fleur de sel
1 teaspoon (6 grams) ground cinnamon
1/2 teaspoon ground cloves
1/4 teaspoon ground ginger
1/2 teaspoon vanilla powder (optional)
Add all of the ingredients to a medium bowl. Whisk to combine. Transfer to a mason jar, and cover with a lid. Store in a cool dry place. Will stat fresh for 2 months.
To make the hot cocoa, whisk 1 1/2 teaspoons (6 grams) of the mix into 1/2 cup (120 ml) of hot milk of your choosing.