Gingerbread Poundcake with Eggnog Glaze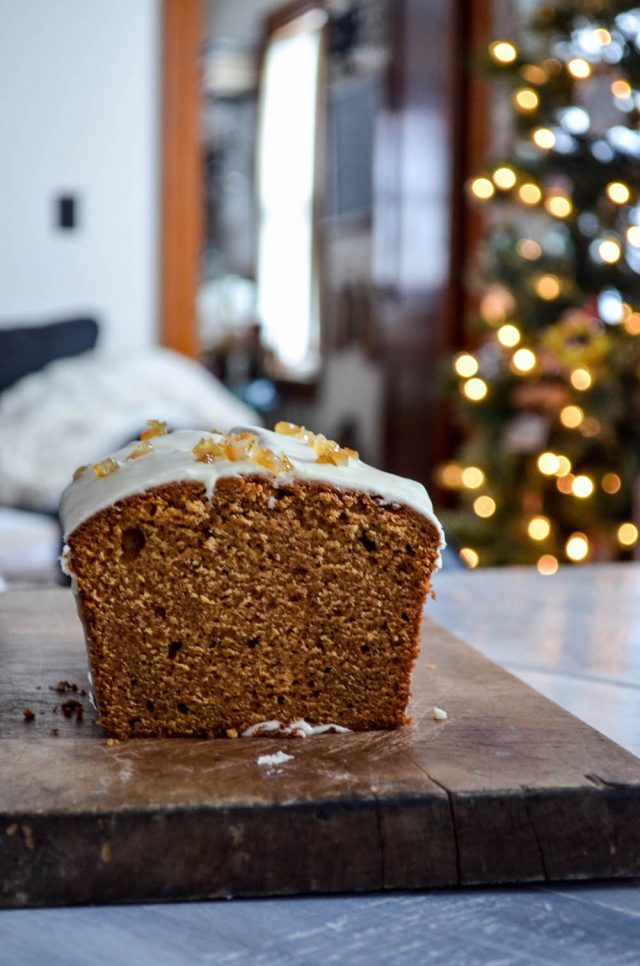 This is a short and sweet post today, so sorry in advance for the quick in and out. This morning granted us our first official snow day (yay!). I'm more than ready for this holiday break to start, making today's day off a wonderful appetizer to the real vacation break in just four days. With Christmas so close, it feels like the window for sharing this Gingerbread Poundcake with Eggnog Glaze is closing, so away we go!
The idea to tweak my favorite poundcake recipe with gingerbread flavors came last week, whilst I was cutting out dozens of gingerbread cookies. I wanted a cake that could easily go from dessert after dinner to breakfast the next morning. Poundcake fits the bill perfectly.
As for the original poundcake recipe, you'll have to wait until February for a glimpse of it. The recipe will be featured in a cookbook I worked on earlier this year. Patricia Heaton's Food for Family and Friends comes out February 2018, but you can pre-order it now, and it'll be the gift that keeps on giving with 100 recipes. I feel fortunate to have been part of the team that brought this book to life, and hope you all enjoying the recipes as much I enjoyed developing them.
Back to this gingerbread poundcake, though. I was torn between leaving it plain, or adding a glaze. The eggnog glaze adds a festive, holiday feel to it. I'll let you decide which way you want to go here.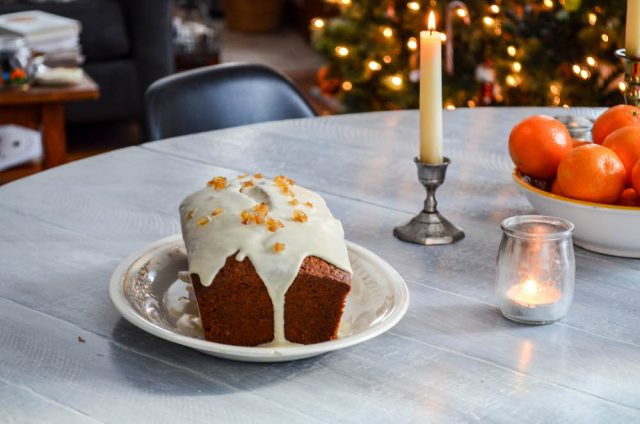 Another lovely thing about this Gingerbread Poundcake is its staying power. I leave it out on my dining table, unwrapped, on a platter, and it stays fresh even a few days later. The heartiness of this cake means it's great for shipping, too (unglazed, and wrapped in parchment).
Time for me to shuffle off now. I've got some plans to make gingerbread houses with the kids, and tonight is the first night of Hanukkah, so we'll be frying up some latkes in a few hours, and lighting our menorahs. It's one happy mess of holidays around here.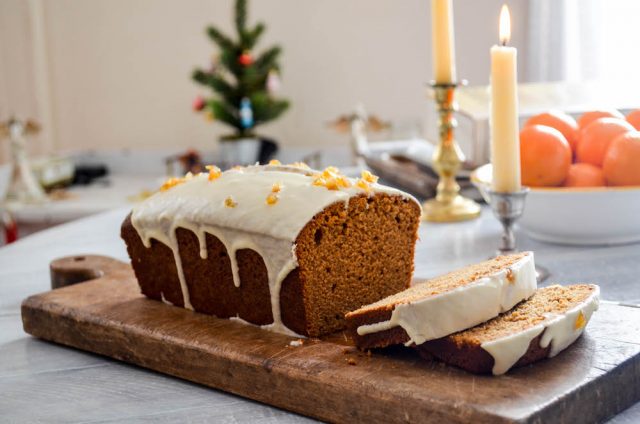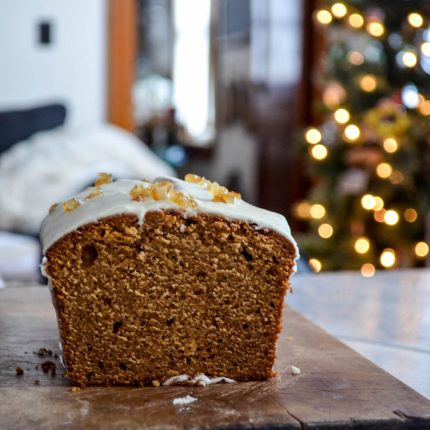 Gingerbread Poundcake with Eggnog Glaze
Ingredients
½

pound

2 sticks | 224 grams unsalted butter, softened

¾

cup

150 grams granulated sugar

¼

cup

80 grams molasses

1

teaspoon

vanilla extract

3

large eggs

at room temperature

2

cups

280 grams all-purpose flour

1

teaspoon

5 grams baking powder

¼

teaspoon

sea salt

1

teaspoon

ground ginger

½

teaspoon

ground cinnamon

½

teaspoon

ground cloves

¼

cup

buttermilk

Eggnog Glaze

optional

1

cup

confectioners' sugar

sifted

4 to 5

teaspoons

eggnog

homemade recipe here

1

tablespoon

butter

melted

Chopped candied lemon or ginger
Instructions
Preheat oven to 325ºF. Line a 9-inch loaf pan with a sheet of parchment paper long enough to hang over the sides.

Combine the butter and granulated sugar in a large bowl. Beat until fluffy, and well mixed. Add the molasses, vanilla and the eggs, one at a time, making sure to beat each one until the batter is light and fluffy again before adding the next egg.

Add the flour, baking powder, salt, ginger, cinnamon, and cloves. Beat until just mixed, and there are no visible signs of flour. Add the buttermilk, and beat again until just mixed; 15 to 30 seconds should do it.

Scrape the batter into prepared loaf pan, and bake about 75 minutes, until deep golden on top and a metal skewer inserted in the center comes out clean. Set the cake on a wire rack to cool completely before glazing (or serving if leaving plain).

Once the cake is cooled, prepare the glaze. Whisk together the confectioner's sugar and 4 teaspoons of eggnog until the sugar is completely dissolved, Whisk in the melted butter. If you want a thinner glaze, whisk in the remaining teaspoon of eggnog. Drizzle over the top of the cake. Sprinkle the candied lemon on top, as much or as little as you like. Let glaze set for at least 20 to 30 minutes before serving.
SaveSave
SaveSaveSaveSave
SaveSave
SaveSave
SaveSave
SaveSave