Martha Stewart's Triple Layer Poundcake
It occurred to me that it just might be possible not everyone is a pie fan. I don't know anyone in my immediate circle who feels this way. By the slew of orders that've come in from the pie fundraiser I'm doing for our school, there are certainly a lot of pie lovers at Woodstock Day School (so far I'll be baking 41 pies the Monday before Thanksgiving with the help of a friend—pray for us).
Still, I imagine somewhere out there, someone is already thinking about the dilemma of wanting dessert for Thanksgiving, and nothing but a sea of pies (sounds like heaven to me!). Then I remembered Martha Stewart's Triple Layer Poundcake that I made from a recent issue of her magazine. Side note: this thought process all happened while washing my hair in the shower. Obviously, I've got pie on the brain these days.
Whilst you plan away, finalizing your Thanksgiving menu, should you be in need of a non-traditional dessert—you know, the kind that's a show stopper but really pretty easy to make, Martha Stewart's Triple Layer Poundcake might just be the way to go.
I take poundcake seriously. Very seriously.
I remember watching my nana eat it, toasted with butter when I was little. My mother and aunt also love it this way. To me, that ritual, toasting it, applying a thin coat of butter, and eating with a cup of coffee (most likely tea for my auntie), seemed one of the major benefits of adulthood.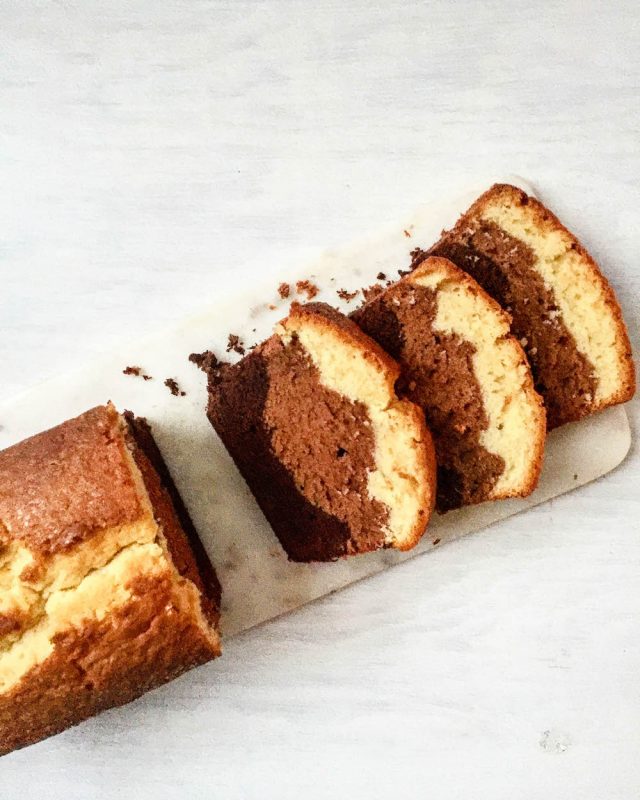 This poundcake is one that needs nothing more than a day to rest—save the toasting and butter for a more ordinary poundcake. And yes, I said a day's rest, maybe even two, to reach peak flavor, which means it's a perfect make ahead dessert for Thanksgiving, freeing you up to plow through the rest of your To Do list on Thanksgiving morning.
Any company arriving would most definitely welcome this for breakfast, too. And if they don't, just tell me where and when, and I'll show up with some pie to swap you for a slice of poundcake.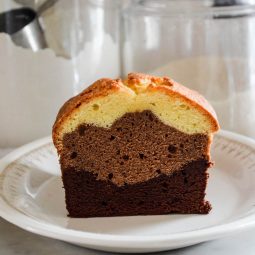 Martha Stewart's Triple Layer Poundcake
Ingredients
2

sticks plus 2 tablespoons

252 grams unsalted butter, room temperature, cut into pieces, plus more for pan

3

large eggs

room temperature, whisked

1/3

cup

80 ml whole milk, room temperature

2

teaspoons

pure vanilla extract

1

cup

plus 2 tablespoons

225 grams sugar

1 3/4

cups

225 grams unbleached all-purpose flour

1 1/4

teaspoons

6 grams baking powder

1

teaspoon

kosher salt

3

tablespoons

18 grams Dutch-process cocoa powder

4

ounces

112 grams semisweet chocolate, melted and cooled
Instructions
Preheat oven to 325 degrees. Butter a 9-by-5-inch loaf pan. In a large bowl, whisk together eggs, milk, and vanilla. In another bowl, beat together sugar, flour, baking powder, and salt on low speed. Continue beating while adding butter until mixture is crumbly. Add half of milk mixture; beat on medium-high until fluffy, 1 minute. Add remaining milk mixture and beat until incorporated, about 30 seconds.

In another large bowl, whisk 2 tablespoons cocoa into chocolate. Stir in 1 1/2 cups (285 grams) batter. Spoon into prepared pan, smoothing top with a small offset spatula. Whisk remaining 1 tablespoon cocoa into another 1 1/2 cups (285 grams) batter in bowl; spoon over dark-chocolate layer and smooth top. Spoon in remaining batter; smooth top.

Bake until a tester inserted in center comes out clean, about 1 hour, 30 minutes (if top is browning too quickly, tent with foil). Let cool in pan 15 minutes. Turn out onto a wire rack and let cool completely, about 2 hours.
SaveSave
SaveSave
SaveSave
SaveSave