Chocolate Streusel Gingerbread Coffee Cake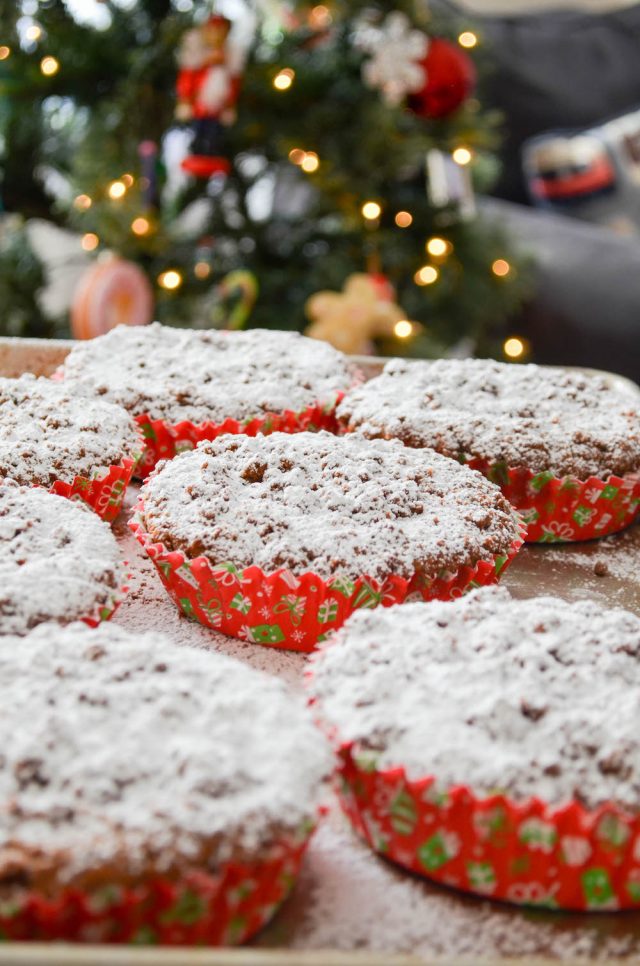 We leave in two days. It's no use in having second thoughts. I know we're going to have a wonderful trip, but I'm starting to wish we had more time to enjoy the Christmas spirit at home. I'm glad the baking bug bit me during Thanksgiving weekend, although I feel a little melancholy now that all the cookie tins and cakes have been packed, and sent off.
Christmas is the one time of year when people gladly accept sweets, with nary a shriek from the sugar or carbs. Calories in December are magical, and never seem to matter until January rolls around. So, it made me happy being a busy baker the last few weeks. My cookies had a two-fold purpose. They were a therapy of sorts for me, and will surely bring joy to friends and family opening their mailboxes in the next day or two.
Now it's time to turn my attention to packing. I can't believe at this time Friday, we'll be walking around London, no doubt tired and jet lagged—but, London! I've never been there, and frankly, our stay there is so short, just 2 1/2 days, that I know it won't be enough time to really get a sense of it all. I've no plans to run around, cramming in everything possible. The only plan we do have is dinner reservations at Nopi. I'd love to make it to Violet Bakery, but really, if I only have two days in London, does it make sense to seek out an American-style bakery?
From there, we head to Paris where we'll stay through Christmas. I can't wait to get back to my home away from again. It's been three years since my last visit, and my tattered, marked up map has gone MIA. The lesson from this is that I need to get to Paris more often again. Then my trusty map wouldn't be tucked away in some heaven only knows where safe place. Send good vibes that it magically appears before we leave, maybe? I know it's only a map, and I actually ordered another one that should arrive before we leave, but that map was special.
My first trip to Paris, alone with two kids, ages 4 and 9, was a big leap. New country, new language, new ways of living. The trip we're about to embark on is a continuation of that fearless, grab life by the horns attitude I try to instill in the girls. Thankfully, they're 8 and 13 now, and can pull their own weight with the new carry-ons I bought them.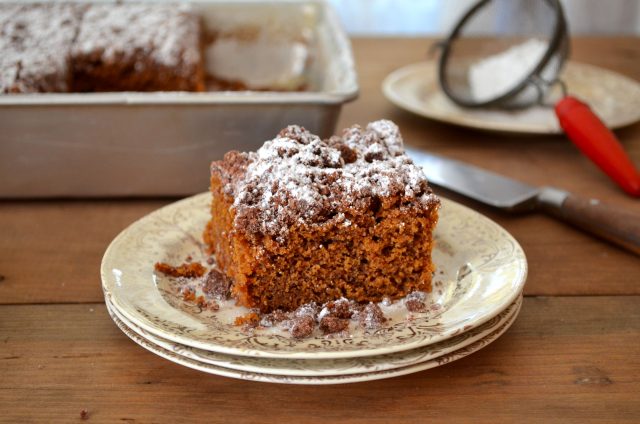 I thought about packing one of our mini Christmas trees, but that's low priority compared to needing clothing, etc. We'll see. I once hid my cast iron skillet under the front passenger seat of our car before we left for Cape Cod because I didn't want Mikey to think I was crazy for taking it on vacation. The point is, I've done sillier things, so if a tree ends up in our suitcase, it wouldn't surprise me one bit.
Okay, I've gone a bit astray here, and sidetracked the attention away from the Chocolate Streusel Gingerbread Cake I wanted to share with you. I love coffee cake. It's most definitely in my roots as a Brooklyn girl, and used to be found at every bakery. There are a lot of sad coffee cakes, though. Dry, skimpy on the topping, or not enough butter in the cake. This is not one of those coffee cakes.
The added gingerbread spices make it rather magical to enjoy this time of year. If you have a copy of Classic German Baking, or want to look up a recipe for Lebkuchengewürz, it's a great substitution for the spices in here (just add 13 grams, or 2 1/4 teaspoons in place of the cinnamon, ginger, and cloves). I'm completely smitten with Lebkuchengewürz because of the hint of anise in there. It brightens up otherwise heavy, dark spices.
You can bake the cake up one of two ways. I originally developed it as a large coffee cake to serve a crowd (perfect for Christmas morning, in fact). Lats week, when I began to worry I wouldn't have enough cookies (of course, I did), I baked up two batches in mini, paper liners. Nicely sized for two people to share, or maybe not if you love chocolate and gingerbread. If you decide to do this, you'll get 6 to 8 mini cakes, depending on the size of your papers, and they'll take about 35 minutes to bake (be sure to test with a metal skewer in the center for doneness).
Time for me to get going, finish up some work, and get on with packing. We're celebrating our Christmas at home tomorrow, so there's lots to do for that, too. I hope to be back here with a rather practical recipe for lentils, and another take on eggnog. There's also this vegan bacon I've been wanting to share, but that might have to wait until 2017. My main goal for this vacation is to take some extended time off from work, and recharge for the year ahead. I'm sure I'll be sharing our travels on Instagram because I really do love that medium, so feel free to find me there if I'm silent here.
Chocolate Streusel Gingerbread Coffee Cake
Ingredients
For the cocoa streusel topping
11/4 cups (187 grams) flour
¼ cup (50 grams) granulated sugar
¼ cup (65 grams) brown sugar
2 tablespoons (14 grams) cocoa powder
Pinch of sea salt
1 stick (112 grams) butter, melted
For the coffee cake batter
3 cups ( 450 grams) flour
2 teaspoons (10 grams) baking powder
½ teaspoon (4 grams) baking soda
½ teaspoon (2 grams) sea salt
2 teaspoons (6 grams) ground ginger
1 teaspoon (4 grams) ground cinnamon
Scant teaspoon (3 grams) ground cloves
1 cup butter (2 sticks/224 grams), softened
2 cup (200 grams) sugar
½ cup (180 grams) molasses (I use Steen's)
3 large eggs, at room temperature
1 cup (237 ml) buttermilk
Confectioner's sugar, to finish
Instructions
Preheat the oven to 350ºF. Grease the bottom and sides of a 12-inch x 8-inch baking pan.
To make the streusel topping, add the flour, sugars, cocoa powder and salt to a medium bowl. Use a fork to stir in the melted butter until well combined. Set aside.
To make the cake, whisk the flour, baking soda, baking powder, salt and spices together in a medium bowl; set aside.
Add the butter, sugar, and molasses to a clean separate large bowl. Beat on high speed until fluffy, 3 to 4 minutes.
Add the eggs. Beat on high until well mixed, about 2 minutes. Add the flour mixture and buttermilk. Start the mixer on slow to incorporate the flour. Once combined, increase the speed to medium-high speed, and beat for 15 to 30 seconds, until there are no visible signs of flour.
Spread the batter into the prepared pan. Evenly sprinkle the crumb topping over the top, making sure to get that outer edge too. Bake 60 to 65 minutes, until a metal skewer inserted in the center comes out clean. Let cool for at least one hour on a wire rack. Sift confectioner's sugar over the top, as much or as little as you like (I like a generous snowfall topping), before serving.