Heidi's Homemade Vanilla Nougat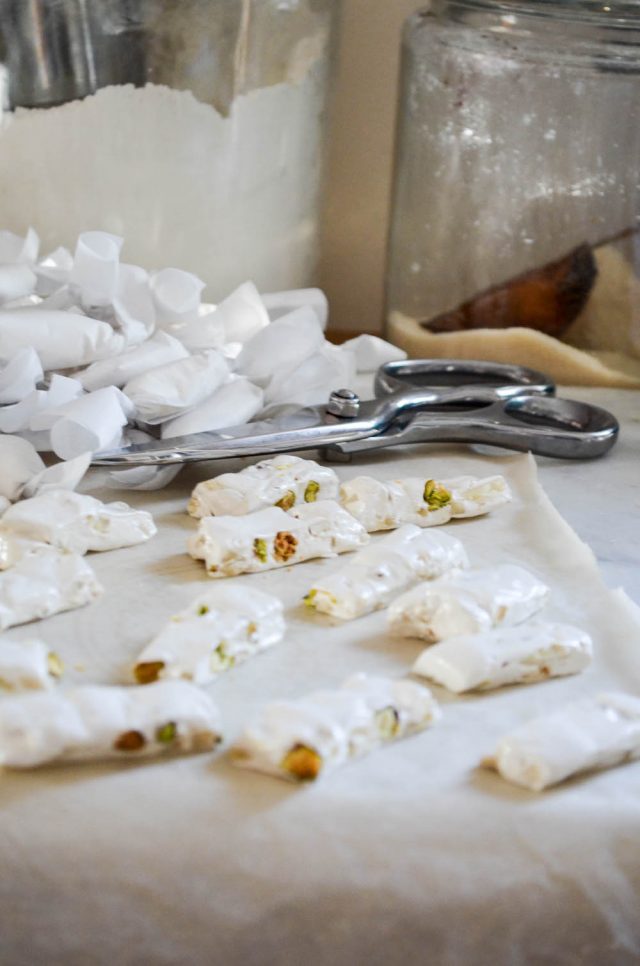 There are those recipes that make you want to clear your schedule, and run into the kitchen to make them immediately. That's how I felt the moment Heidi's Homemade Vanilla Nougat recipe arrived in my email this past weekend.
Nougat is one of Virginia's most favorite candies in the world. I'm not even sure how this fascination with it started. Maybe on one of our trips to France? Or Montreal? Anyway, she was hooked from the first bite. She begs me to buy it whenever we go back to our old Brooklyn neighborhood, where nougat is abundant at the Italian pastry shop and salumeria, under its Italian name, torrone. It's a very classic Christmas treat.
Often, nougat is a parent's worst nightmare, and a dentist's dream (or addition to their dream home), at least the ones I grew up with. They tended to be the hard variety, although soft, chewy versions do exist, and that's exactly what Heidi's recipe captures. A taffy-like torrone, studded with nuts (I chose almonds and pistachios for my first batch).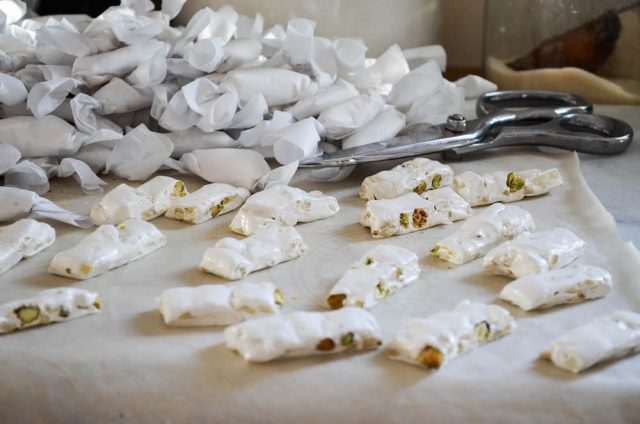 Heidi's Homemade Vanilla Nougat recipe is pretty perfect, with no need for tweaking. I love when that happens. She does use a scant amount of corn syrup, just two tablespoons, but I found brown rice syrup to work perfectly fine. You can find this quite easily in any healthfood store (and once you buy it, you can use it one of these recipes).
A few notes to share before you set out to make your own batch of Heidi's Homemade Vanilla Nougat.
I chose not to use vanilla extract, and just the vanilla bean, for no particular reason except I didn't want too strong a vanilla taste (is that weird?).
I felt like the nougat could've used a wee bit more nuts. Virginia thought it was fine, or could've used less. Make it yourself as-is first, and then decide what you want for future batches.
Pan sizes—this is important. Both the honey and sugar mixtures foam up as they come to temperature. I used a small pot for my honey, and had a little bit of a mess to clean up. Not a huge deal, but next time I'd definitely use a larger-than-expected size pot (medium), and bump the pot for the sugar up to a medium-ish-large.
Heidi has a video that goes along with her recipe. Everything looks so nice and neat, the boiled honey and sugar easily pouring into the side of the bowl. Ha! Perhaps it's my cramped kitchen set up, but that was not the case. A spouted pot would've likely helped. Whatever you do, don't be tempted to scrape the sides of the bowl where the sugars crystallize. Experienced candy makers probably already know this, but I'm throwing it out there for the newbies.
Parchment paper—I've found different brands have varying levels of nonstick abilities with tackier items like, say nougat. I highly recommend coating your paper with cooking spray (only the sides that will come into contact with the nougat). It will stick otherwise, I promise you—it happened to me, and wasn't fun, resulting in loss of some of my nougat to correct the mess.
Rolling it out—I found this technique to work much better than an offset spatula (which I did try at first, and it was a sticky mess): scrape the nougat onto a greased sheet of parchment on a sheet pan. Cover with a second, greased sheet of parchment paper. Use a rolling pin to gently roll the nougat into your desired thickness. I rolled mine out into 1/2-inch thickness, and cut them into 2-inch long strips, resulting in 99 pieces (plus whatever we ate before I wrapped them).
Cutting the nougat. Skip the knife, and grab a sturdy pair of kitchen shears. I own these, love them madly, and my kids understand that under no circumstances are they ever allowed to use my kitchen shears (they cost $80, and are worth every single cent).
Lastly, aside from all these tedious, yet important notes, if you love a soft, chewy nougat, then you want to make this one. I love, love, love it, and am adding it to my holiday baking list in December.
Get the recipe for Heidi's Homemade Vanilla Nougat here.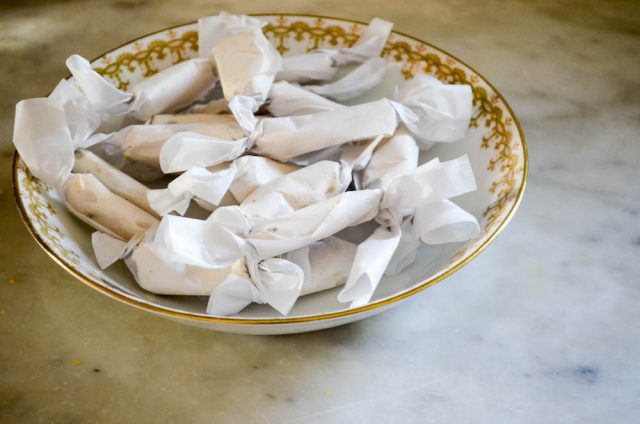 SaveSave
SaveSave
SaveSave
SaveSave
SaveSave