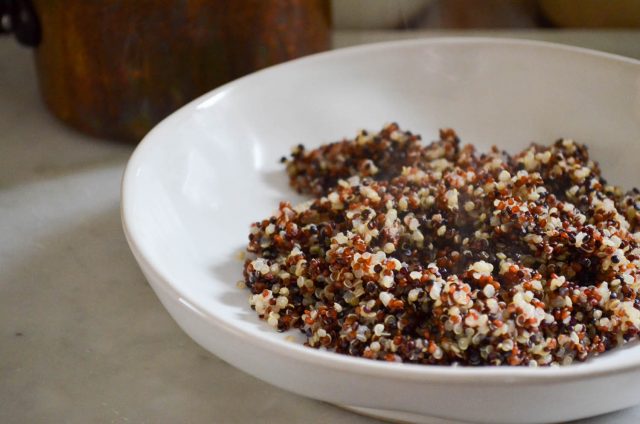 It seems almost silly to write about how to cook quinoa. My first encounter with it was many years ago. Michael came home with a recipe written on a notecard from a producer he was working with. It was written out keen-wah, the phonetic spelling. He wanted me to give it a try. I did, and will confess to not having another go with cooking it until just about eight months ago.
It was while I was doing my little cleanse that I decided to embrace the virtues of quinoa. I've been a white rice girl my whole life. Even when I eat brown rice, I'm wishing it was white rice. Our bodies have a way of telling us what they need, though, and while white rice wins my heart, quinoa is my body's true love.
Most recipes call for cooking the crap out of it. I won't say there's nothing worse than poorly cooked quinoa (PE45, healthcare being torn apart, a bunch of old white men deciding what's best for women's reproductive rights…), but in the kitchen, poorly cooked quinoa ranks kind of up there for me.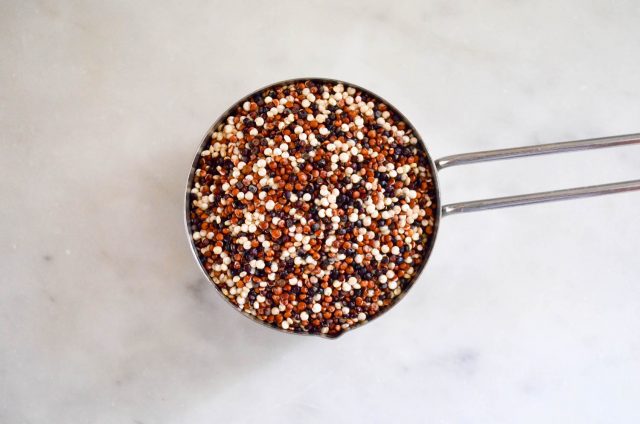 After a bit of research, and playing around with a few different techniques, I settled on this foolproof method for cooking perfect quinoa every time. No exploded, mushy grains here. The quinoa retains its structure, and has a bit of a chewy to it. I love it this way, each grain distinct, not a clumped mess in the pot.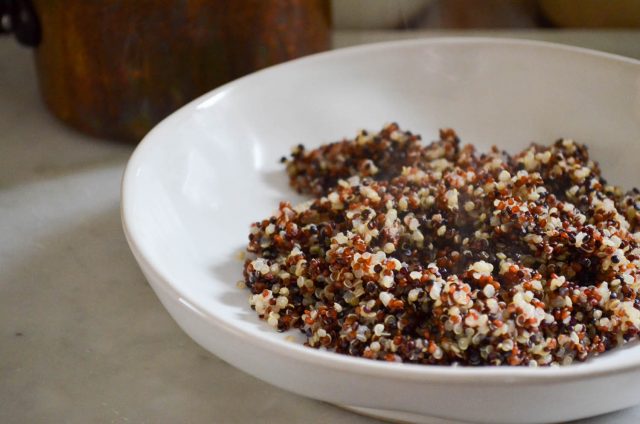 I tend to make a double batch, and keep leftovers in the fridge. Heating it up is easy on a skillet, but you can use a microwave, too, of course. Below there, is a photo of a recipe I hacked from Tia's Whole New You cookbook, the one I worked on last year. It's a wonderful tofu scramble with some turmeric, onions, kale, and hot sauce, and one of my favorite breakfasts. I'll try to write it down next time I make it, but you can find the original recipe for the Tofu Western Breakfast Wrap on page 239 of her book.
Okay, it's time for me to skeedaddle. Off to the pick up the kids, and then on to the airport. We're Orlando-bound to celebrate their birthdays. Nine and 14—how did that happen? And how am I the mother of a teenager? Hope the week is being gentle with you all, and if I don't make it back here before the weekend, hugs and Happy Mother's Day wishes to all my mamas out there. xx-Jennie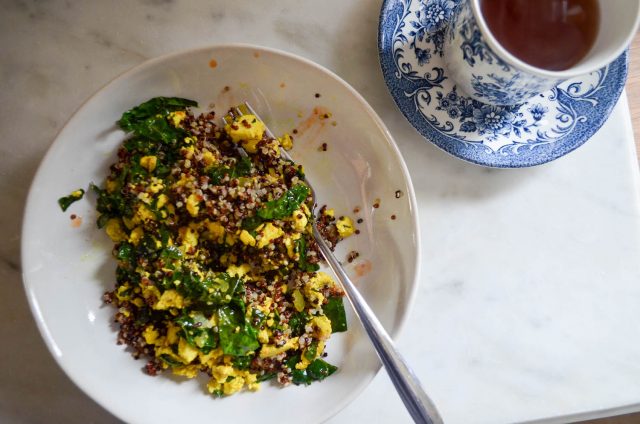 One Year Ago: Sparkling Skinny Margarita
Two Years Ago: Easy, Homemade Granola Bars
Three Years Ago: Eggs in Purgatory
Four Years Ago: All-Purpose Baking Mix
Five Years Ago: Roasted Rhubarb Jam
Six Years Ago: Traditional Cream Scones
Seven Years Ago: Lemon Poppy Olive Oil Muffins
Eight Years Ago: Easy Cheesy Crackers
How to Cook Quinoa
Ingredients
1

cup

quinoa

1 1/4

cups

water

Sea salt

Add the quinoa and water to a small pot. Season with salt. Bring to a boil

uncovered.

Reduce heat so the water bubbles gently

not vigorously. Cover, and cook for 8 minutes.

Remove the pot from the heat

and slip a cloth towel between the lid and the pot. Cover, and let sit for at least 10 minutes, or until until ready to eat. Fluff with a fork before serving.