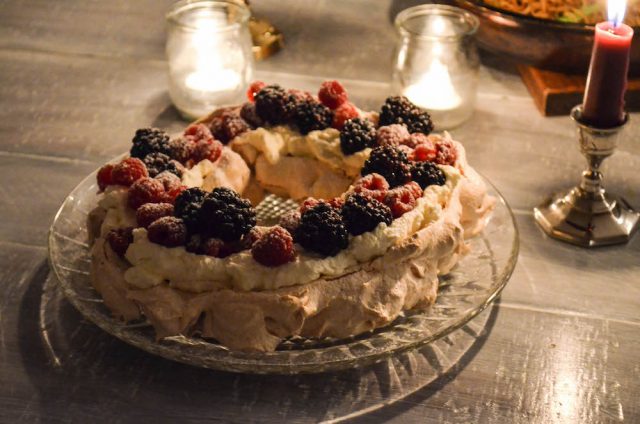 My obsession with the Great British Bake Off is no secret here. I love how it's inspired me to push my baking skills further, and piqued my curiosity enough to make things I would've normally left to uber pastry professionals, American comfort desserts being more of my expertise.
Take this pavlova, for example. I should preface the real title of the recipe is Mary's Christmas Pavlova. I say Christmas Shmishmas—why relegate such a lovely dessert to just one day a year? I should also confess that making meringue made me cringe for years. It's very temperamental, and like me, hates humidity.
My old apartment in Brooklyn was always too hot and humid, even in wintertime. We had old radiator pipes for steam heat, and being on the ground level meant our apartment was unbearably warm in the winter so the heat could work it's way up to the fifth floor. And well, summer in Brooklyn is awful, especially without central air.
Earlier this year I was forced to wrestle with my meringue fears while working on a cookbook project (not mine, another celebrity ghost project). Thankfully it was wintertime, and now living upstate in a private house (really a shack, it's so small!) means I regulate the heat (read: we wear a lot of sweaters because oil is expensive, and gas heat isn't an option in this rural area). I finally became the master of my meringue domain.
And yet, when it came time to bake Mary's Christmas Pavlova, I lost some of my nerve, second guessed myself, and also didn't see something key in the directions: the oven starts at a much hotter temperature than normal, and then immediately gets reduced by 40 degrees.
I'd watched Mary make this before tucking into bed one night, and remembered her saying "bake in a 160ºC (325ºF) fan oven". No mention of turning the temp down, but there's also a good chance I snoozed for 30 seconds and missed that important detail. In reading the actual recipe, my eyes managed to edit out the turning the oven down to 120ºC (250ºF). Still, I would've questioned even that high a temperature. See, the key to meringue is like great BBQ—low and slow. This allows the meringue to dry, dehydrate in a sense, without browning. Toasting looking meringue is a no-no. Properly baked meringue should be white as fresh fallen snow.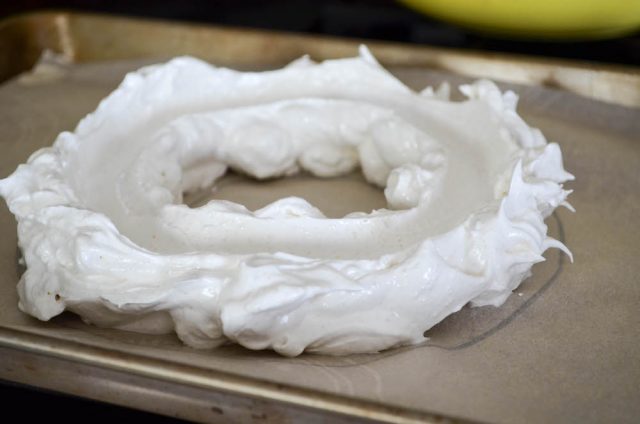 The version of peppermint kisses I'd finally settled on for the cookbook project baked at 200º for 90 minutes, and those were little bite-sized bits of meringue. My gut told me something was off, and truthfully I think even if I'd turned the oven down, it still would've been too high, but who am I to question Mary Berry?
So, why am I even sharing this recipe? Actually, I'm only linking to the recipe for now. I'm going to give it another proper pass, and reduce the size of it further, something more in line for just three girls to devour in an evening. I initially halved the recipe, but we still had leftovers, and this is really the kind of dessert you need to eat the day it's assembled.
And oh, the final verdict, even with the mishaps? We loved it so much. Pavlovas seem like such a fancy dessert, but they're actually incredibly easy to make, and well worth a place at the table year round. If like me, you've feared making homemade meringue, it's time to shed the shyness. A dessert like this will become your best friend once the holidays (yikes & sorry) kick in. You can bake the meringue base in advance, then just whip up the cream and plop the berries on top when ready to serve, all the while your guests will think you're a domestic goddess because it's so darn beautiful.
The original recipe for Mary Berry's Pavlova can be found here.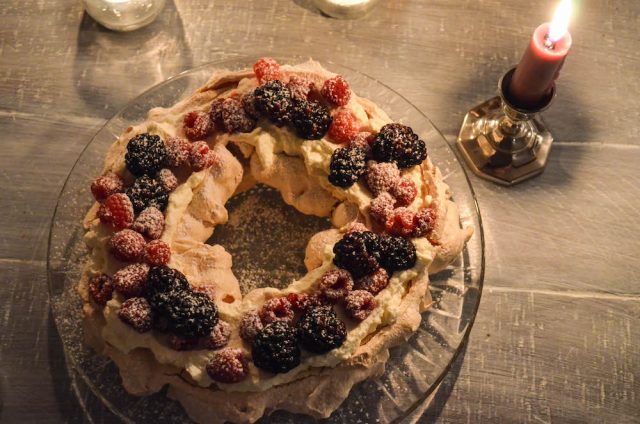 SaveSaveSaveSave