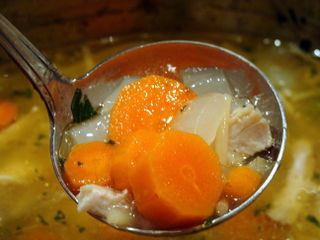 I never watched how my mom made chicken soup but know she used to puree the celery and pour it back in to the soup because she said we didn't like it. She'd also mash the carrots and serve it with a sprinkle of Parmesan cheese, as many Italian-Americans do.
While I still have an aversion to raw celery, I love it cooked. My own recipe for chicken soup used a complicated technique listed in numerous cookbooks. Dump raw chicken and vegetables into pot, cover with water and cook. Quite a few years back, I started making my stock from leftover roasted chicken carcass, a not so secret way to infuse extra flavor. It's a wonderful green, waste-not-want-not use for leftovers, and I'll still use it on the day after I make roasted chicken. Recently, though, I came across a recipe that turned out to be the best & quickest chicken soup I've ever made in From My Mother's Kitchen (Ryland, Peters & Small, 2009), which I'm featuring in the August/September issue of Working Mother magazine (is this where EW would insert "spoiler alert"?).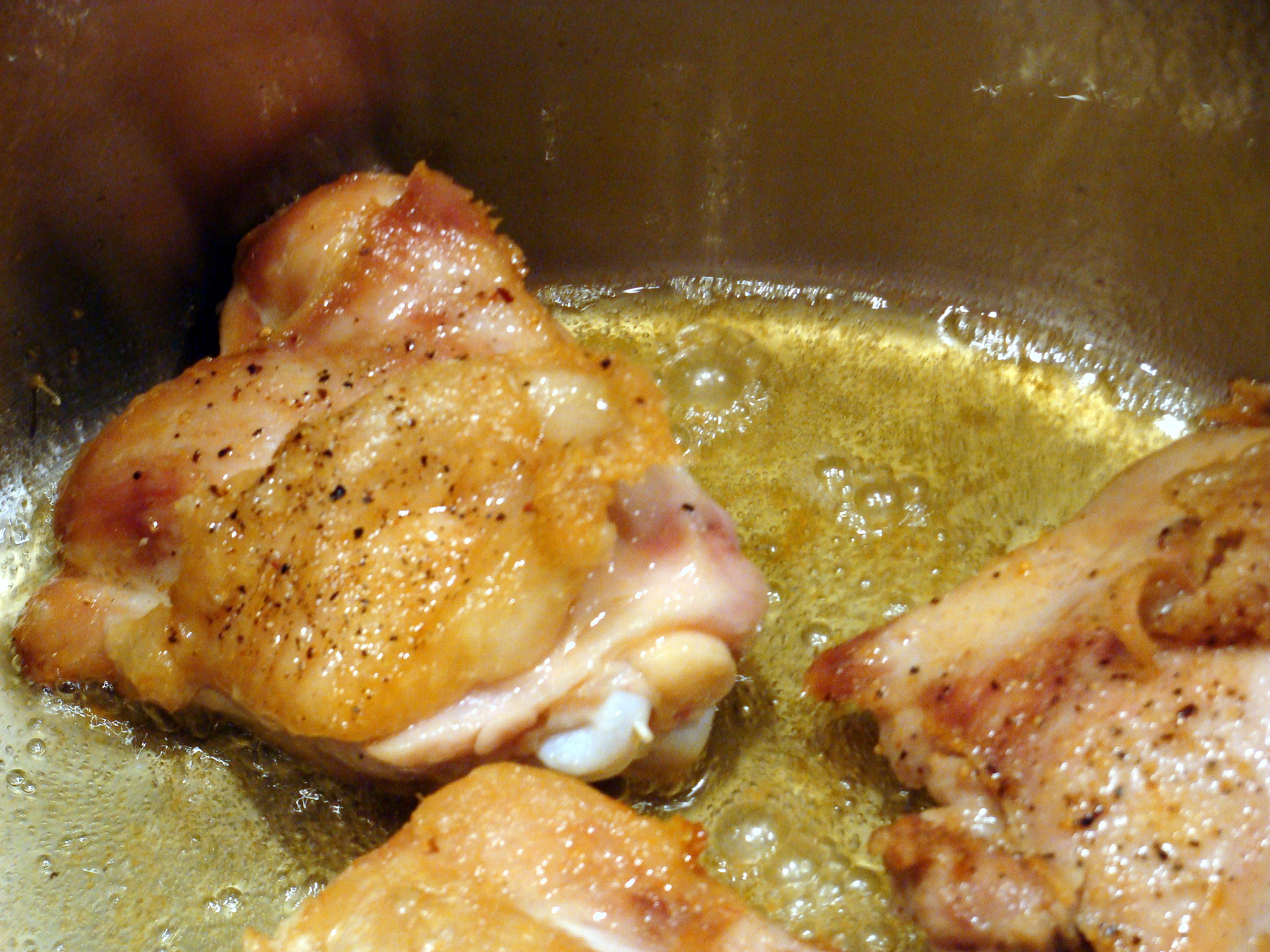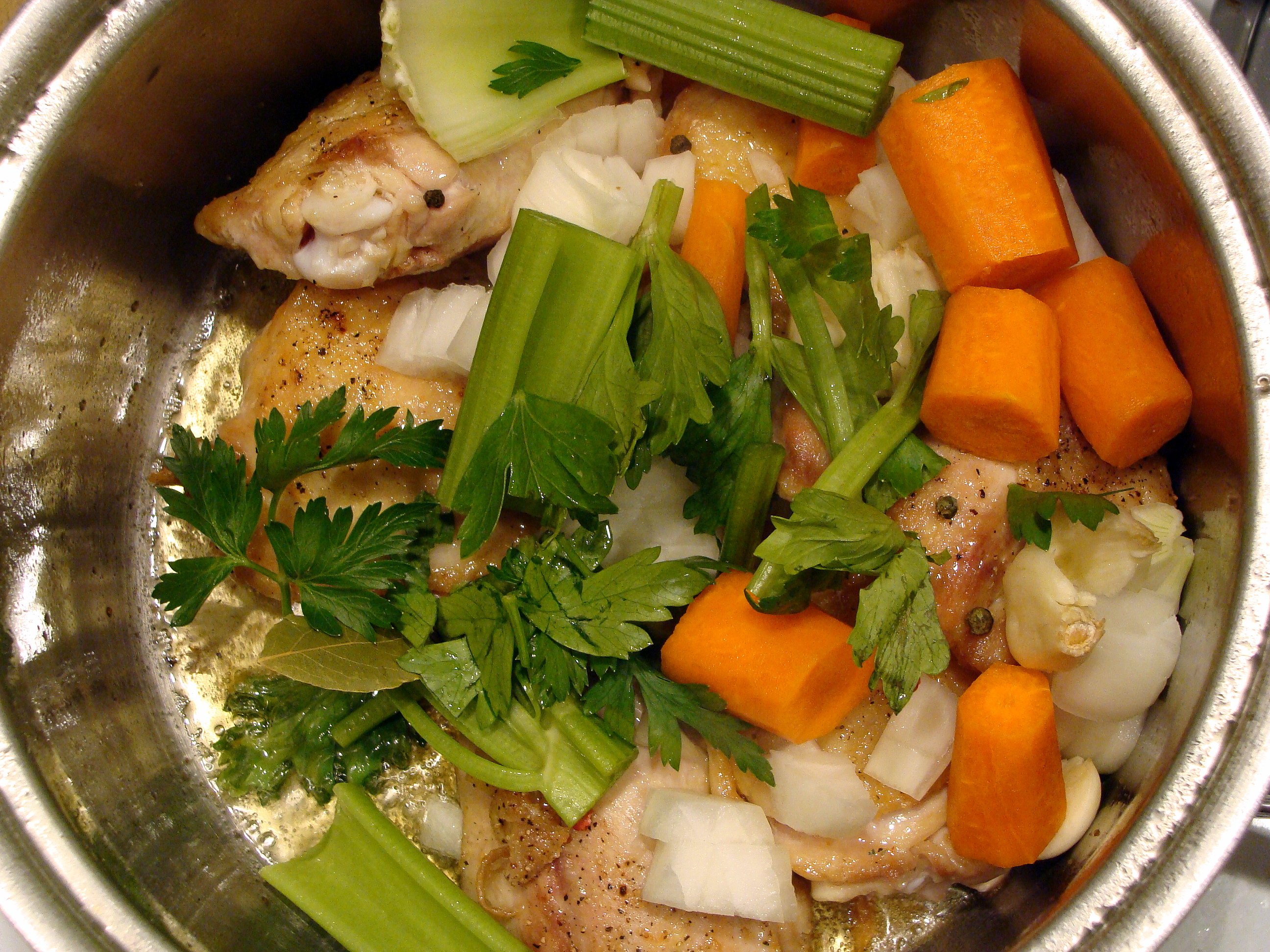 The trick is so easy, it's driving me crazy I didn't think of it myself: brown the chicken in the stock pot first. Other tip: use chicken thighs or legs, a less expensive option filled with maximum flavor. After browning on both sides, layer the veggies on top and simmer for 15 minutes. This draws out the juices to create a richer base before adding the water. An hour later, you've got amazingly rich homemade stock.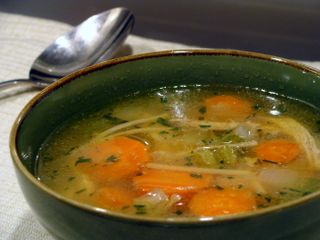 I made a few changes from the original recipe. The cheesecloth bouquet garni went first. Really, why spend time wrapping aromatics when the stock is going to be strained anyway? Instead I just added the leek, bay leaf, parsley and peppercorns straight to the pot. I left out the thyme just because it's not a flavor I wanted in my chicken soup (guess I could've worked in a 'ran out of thyme' joke too). In less than two hours I had a deliciously perfect prescription for the sore throat that took over a day ago. Perhaps the other remedy is getting to bed before midnight!
Chicken Noodle Soup
Serves 4 to 6

adapted from Jenny Linford's From My Mother's Kitchen (Ryland Peters & Small)

For stock
2 tablespoons extra-virgin olive oil
3 pounds chicken legs & thighs
1 medium onion, chopped
1 carrot, peeled and chopped
1 garlic clove, smashed
2 celery stalks, chopped
1 leek, bottom white part only
a few sprigs of flat-leaf parsley
1 dried bay leaf
For soup
1 medium onion, chopped
2 large carrots, peeled and sliced 1/2-inch thick
2 celery stalks sliced 1-inch thick
3 ounces fine eggs noodles or spaghetti, broken into pieces
¼ cup fresh chopped flat-leaf parsley
Salt and pepper, to taste
1. Heat 1 tablespoon of olive oil in a large stockpot. Season chicken with salt and pepper and brown in small batches, being careful not to overcrowd pan. When done, return chicken back to pot. Add onion, carrots, celery, and garlic and cook over low heat for 15 minutes. Pour in 6 cups of cold water, add leek, parsley and bay leaf and simmer, covered, over medium-low heat for one hour.
2. Skim fat from surface of stock. Using tongs or a large slotted spoon, remove chicken from the pot and set aside. Pour stock through a fine strainer, and discard vegetables and herbs. Let chicken cool, then remove meat from bines and roughly chop; set aside.
3. Meanwhile, heat remaining oil over medium-low heat in stockpot. Add onion, carrots and celery, season with salt and pepper. Saute for 5 minutes, then pour stock over vegetables. Bring to a boil, then add noodles and cook until desired tenderness, about 8 minutes for al dente. Add chopped chicken, stir in chopped parsley and cook until chicken is heated through. Ladle into bowls and serve immediately.
Related Links
Greek Orzo and Chicken Soup – Recipe Girl
Fireside Soup – Dorie Greenspan
Le Gastro (a homemade stock love story) – David Lebovitz