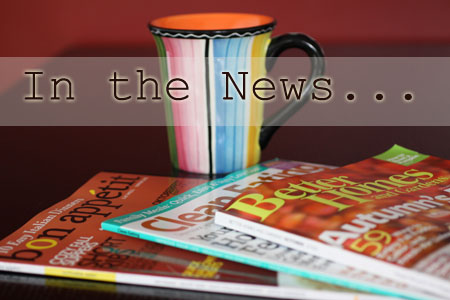 I love magazines, especially food magazines.  There is just something about the feel of the glossy paper and the beautiful pictures that make me want to lick the magazine, just to be sure the food isn't real (OK, maybe that's just me).  Nothing makes me happier than to curl up with a cup of coffee and a few magazines on a chilly fall day.  So, that's exactly what I did!
I grabbed copies of Better Homes and Gardens, Bon Appétit, and Clean Eating and settled in for the afternoon.  Here are a few of the highlights, plus a list of my must-make dishes!
Clean Eating on a Budget
A lot of people have had to tighten their budgets lately, but eating on a budget doesn't have to be at the expense of eating well.  With a bit of help from Clean Eating magazine's November/December issue, you can make five dinners for $50!  The dinners serve 4-8, so if you are feeding a family of 4, you may even have leftovers that can be eaten for lunch the next day.  
Among the healthy, budget-friendly meals, my favorites are the individual chicken pot pies (for $2.48 per serving) and lean tofu Pad Thai (costing only $1.61 per serving).  If I haven't already convinced you, perhaps you'd like to know that with the five-meal plan comes a prepared shopping list so you know exactly what to buy.  Healthy cooking doesn't get much easier than that!
Baking Brioche with Dorie Greenspan
I have recently started baking bread.  Growing up, I ate nothing but homemade bread.  My mom is quite the bread baker.  For some reason, it is a skill that hadn't interested me until very recently.  The more I cook and bake, though, the more unsatisfied I am with prepared products at the store.  So, I have made it my mission to learn to bake bread.
One of the breads that I have not yet made is brioche, and I can think of no better teacher than Dorie Greenspan.  In the November issue of Bon Appétit she goes through the ins and outs of baking brioche.  Her bubble-top brioches can be baked in muffin cups, so no fancy pans are needed.  I will be making these brioche rolls very soon.  After all, what could be better than fresh baked bread on a cool fall day?
Pumpkin: Not Just for Pie
In my opinion, the best part about reading magazines in the fall is the fact that they are full of pumpkins.  I wait all year for pumpkin season!  While I enjoy a slice of pumpkin pie from time to time, it gets old when eaten for three months straight.
Imagine my delight to find a collection of non-pie pumpkin recipes in the October issue of Better Homes and Gardens.  Included in the recipes are roasted pumpkins with bacon and brown sugar, pumpkin black bean bake, and spiced pumpkin butter.  My personal favorite, however, is the creamy pumpkin rice pudding.  I plan on trying all of the recipes, but I will be starting with the rice pudding!
Jennie's Note: Pumpkin is also a versatile and delicious ingredient in savory recipes. Jen actually has two recent ones to check out on her blog:

Roasted Eggplant and Zucchini Lasagna Rolls with Pumpkin Bechamel
Farfalle with Sausage and Pumpkin
My Must-Makes
Autumn Sangria (Better Homes and Gardens, October Issue) – Flavored with figs, plums, apricots, and molasses, this sangria will be on the menu for my next get-together.
Golden Delicious Apple and Cheddar Turnovers with Dried Cranberries (Bon Appétit, October Issue) – The sweet apple, cranberry, and maple syrup paired with extra sharp cheddar cheese sounds like the perfect fall treat.  I will be making these with some of my homemade puff pastry!
Coconut-Cardamom Sweet Potatoes (Clean Eating, November/December Issue) – I just can't resist sweet potatoes.  With coconut milk, cardamom, cayenne, and vanilla, I know these potatoes will make a few appearances in my kitchen this fall!
Cannellini Beans with Garlic and Sage (Bon Appétit, October Issue) – The kitchen will smell amazing with this dish simmering away on the stove.  Now I just need to decide whether to use the beans to make White Bean and Pasta Soup or Sausages with White Beans in Tomato Sauce, dishes inspired by Italian peasant cooking.