Sparkling Violet Margarita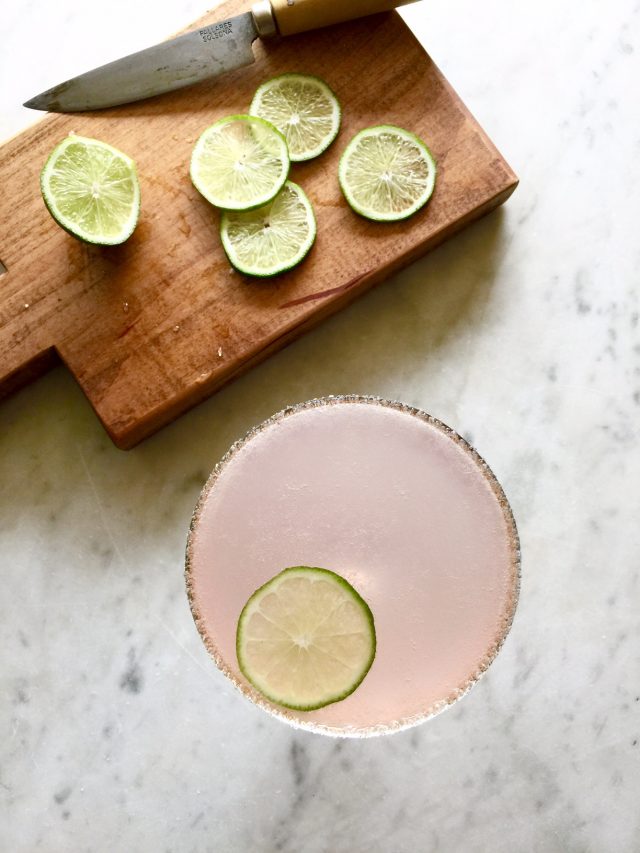 Remember last week's violet syrup? Well, it occurred to me that while I've been making and enjoying it these last few years, I've never actually shared a recipe that uses it. For me, it seems a no brainer, adding it here and there until, sadly, my supply runs dry, leaving me longing for the following spring to replenish it. And so today, I'm sharing this delightful lavender hued Sparkling Violet Margarita I made last week. When using violet syrup in mixed drinks, it works better with clear liquors—gin, tequila, vodka. I gravitate towards the darker spirits, bourbon, brandy, cognac when it comes to cocktails.
It being spring and all, though, and having this newly bottled stash of violet syrup, I broke out the tequila. I decided to make a variation on my skinny sparkling margarita. As with the other recipe, this margarita doesn't use Cointreau. I have no logical reason for it, but I don't particularly like it. I also don't like salt-rimmed glasses for margaritas. It is the most awful drinking experience in my opinion. I mean, really, who the heck invented that idea? I wonder, am in the minority when it comes to this strong dislike of salt with my margaritas? Do chime in, and tell.
So, salt was off the table. I also knew I wanted this to be a straight up cocktail, but I wanted a little more pizazz. I decided to swipe some lime around the rim, then dip it in sugar. I say make what you want of this step. If you love salt, then use that.
Violet syrup is a very delicate flavor, more like an essence, a whisper of the flower's scent. It would also be great in your standard gin and tonic. And if you want to jazz up your iced tea, then violet syrup is the way to go. I'm curious how it pairs with coffee but have yet to try it.
Okay, I'm off now. While you're reading this, the girls and I are having fun in Orlando. I surprised them a trip to Universal Studios for their birthdays. Today, they turn 8 and 13. I shook my head just writing that, as it doesn't seem possible. So cheers to birthdays, and all the happy moments in life.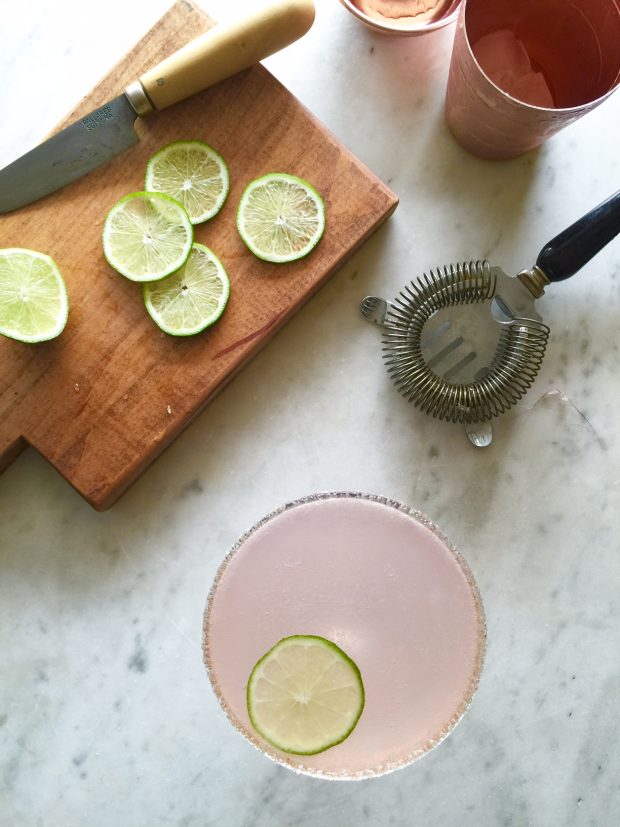 This recipe is now part of my new site, Simmering. It can be found here.