Peach Pie + Dorie's Perfect Crust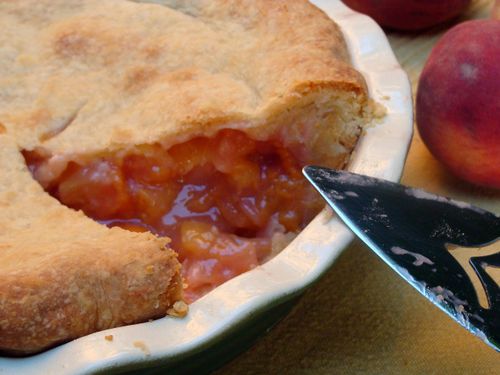 Apple pie may be part of the American dream but I bet it's due to being in the right place at the right time. If it had been a few months earlier and peaches were in season, Thanksgiving tables across the country might look quite different come dessert time.
Or, maybe, it's because apples are easy. All you have to do is peel, core and slice. Peaches, on the other hand, take a bit more prep to make pie. I'm an avid baker and must admit it requires a certain mind set to commit the time. The best way to remove the skin is to cut an "X" on the bottom (also referred to as scoring), cooking them for 30 seconds in boiling water (called blanching), remove with a slotted spoon and then plunge in a cold water bath to stop the cooking process. The skins will slip off 1,2,3 at this point, and then you can slice them. I know this sounds likes a lot of work, but I've learned the active time is relatively short compared to trying to peel a peach with a pairing knife. 



Another fringe benefit was getting to spend some quality time with my daughter. For a kid who's always around food and cooking, you think she'd love it. In the early days I'd prop her on the counter and let her scoop, pour, sift or whatever was age appropriate. Lately, I think she sees the kitchen as competition for mommy's attention. On this particular day, though, she asked if she could help. Well, I was more than happy to have an extra hand peeling these slippery orbs. Turns out her tiny nimble fingers worked pretty well. It was also the first time she used a real knife (gulp), albeit a butter knife.
Many recipes call for cinnamon, nutmeg and some even cloves. I like to let the fruit shine, so a pinch of cinnamon is enough for me. The recipe below lists it "to taste" because it's your pie and you should feel free to add as much, little or none if you like. The pie crust recipe is a gift from Dorie Greenspan, one of my treasured food writers and go to gal when I have a baking question. She tweeted this one to me from her cookbook Baking: From My Home to Yours. The original recipe calls for a combination of butter and shortening. I love butter, so the more the merrier for me. Come to think of it, the hardest thing about making peach pie is waiting for it to cool so I can have a slice (see, it oozes all over if you dig in too soon).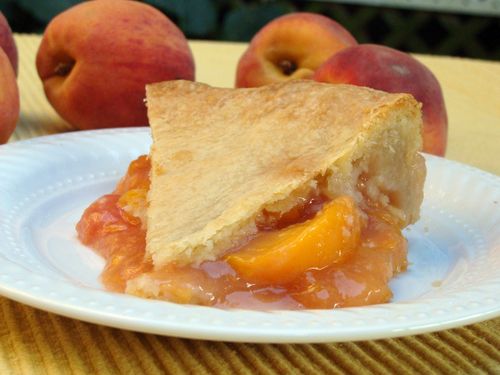 Peach Pie
Makes one 9-inch pie
In their native form, I'm the only one in my house who loves peaches—everyone else is turned off by their fuzzy skin. When I make pie, though, all bets are off, and it's every man, woman and child for themselves in a race to eat the last piece.
6 cups peeled, sliced peaches
1/3 cup all purpose flour
1/2 cup sugar
cinnamon, to taste
Two uncooked rolled out 9-inch piecrusts (see recipe below)
2 tablespoons butter, divided into pieces
1. Preheat oven to 425ºF. In a medium bowl, toss the peaches with the flour and sugar to coat. Season with cinnamon and stir; set aside.
2. Gently press one piecrust into the bottom of a ceramic or
glass pie plate. Spoon peach filling into the crust. Top with remaining piecrust. Cut excess overhang and crimp or flutes edges to seal and make a
decorative edge. Use a sharp paring knife to cut a few slits in the top so steam can escape.
3. Bake at 425ºF for 15 minutes. Reduce oven temperature to 350ºF and bake for 30 more minutes, or until juices are bubbling and crust is golden. Let cool completely before serving.
Dorie's Pie Crust
Makes two 9-inch pie crusts
Adapted from Dorie
Greenspan's Baking: From My Home to Yours (Houghton Mifflin Harcourt, 2006)
If you're new to rolling out piecrusts, then one of these pie crust makers might be helpful.
3 cups flour
1/4 cup sugar
1 1/2 tsp salt
12 ounces cold butter, cut into pieces
6 to 8 tablespoons, ice water*
1. Add flour, sugar and salt to the food processor bowl attachment on your Cuisinart Stand Mixer. Pulse for 1 to 2 seconds to combine. Scatter the butter pieces over the dry ingredients. Pulse, in one-second intervals, 8 to 10 times until it forms a sandy texture, with some pieces being about the size of a pea.
2. Sprinkle 6 tablespoons of ice water over the mixture. Pulse until it forms a rough ball (add additional water if needed, 1 tablespoon at a time). Turn dough onto a counter or cutting board. Divide and form each half into a disk. Wrap tightly with plastic wrap and refrigerate at least 30 minutes or overnight (be sure to take out a few minutes beforehand so it will be easier to roll out).
*I literally fill a small bowl with water and add some ice cubes, then spoon it out as needed.