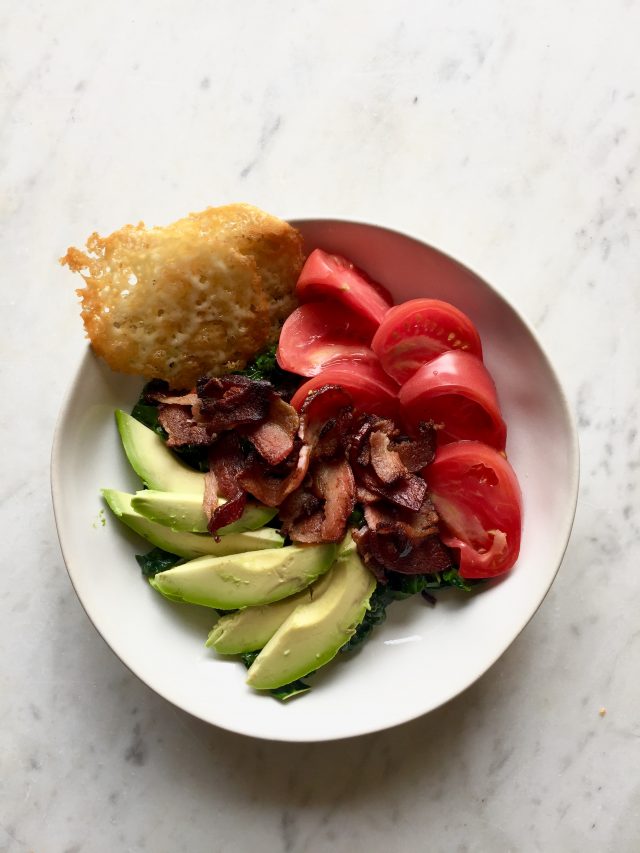 So, if you follow along on Facebook, then this BLT salad will look familiar. I shared a sneak peek at the video a couple of weeks ago just after making it on Snapchat. If you're not a fan of my Facebook page, then this salad is just the reason you should be (psst: click here to like it). Just think, for two whole weeks you could've already been enjoying the recipe.
Something to know about me, even with all the food I cook, and new, innovative recipes I create—I'm a creature of habit, especially when it comes to eating sandwiches outside the house at lunchtime. The main problem here is that I'm not a sandwich person, at least not the way most places make sandwiches. I don't like big, thick, loaded sandwiches. Contrary to popular opinion, I have a small mouth—it just sounds much bigger than it is in reality. Also, I can never finish those behemoth sandwiches, and chances are if I'm eating out at lunchtime, then I'm on my way to some place else afterwards. A to-go bag isn't generally a feasible option midday.
That, my friends, is how we end up in BLT land. I can always count on them to be reliable. It's bacon, lettuce, and tomato. We can get all fancy, and throw in avocado, as I did here, but the risk factor is low on the sandwich barometer. It's not fool-proof, though. There's still the obstacle course of bread and mayo. Why anyone would make a BLT and not toast the bread is beyond me, but it happens. Trust me. And then there's the mayo issue. I've never met another food that makes me as queasy as store-bought mayo. No offense intended here, but just writing that makes me feel faint. When I need mayo at home, I make it myself. When I'm out, if I know it's a place that makes its own mayo, okay—but go light on it, please. Most likely, I'll just stress 27 times, no mayo, thank you.
Get my recipe for Homemade Mayo here (plus a bonus lower fat mayo recipe, too).
I realize this sounds a bit like a BLT manifesto of an insane person. I wouldn't argue with you, at least if we're talking insane about BLTs because I love them SO much. That's why I included a BLT Pizza in the next issue of City Girl, Country Kitchen, and also why I decided to shoot this quick video of me making a BLT Salad in real-time during an at home lunch a few weeks ago. Hope you all enjoy! xo-Jennie