sweet & savory candied walnuts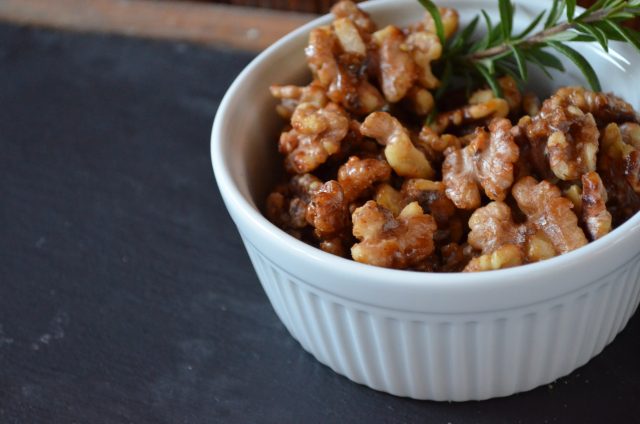 As my plane touched down at JFK on Friday morning, I wasn't sure if I'd really just spent 27 hours in Sacramento, or dreamed it. That's what happens when you get on a plane to the west coast at 11:30am on a Wednesday, and find yourself back at your starting point less than two full days later. Standing under the walnut trees at Norene Ranches, though, I looked at the hundreds of acres before me, and realized it was worth the effort I made to get there.
I knew making the move upstate would put a major hold on most of my business travel. It takes feats of strength to coordinate care for the girls, the dog, and the cat. Most trips don't align so perfectly with my everyday my cooking style, so I knew it wouldn't be hard to say no, but seeing the walnut harvest was a perfect fit for me. The majority of the walnuts sold here in the U.S. are from California, all you have to do is read the label for the country of origin. Plus, I love walnuts for both their nutritional benefits and affordable price point—that's why I used them in my pesto recipe in Homemade with Love.
You hear so many stories about the workers who help harvest our food, and often the not-so-nice ones about the conditions under which they exist. On Thursday, it was a true pleasure to meet a family that takes care in both the crops they cultivate and the employees that help bring it to our table. I learned so much about the harvest, and secretly yearn to plant a walnut tree in my backyard now. It'll take 5 to 7 years, though, for it to begin producing. And with my track record of keeping plants alive, well, I'll probably be buying my walnuts for a long time to come!
I shot some footage of my day at Norene Ranches, and while I hadn't any plan to make a video, it seems the best way to show you how walnuts get from tree to table. I'm also sharing a recipe for sweet and savory candied walnuts that I made upon returning from California. It's a nice balance of sweet, salty, and crunchy, making it perfect for snacking, sprinkling on oatmeal, or adding to salads. You can add some cayenne to the pan, too, for a kick, but I wanted to keep a more neutral flavor that could transcend any meal, and wouldn't want a spicy zing in my oatmeal.
Oh, and guess what I came home to find? The first printing of Simple Scratch Cooking arrived early! I'll be spending the next few days packaging them up. The second printing is almost sold out, so if you want to order it, time is a ticking. Hope everyone's week is off to a great start.
-JP
Special thanks to the California Walnut Commission and Board for arranging this trip, and taking care of all travel expenses and accommodations.
Sweet & Savory Candied Walnuts
Makes 2 cups (200 grams)
2 cups (180 grams) walnut halves
1/4 cup (50 gram) granulated natural cane sugar
1 tablespoon (14 grams) butter, cut into bits
Generous pinch of sea salt
Freshly grated nutmeg, about 1/4 teaspoon's worth
3-inch (7.5 cm) sprig fresh rosemary
1/4 teaspoon water
1. Line a sheet pan with parchment paper; set aside.
2. Add the walnuts to a 10-inch non-stick skillet. Turn heat onto medium, and toast the walnuts until fragrant, tossing frequently so they don't burn, 3 to 4 minutes.
3. Add the sugar, butter, salt, and rosemary. Let cook until the mixture begins to melt, shaking the pan a few times so the walnuts don't burn. It will seem a little grainy; don't worry. Add the water, and use a heat-proof rubber spatula to give the nuts a good stir until the walnuts are well-coated.
4. Spread the nuts into a single layer onto the prepared pan. Let cool completely. Break up any large chunks. Store in a covered container, in a cool, dry place for up to one week.