Simply Delicious Onion Soup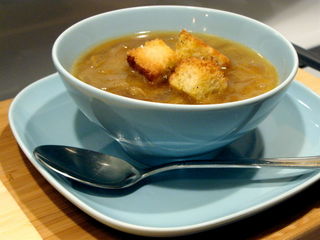 As you might imagine, I get lots of new food product samples as food editor at Working Mother magazine. Some may think it's a perk, but the truth is there are very few that make the cut when it comes to both taste and nutrition. These days the grocery bills add up and trying new products may seem more a luxury—lest you risk spending hard-earned bucks on something barely edible. So, I've decided to let you benefit from my trial and error.
This week, I'm talking store-bought stock. I'd all but given up on buying it after tasting one bland, watered down version after another. That is until last fall when I attended a luncheon for Swanson. The menu, prepared with their new line of stocks by Chef Christopher Lee, included Pepper Steak Stir Fry and Truffled Chicken. It was really delicious. I've been working with the stocks for four months now and have been immensely satisfied each and every time. In full disclosure, Swanson generously offered to stock my test kitchen. But the truth is I wouldn't use, let alone recommend, a product I didn't like myself. Sure Martha Stewart would make it herself, but if you're juggling two kids, working from home and running the house like me, reach for a carton of Swanson's Stock and you'll have dinner ready in half the time. Here's a favorite from my original recipe files.
Simply Delicious Onion Soup
Serves 8
I've lightened up this French classic by serving it with homemade croutons and a Parmesan crisp. Use the slicing blade of your food processor to prep the onions and you'll have a rich, delicious soup on the table in less than an hour.
4 pounds onions, thinly sliced
6 tablespoons butter
2 tablespoons extra virgin olive oil
2 dried bay leaves
Salt and freshly ground pepper, to taste
¼ cup dry vermouth
8 cups beef stock
1 recipe brioche croutons (see below)
8 Parmesan crisps (see recipe below)
1. Heat a 6-quart stockpot over medium-high heat. Add 4 tablespoons butter and olive oil. Once butter is melted, add onions and stir to coat well. Add bay leaves a season with salt and pepper. Cover pot and reduce to a simmer. Cook, covered, until onions are softened, about 30 to 35 minutes.
2. Remove and discard bay leaves. Raise heat back to medium-high. Stir in vermouth. Add remaining butter and stir until melted. Pour in stock and stir well. Bring to a boil. Reduce heat to a simmer and cook for 5 more minutes. Taste, and season with additional salt and pepper if necessary.
3. Ladle into soup bowls and garnish each serving with some croutons and a Parmesan crisp.
Brioche Croutons
Makes 2 cups
3 thick slices brioche, cubed
2 tablespoons extra virgin olive oil
Salt and freshly ground pepper, to taste
1. Preheat oven to 400ºF. In a medium bowl, drizzle with brioche cubes with oil. Season with salt and pepper. Place on a rimmed sheet pan and bake for 10 minutes or until golden. Store in an airtight container for up to three days.
Parmesan Crisps
Makes 8
1 cup freshly grated Parmesan cheese
1. Preheat oven to 400ºF. Divide cheese into four 2 ½-inch mounds on a sheet pan lined with greased parchment or a silicon liner. Bake until golden, 4 to 5 minutes. Let rest on sheet for 1 minute. Use a flexible or offset spatula to remove from pan.
Stumble It!