Pistachio Cupcakes…and a great giveaway.
These pistachio cupcakes may look familiar since I wrote about them for Cuisinart a few months back. I've tweaked the recipe directions, so you don't need to own a stand mixer to make them. There's also a great giveaway you won't want to miss.
Cheers,
Jennifer
—
I was on a major cupcake kick two years ago. While I still love them, I have managed to get my addiction under control. During that phase, one variation I had worked on was a light and airy pistachio treat. Imagine a marriage of tender cake crumb with a hint of angel food cake's sponge-like consistency, then add lots of character. The recipe had been on my mind ever since I spied some pistachios in the freezer.
Now comes my dirty little secret. I test and develop recipes for a living but have a nasty habit of only writing down the ingredients in my recipe journal. I generally transcribe the recipes on my computer while it's baking, simmering or what not. My fear is one day, when I am long gone, my daughters will flip through my journal and curse me for not including directions. Lord knows technology will have changed by then that my MacBook will look like a dinosaur.
My original recipe was recorded in ounces, which is the way professional bakers work. This time around it made more sense to adjust the recipe with measurements anyone could use. Thankfully I remembered the steps, yielding delicious results. What I also liked is they're decadent in flavor but not really full of fat. This recipe uses egg whites and only four tablespoons of butter for a dozen cupcakes. I loved eating them both plain and with some leftover Red Velvet frosting I had in the fridge. I'm sure they'd also taste delicious with a light sprinkling of confectioner's sugar.
Now, I've got one extra sweet treat to go with this recipe. Wondering how I got those square shaped cupcakes pictured above? The folks at Circulon sent me some new bakeware to test from their Cook Great, Look Great line.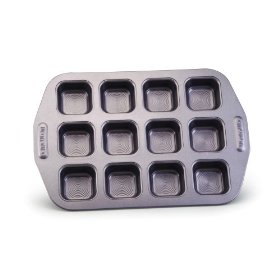 Not only do they help with portion control but they are truly nonstick. No need to coat the pans with cooking spray or add cupcake liners to the landfill. Just the joy of baking perfect loaf breads and cupcakes everytime. One lucky winner will get to taste the sweet rewards courtesy of Circulon—they've donated a set of muffin and loaf pans. Just leave a comment here letting me know your favorite decadent dessert that's big in taste but easy on the waistline, and you'll be automatically entered. The winner will be chosen using random.org's number generator. Please, only one comment per person to keep it fair and be sure to leave it before 11:59pm tomorrow, Wednesday, June 10th. After that, this deal leaves the station.
Pistachio Cupcakes
Makes 12
You need a very clean, dry bowl for beating egg whites, so I do that step first. They'll be fine standing for a few minutes while you prepare the rest of the batter (and you don't have to worry about cleaning the bowl twice).
1 cup flour
½ cup pistachios, very finely ground
1 ½ teaspoons baking powder
½ teaspoon salt
½ cup milk
½ teaspoon vanilla extract
¼ teaspoon almond extract
2 large egg whites, at room temperature
4 tablespoons butter
½ cup sugar
1. Preheat oven to 350º. Coat a 12-cup muffin tin with cooking spray. In a medium bowl, whisk together the flour, pistachios, baking powder and salt; set aside. Stir extracts into the milk; set aside.
2. Beat the egg whites until stiff but not dry. Carefully transfer to a bowl and set aside.
3. Add the butter and sugar to the mixing bowl; fit mixer with paddle attachment. Beat until mixture is fluffy. On low speed, gradually add flour mixture. Slowly pour in milk-extract combination, and beat until just mixed (at this point, the batter will be very thick – do not over beating or it will create a tough crumb).
4. Fold in the beaten egg whites. Evenly spoon batter into prepared muffin tin. Bake for 13 to 15 minutes, or until a toothpick inserted comes out clean.
Related Links
Agave & Honey Oatmeal M&M Cookies – Recipe Girl
How to Make Fortune Cookies – Savory Sweet Life
**Updated 6-11-09. Congratulations to Shannon over at Bread and Jam: A Food Journey on winning the Calphalon bakeware set.**