Double Crust Mostly Rhubarb Pie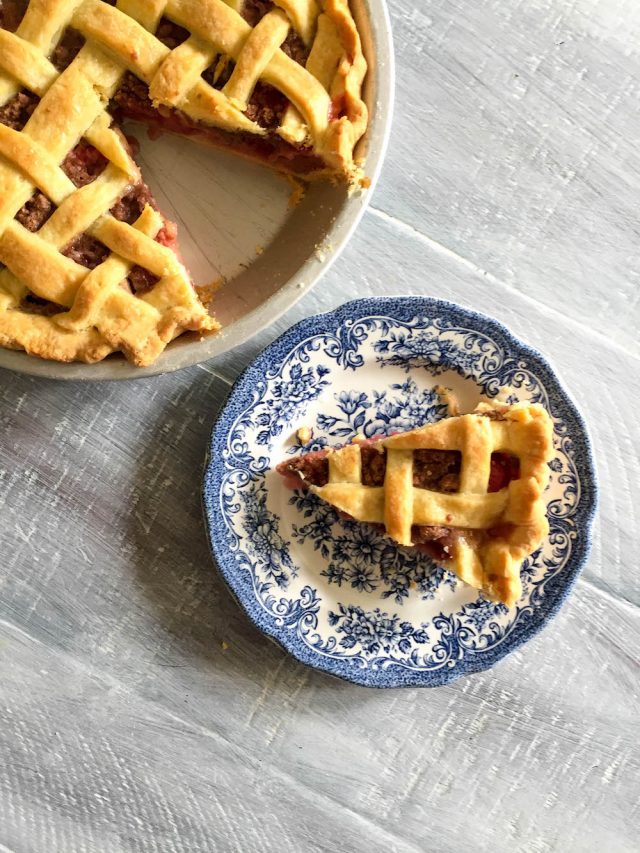 You might be wondering what a Double Crust Mostly Rhubarb Pie is exactly. Well, it's what happens at the intersection of thrift and indecision. I had a few rhubarb stalks in the fridge. Not quite enough for a pie as I'd originally intended. While I'm still certain strawberry-rhubarb pie isn't my favorite, though it's a fine excuse to make, and eat, pie, I did discover I very much like an all-rhubarb pie recently. I started out making a mini one before committing to a full-size pie.
But then I didn't buy enough rhubarb stalks when I was at the store, so I wrinkled my nose and furrowed my eyebrows, as I searched the fridge and kitchen for some supporting cast members in this particular pie filling. I found three rather large, plump strawberries. They would do, but I decided to chop them fine, preferring them to melt into the filling than be distinctively noticeable.
Then I saw the bits of apple from earlier that morning still sitting on the counter. I had cut some up to pack in the girls' homeschool hub lunches, and was left with about one-third of a Gala apple. I peeled the skin, and chopped the fruit into tiny bits, too. All the fruit went together in a bowl, along with some sugar, a squeeze of lemon juice, and flour to make sure the filling thickened up nicely.
But I was still left with one big decision. I'd been craving a crumb topping, specifically a chocolate crumb topping. I had a hunch it would pair nicely with the rhubarb. I even had a bag with some in the fridge. I tend to make extra, and keep it in there for such moments. It wasn't enough, though, and I didn't feel like making more. What better solution than to throw a lattice crust on top, too? Crazy, I know, but someone has to be willing to take these chances, and I was all too happy to give it a try.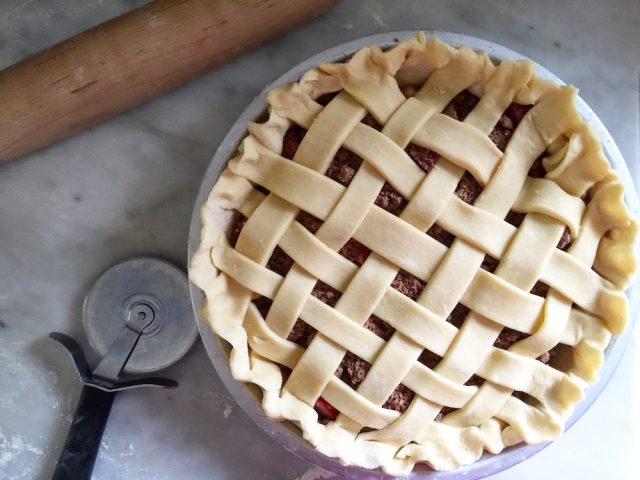 The finished pie was amazing, but really it's not my opinion that matters. My girls both gave it a double thumbs up, which feels quite fitting for a double crust pie, don't you think? If When I make this again, I'll put a little less of the lattice on top so the crumb topping peeks through the openings a bit more. You could definitely taste it there; I would've just preferred to see more of it, as well.
Ironically, in the end I think I had enough crumb to act as a topping on its own, but then we wouldn't have known that doing something as crazy as combining a pastry crust and a crumb topping is so delicious, so I think it was all meant to be in the end.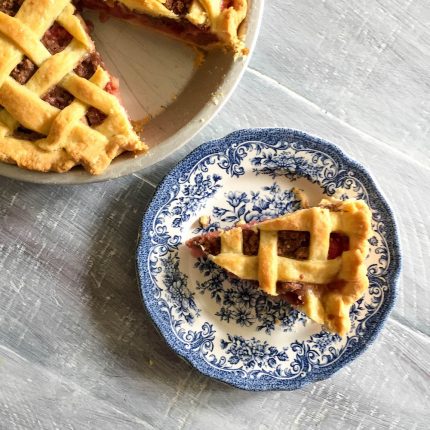 Double Crust Mostly Rhubarb Pie
Ingredients
Instructions
Preheat the oven to 425ºF (220ºC).

Add the rhubarb, strawberries, apple, sugar, lemon juice, and flour to a deep bowl. Stir to combine; set aside.

Roll out one piecrust into a 10-inch circle. Gently fit it into a 9-inch pie plate.

Spread the filling into the crust.

Sprinkle the crumb topping over the filling.

Roll the remaining piecrust into a 9-inch circle. Cut the dough into ½ to ¾-inch strips, and arrange on top in a lattice pattern. Trim the edges, and crimp the crust or flute the edges, as desired.

Bake for 15 minutes. Reduce oven temperature to 350ºF. Bake until the crust is a deep golden color, and the juices are bubbling from the pie, 30 to 40 minutes. Let cool completely before cutting.