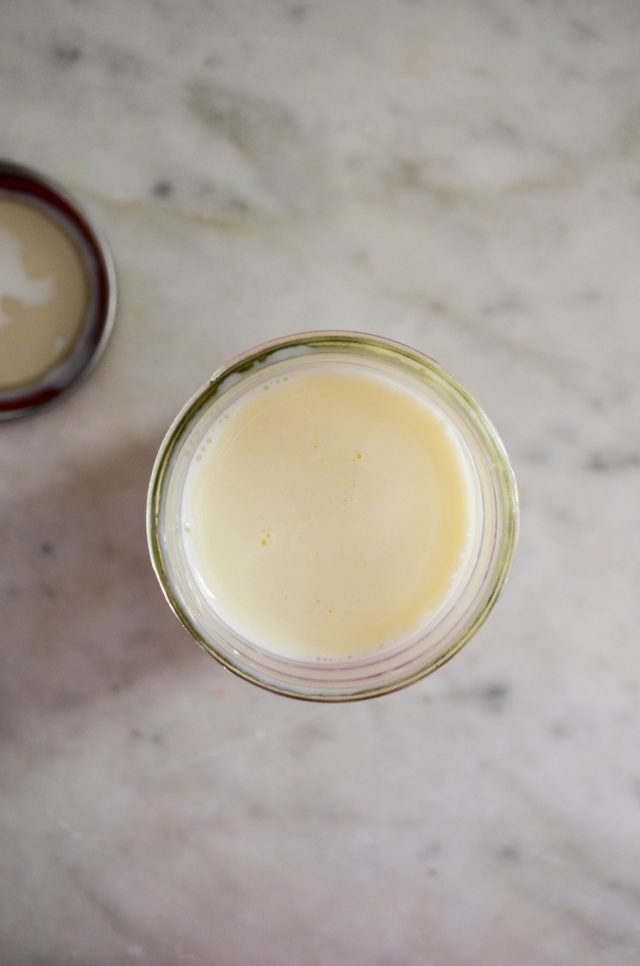 I've been crossing a lot of recipes off my To Make bucket list these days, so that explains this recipe for Homemade Evaporated Milk. Maybe it's the change in seasons, perhaps, or a renewed energy to get back to my roots of truly cooking from scratch. Mikey used to joke, and tease me by asking when I was going to make my own water.
Funny enough, I was helping Isabella with a science question last year, and I kind of did just that. She had to do a comparison on the weight of ice cubes vs. water in its liquid state. So, we weighed a bag of ice cubes, then set it on the terrace to melt in the sun. When the experiment was done, I looked up towards the sky, laughed, and said "ha, I finally made water".
But, I digress, so forgive for rambling about water, when the real thing to be excited about is Homemade Evaporated Milk free of additives. Need more incentive to make it? How about if I tell you that it can done in your slow cooker, with no real effort on your part besides plugging it in, and then waiting.
Okay, the waiting part might seems tedious. I live in the country, and am 14 miles, one way, from the nearest grocery store. That translates into 40 minutes roundtrip. Even taking that into consideration, making your own evaporated milk in a slow cooker is not a time saver—it takes 8 to 10 hours to make.
So, why attempt Homemade Evaporated Milk?
If like me, reading labels is cause for an anxiety attack at the supermarket, this recipe for Homemade Evaporated Milk is a sanity saver. There are quicker methods, using the stovetop, but that requires a lot of stirring and standing. I've no problem with the standing part, but the stirring means I can't do other things, and as a single mom, anything that allows me to multitask gets a gold star. That's why I started researching methods using a slow cooker to make Homemade Evaporated Milk.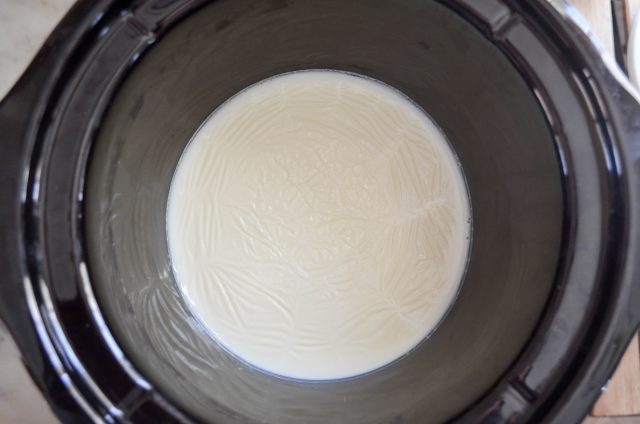 Many recipes call for large volumes, and I guess that kind of makes sense. It does take a rather long time, so why not double up. Feel free to go that route if you'd like. The recipe I'm sharing here yields the amount you'll need for making one pumpkin pie (a 12 ounce can basically), which incidentally is the only thing I ever use evaporated milk to make. I'd love your suggestions if you have other favorite recipes using it, so please leave a link in the comments.
As the milk cooks, you'll see a film form on top. That's normal. Don't stir it back into the pot. I found a routine where I set the slow cooker at night, this way I could wake to perfect Homemade Evaporated Milk. I recommend testing your recipe during the day time to see the sweet spot for timing on how long it takes your milk to reduce since slow cookers vary.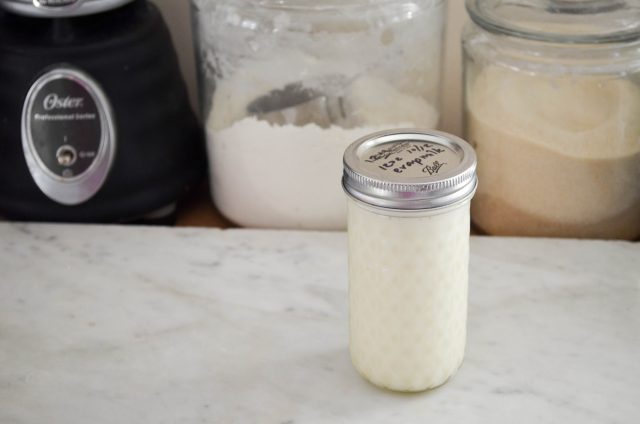 In case it wasn't obvious at this point, all evaporated milk is, is milk that has had the water content reduced, by about 60%, resulting in a more concentrated milk. Think of it as unsweetened condensed milk because it has no added sugar (spoiler alert: there's a refined sugar free recipe for Sweetened Condensed Milk made with maple syrup coming soon!).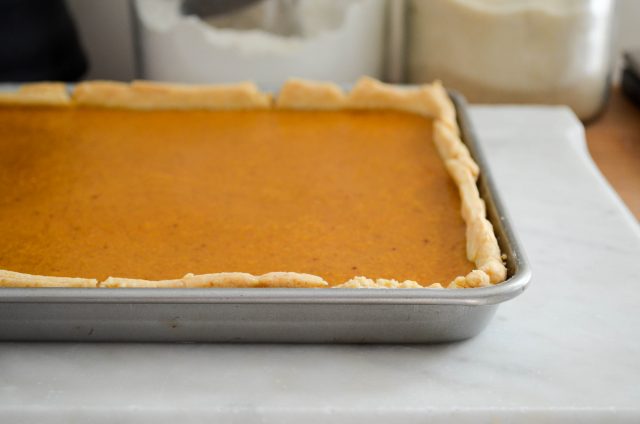 And speaking of pumpkin pie, I took some new photos to go with this post from a couple of years ago. Of course, I had to test out my Homemade Evaporated Milk on a tried & true recipe, so I made a pumpkin slab pie a few weeks ago. It was amazing as usual, and the filling was a little lighter than usual, in a good way, which I think had something to do with the evaporated milk. Happy pie making, everyone!
Get the recipe for my Pumpkin Slap Pie here.
Watch the video of me making my Pumpkin Slap Pie here.
And lots more cooking videos here!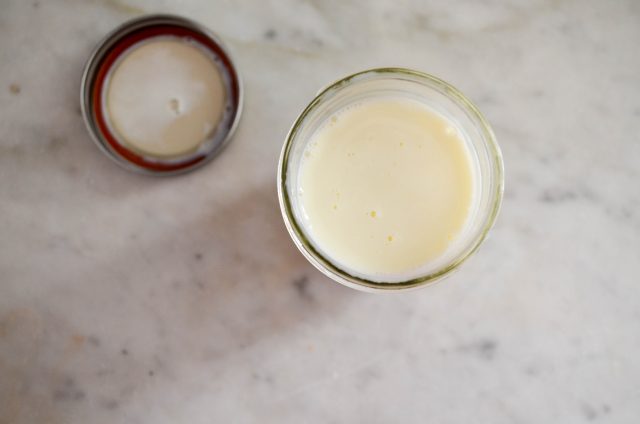 Homemade Evaporated Milk
Ingredients
3 3/4

cups

30 ounces / scant 1L whole or 2% milk

Slow Cooker
Instructions
Before you begin, add 12 ounces of water to your slow cooker. Make a note of where the water line reaches (I use a ruler). This is where the milk level will be once your evaporated milk is ready. Discard the water before setting up the milk in your slow cooker.

To make the evaporated milk, add the milk to your slow cooker. Set it to HIGH, and let the milk cook down, 8 to 10 hours, until it reaches the level you made note of with the water.

Once the evaporated milk is ready, let it cool, and transfer to a glass jar. Store in the fridge until the sell by date of the milk you used to make it.