Just when you think the book's been written on pumpkin pie, the proverbial light bulb goes off. It happened while I was baking a dozen pies at Grazin' recently. I had an assembly line of peach pies going. Crusts were fit into the pans, edges fluted, and filling was spooned into them. Only thing left to do was sprinkle on the crumb topping. Then, boom—that's when it occurred to me.
See, next up was pumpkin pie once the peach ones were ready to be flash frozen. I wondered why don't we see more crumb topped pumpkin pies. I mean, surely, this isn't a new idea. Someone else has had this idea before, yes?
I decided to gamble with the few handfuls of crumb topping I had left from making the peach pies, and sacrificed one of the pumpkin pies to try this idea out. One bite, and there was no doubt in my mind that Crumb Topped Pumpkin Pie needs to become a thing.
The custardy pumpkin filling gets nestled between a buttery crust, and a crumbly topping—a perfect balance of taste and texture.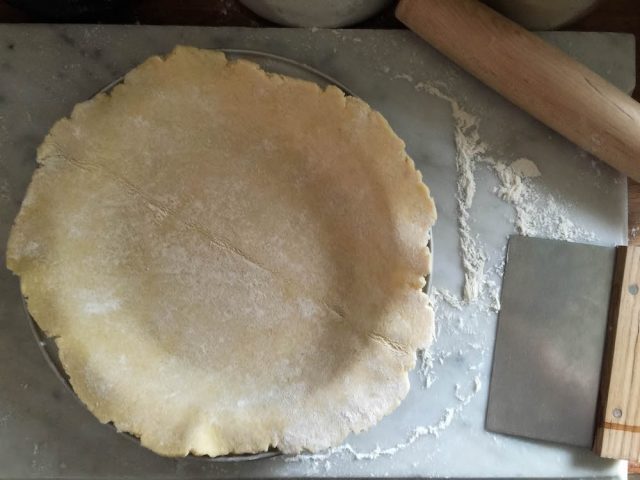 This Crumb Topped Pumpkin Pie recipe is a mash up of two existing recipes here on In Jennie's Kitchen. Start off using one of these two pumpkin pie recipes. The main difference here is to consider whether you want to use evaporated milk or heavy cream in your filling.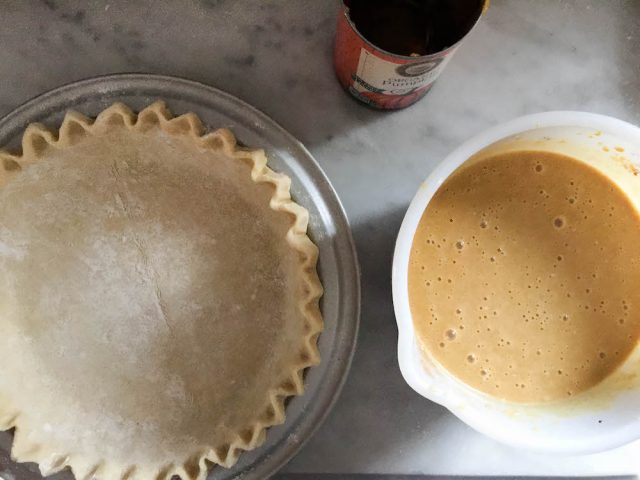 If you've ever been curious about making your own evaporated milk, I gave that a try last year (read about it, and get the recipe here). The benefit to making your own evaporated milk is no added fillers or preservatives. The heavy cream based pumpkin pie is very light and delicate the day it's made. An overnight chill in the fridge makes for a more custard-like filling.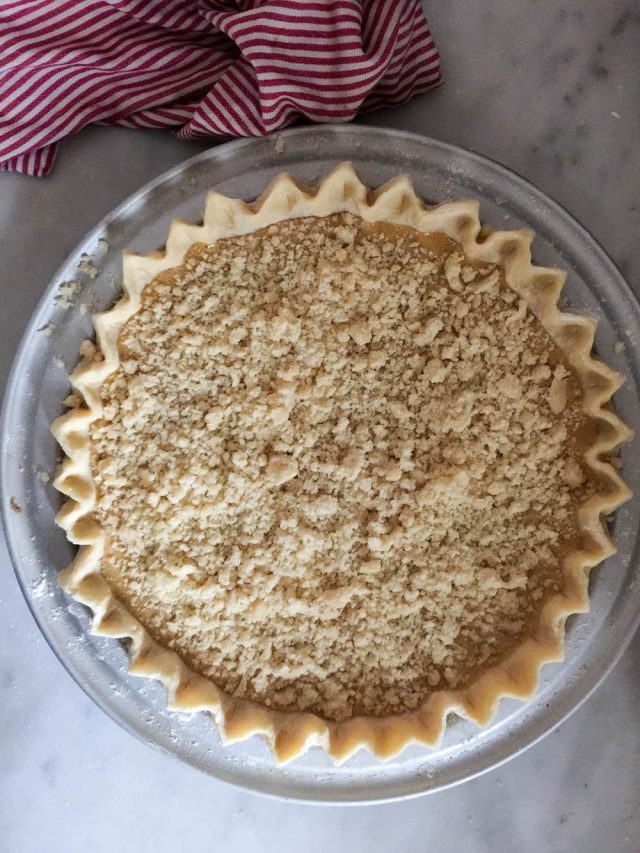 Once you've chosen your pumpkin pie recipe, sprinkle half of this Buttery Crumb Topping over the top of the filling for a 9-inch pie, or the full amount of crumb topping if making the slab pie, before baking. Common sense tells you it would sink to the bottom (that was my worry initially), but miraculously, it doesn't. Bake the pie as directed in the original recipe, laying a sheet of foil loosely over the top if the crumb begins browning too quickly.
We had a doozy of a rainstorm last night, which left four inches of water in the basement, and knocked out our power. If it gets restored in time, I'll be baking one of these for Virginia's Halloween class party tomorrow (fingers crossed!).