Apricots in Honey, Vanilla & Lemon Thyme Syrup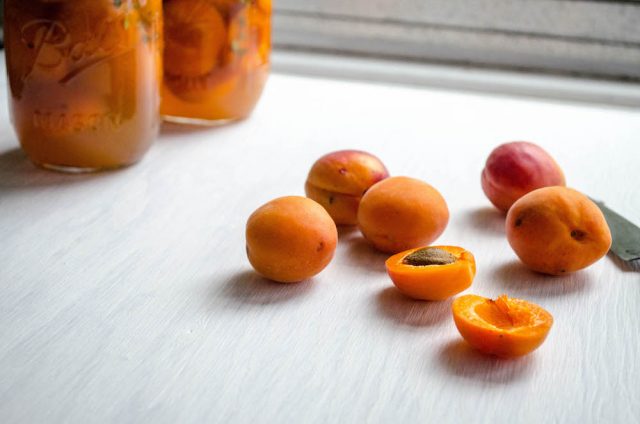 I'm on the fence whether sharing this recipe is a good or bad thing. Depending on where you live, apricot season may be done. Up here in the Hudson Valley, apricots seem to be an endangered species. They were non-existent the last three years due to crop damage from late spring frosts. Stone fruits are particularly vulnerable when a cold blast hits after weeks of warm weather. Once the trees start to bloom, a late, unexpected frost can take out an entire season's harvest.
The weather cooperated producing the first apricots at Montgomery Place Orchards in a few years, and yet it still wasn't enough for them to be a reliable source. I'd all but given up hope on finding them this season.
My work schedule now means my time for getting up to the farm stand is limited. I missed the first smallish batch for sale, and just about when I'd resigned myself to "maybe next year", my patience was rewarded with scoring four quarts of apricots. They were a hefty sum, but considering all I'd saved not being able to buy them the last three years, I rationalized the expense.
The girls, Virginia especially, squealed when I arrived home with them. We consumed the better part of one quart, eating apricots out of hand, and making this an apricot version of this Summer Peach Cake (Isabella much preferred the cherry version).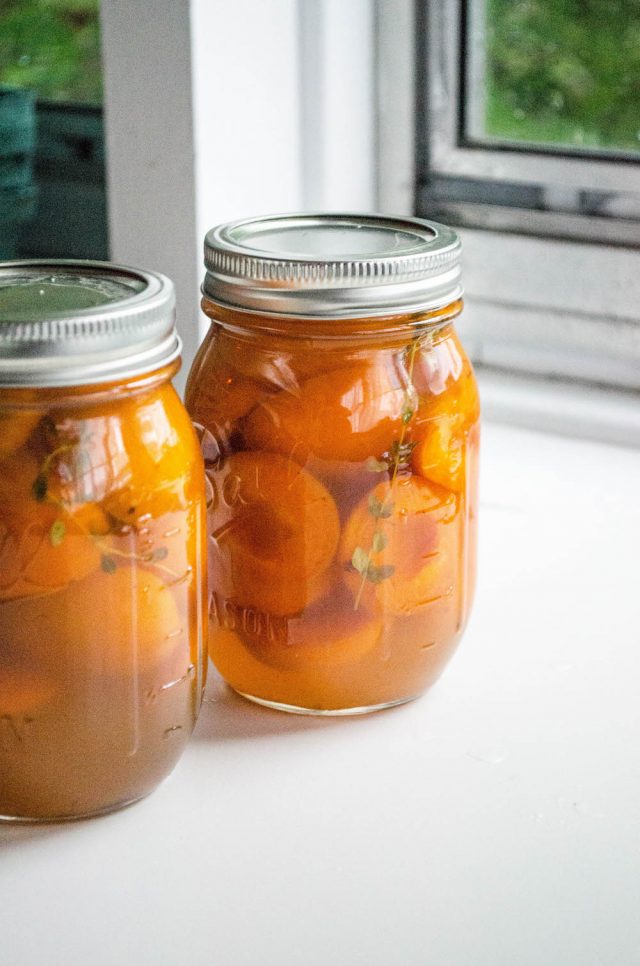 My eagerness to help the season linger, combined with my lack of time to make jam, resulted in preserving the remaining three quarts of apricots using a cold pack preserving method. The fruit is split in half, pitted, and then snuggly set into a jar. You want to make sure the fruit really fills it up, even looking a bit too close for comfort.
While you're doing that, a pot of water, honey, and sugar should be bubbling away on the stovetop. The hot liquid gets poured over the fruit, and at that moment you'll understand why it's important to pack the fruit it rather tightly.
The apricots buckle from the heat of the boiling honey syrup, not enough to lose their shape, but enough to fill the jar comfortably. For this reason, you also want to make sure you select apricots that are ripe, but still quite firm.
Deciding when to use my tiny stash of three jars is going to be a challenge. How to use them will be the easy part. Spooned over ice cream or sponge cake. Stirred into yogurt or oatmeal. Maybe just eat them as-is for a light, fuss-free dessert. One thing you can be sure of is that I'll savor every single bite.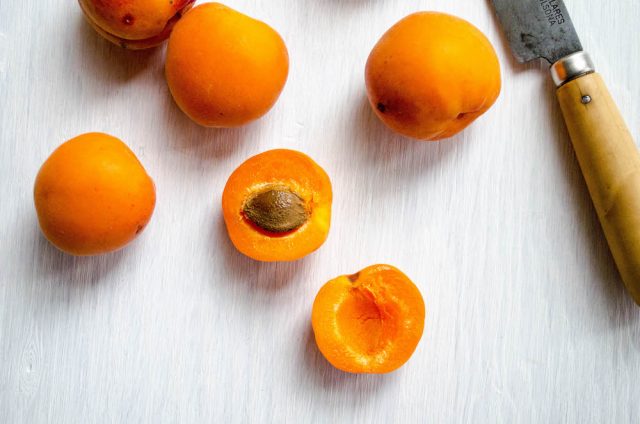 This recipe is now part of my new site, Simmering. Join thousands of other subscribers now for only $5/month or $30/year (that's six months free!)
SaveSave
SaveSave
SaveSave