This is a bit of a cheat recipe, only in the fact that I simply swapped out the fruit from a cake I made last year, and used cherries this year. Does it warrant a new recipe? In my mind, yes.
I tend to be forgetful, after years of creating recipes. Old favorites easily linger in the files while I turn my attention to newer ones. A hazard of the job in many ways, and now time to reflect on older ones is a benefit of not working full time on recipe development at the moment.
I've the chance now to revisit my beloved ones, although the developer in me is always tinkering. When cherries came into season a few weeks ago, putting peaches on hold, and using the sweet, scarlet fruit seemed a natural fit for this cake.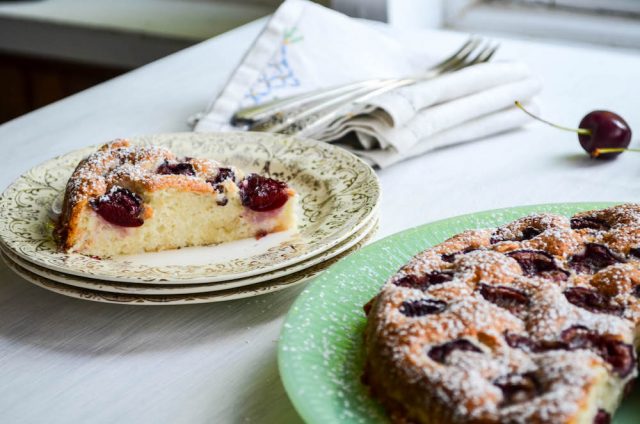 Isabella promptly declared it the best thing I've ever baked. The ease with which it comes together surprises me every time. A little planning to ensure the butter is softened, and you're on your way. I've even used my microwave to speed up the softening on occasion. Not my preferred method, but hey, whatever works is also my motto, especially when cake is involved. You can also stash a stick of butter in your back pocket, and walk around with it for 15 minutes or so until it softens, but it was close to midnight, and I needed my softened butter stat.
Once cherries fade away, it'll be back to peaches. You can even use nectarines or plums. Apricots would be lovely, too. I made another variation of this cake just last night using them, and made some other tweaks resulting in an Apricot Vanilla Chamomile Cake. Perhaps I'll get that recipe up here before apricots are finished. Hope Saturday is off to a good start. Cheers for a peace-filled weekend, friends.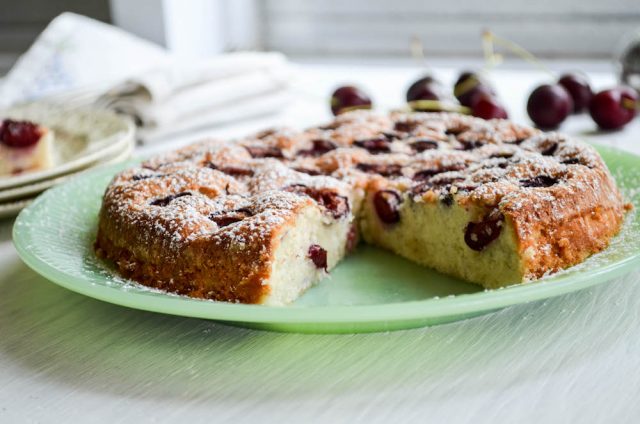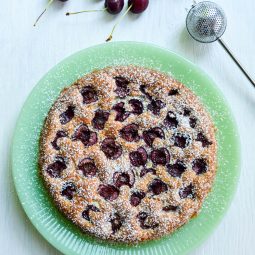 Summer Cherry Cake
Ingredients
3

egg whites

save yolks for a later use

Pinch

of salt

120

grams

1/2 cup + 2 tablespoons granulated natural cane sugar

60

grams

4 tablespoons butter, softened

60

grams

6 tablespoons flour

¼

teaspoon

almond extract

18

sweet red cherries

pitted & cut in half

Confectioners' sugar

to serve (optional)
Instructions
Preheat the oven to 400ºF (200ºC). Grease the sides of an 8-inch (20-cm) springform pan with butter. Flour lightly. Line the bottom with a sheet of parchment (cut it to fit if not using precut round sheets).

Add the egg whites and salt to a medium bowl. Beat on medium-high until stiff peaks form. Set aside.

Add the butter and sugar to a clean, medium bowl. Beat until fluffy and well mixed.

Add the flour and almond extract. Beat until just combined. The batter will be very stiff, and more like cookie dough. Stir in a third of the beaten egg whites to loosen up the batter.

Gently fold in the remaining egg whites.

Spread the batter into the prepared pan. Arrange the peach slices on the top in a swirl pattern.

Bake 32 to 35 minutes, until puffed, golden, and cake springs back when tapped in the center. Remove from oven, and let cool completely on a wire rack before removing from the tin. Dust with confectioners' sugar before serving, if desired.
SaveSave
SaveSave
SaveSave
SaveSave
SaveSave
SaveSave