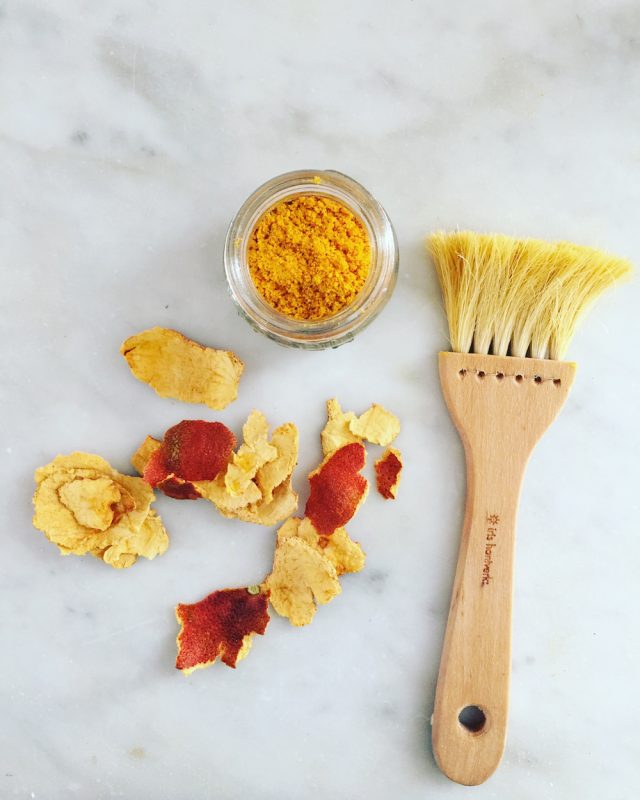 Today was one of those mornings where the only place in life that felt safe & secure was the kitchen. Maybe it's knowing that March is on the horizon, and brings with it spring. Perhaps it's the 66ºF temperature we're expecting today (hello, climate change deniers). It's also rather grey here today which is always a slow drain on my mood.
The kitchen, though, well, being there is truly the most healing place for my soul. Last night I caught site of some dried up looking clementines. They were rather juicy, even though the skins had wrinkled up, and begun to harden a bit. It reminded me of a post on Instagram last week from Giulia of Jul's Kitchen, so I decided to peel the rinds off, and set them about to dry out.
Impatience persisted when I woke this morning, so I popped them into the oven at 200ºF until the house filled with this hauntingly faint scent. Let's say it was an hour and change, but really don't hold me to that, and frankly it depends on how much moisture your rinds have to begin with. If mine had been fresh, younger, they would've certainly taken much longer to dry completely. Use your judgement—this is not the instance to stress and worry about cooking (actually, there's never a time for stress and worry in the kitchen, but that's just my take on it).
Once they were cooled enough, I gave them a whirl in my mini chopper, now making me the owner of some pretty awesome clementine dust. A culinary fairy dust, of sorts, to season soups, baked goods, seafood, just imagine the possibilities. I won't be able to use it in my professional life as a recipe developer because it's too esoteric an ingredient, unless, of course, I one day get my food waste cookbook concept greenlit (that sounds downright awful, but I promise it's a really wonderful book on using up leftovers in refreshing, surprising ways, like this…).
Regardless, this'll come in handy to swap in for recipes that call for orange zest when no oranges are on hand. I can already tell it'll have a slightly different effect on the end product, a deeper, more brooding orange essence perhaps? And I'll have to tinker with ratios, so stay tuned. I'm sure a recipe or two will find it's way here in time.
I decided to save some of the dried peels to use as cocktail garnishes. A few nibbles proved them to be addictive. It also reminded me of an orange crisp snack I bought at a hip coffee place in NYC last year. Must remember to buy some more clementines, and dry them out into thin, crisp slices.
These nothing into something projects remind me that in dreaming big it's often the little things, sometimes the simple twists of fate, that yield the most amazing and lovely surprises. So, I'll just hang in, wait for the sushine to come out another day, and try my best to remember that life has a plan outside of the ones we make for ourselves, and we seldom ever know it until we're smack in the middle of the story. Also, a pastry brush works wonders for cleaning out the crevices of my mini chopper, ensuring all that fairy dust was captured in the jar.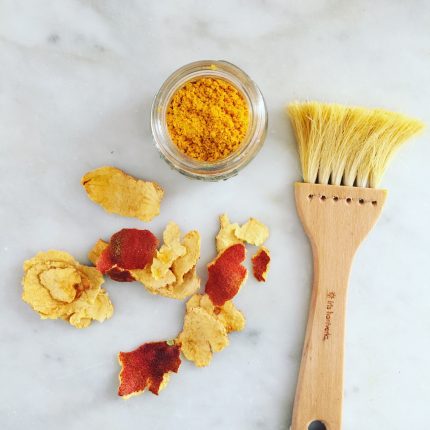 Clementine Dust
Instructions
See original post

here

for full directions.