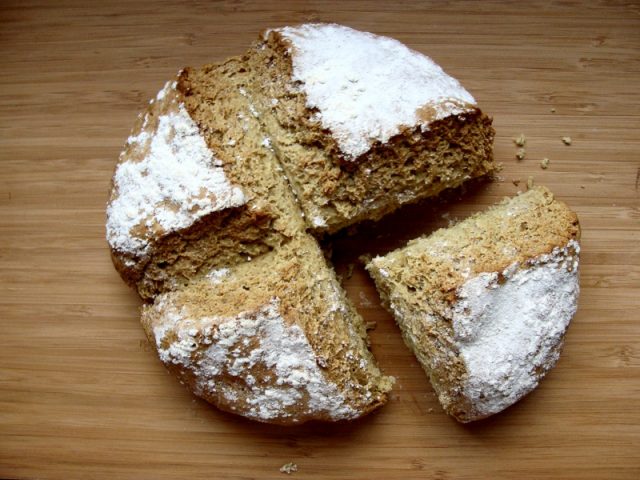 I'm popping in today to share two things with you. First, look at that lovely semolina soda bread. Doesn't it look divine? I fell in love with baking (and eating) soda bread five years ago, after reading a recipe in Heidi Swanson's Super Natural Every Day. Since then, many variations have come out of my kitchen (there's a fabulous Buckwheat Soda Bread in the current issue of my magazine). While doing some behind the scenes work and blog housekeeping, I came across this recipe from January of 2011.
Just writing that date stops me in my tracks. Life before and after August 2011. Before I get derailed here, though, I thought to post the recipe finally because it ties in nicely with a new project (my second share, if you're keeping track). I'm contributing to Parade magazine's Community Table weekly (sometimes twice a week, varies each month), and this recipe ties into the first post (I'll be sure to share a link when it's live).
So, while I run back to tending to the many things on my To Do list, go ahead and add this recipe for Semolina Soda Bread to your To Do list.
One more quick note—I make a point of saying to let the bread cool for an hour before slicing. In full disclosure, I break my own rule, often. The allure of warm bread slathered with butter and fleur de sel is too irresistible. So, if you're really in a rush and just can't wait the hour, suffice it to say 15 minutes seems just enough time for the crumb to relax. You know, if you have little will power, like myself.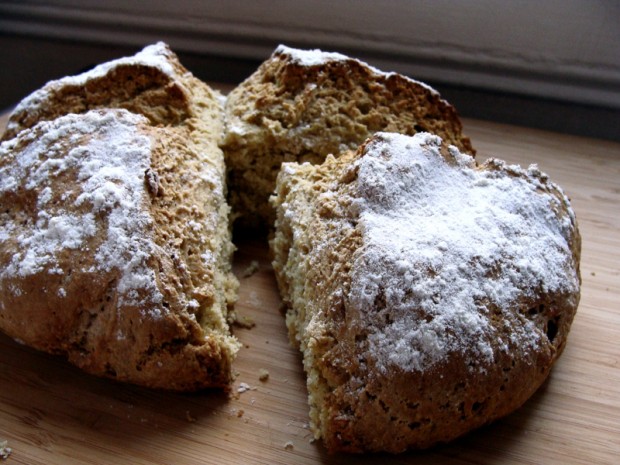 Seven Years Ago: Plantains 101 | Six Years Ago: Spinach Ricotta Potato Pancakes
Five Years Ago: Feelin' Groovy  | Four Years Ago: A Kiss to Build a Dream On
Three Years Ago: French Toast Waffles | Two Years Ago: Crispy Oven Fries
One Year Ago: Blood Orange Sour Mix
Semolina Soda Bread
makes one generous-sized loaf
Inspired by Heidi Swanson's recipe for Rye Soda Bread in Super Natural Every Day.
7 ounces semolina flour
8 ounces all purpose flour, plus more for dusting and kneading
2 ounces rye flour
1 3/4 teaspoons (12 grams) baking soda
2 teaspoons (12 grams) granulated sugar
2 cups (450 ml) plus 2 tablespoons well-shaken buttermilk
Arrange rack in center of oven. Preheat to 400ºF.
Add flours, sugar, baking soda and salt to a deep bowl. Whisk together to mix well. Pour in 2 cups of buttermilk and stir using a wooden spoon until just combined.
Lightly flour a clean countertop or large cutting board. Dump dough onto surface and knead briefly, 30 to 60 seconds until it forms a relatively smooth ball. Place on a lightly floured rimmed baking sheet. Slightly flatten ball of dough.
Brush sides and top with remaining buttermilk. Sprinkle top with a generous amount of flour, 2 to 3 tablespoons. Using a very sharp knife, slash a deep "X" on the top of the loaf, making sure not to cut all the way through.
Bake for 25 minutes, then move tray to upper middle rack of oven and bake for 13 to 15 more minutes until it becomes a deep golden color and temperature registers 185ºF. It should sound hollow when tapped with your knuckle. Transfer to a wire rack, and let cool for at least an hour before slicing.
Variation: see my recipe for oat soda bread