Capellini with Garlic & Chili Flakes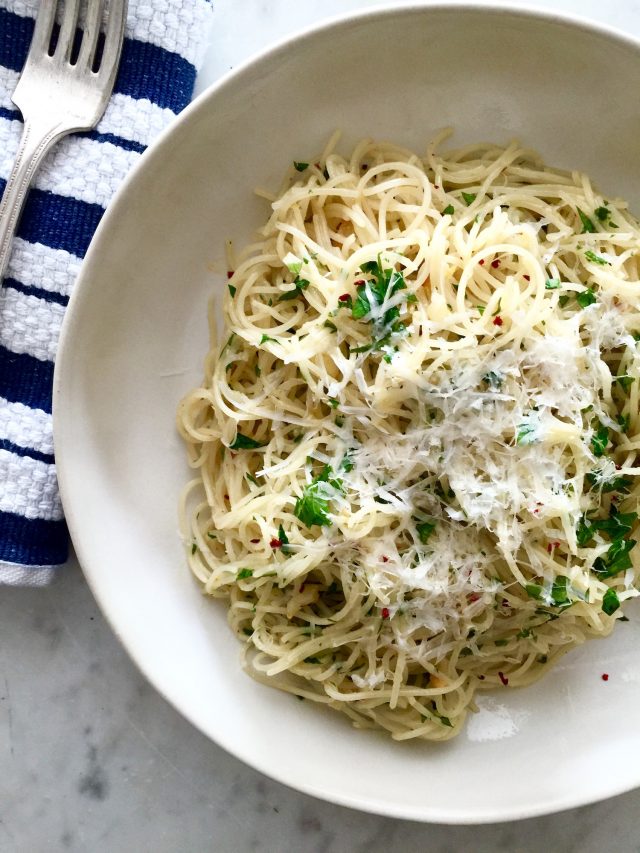 First, I must confess this is a dish my kids would never dare to eat. I do hope that changes as they grow. I, too, was a fussy eater (little known fact: I refused to eat pasta with tomato sauce!). Still, for me, this pasta screams childhood, and while there are a lot of memories I choose to shove to the recesses of my mind from that period of my life, pasta with garlic and oil is not one of them. I'd totally forgotten the comfort this meal brings until reading Rachel's book (see this post). Today I'm sharing a bit of a jazzed up version with this recipe for Capellini with Garlic & Chili Flakes.
More often than not, spaghetti served with garlic browned in olive oil, and drenched in Pecorino cheese was dinner. My mom always took the garlic too far, and that likely explains my fondness for borderline burnt garlic. It was only when I became an adult, and taught myself to cook that I realized garlic should be treated more gently—cooked softly until tender, but barely golden in color, to avoid imparting a bitter taste.
As for the parsley and chili flakes those never made an appearance in my mom's version of this dish. I love parsley, though—it's the unsung hero of the herb world in my opinion. Adding just a refreshing punch of flavor without overshadowing the other ingredients. Unlike rosemary which is an attention hog with its potent flavor, parsley is happy being a supporting character. I added the chili flakes for some heat, but you can skip them if you prefer.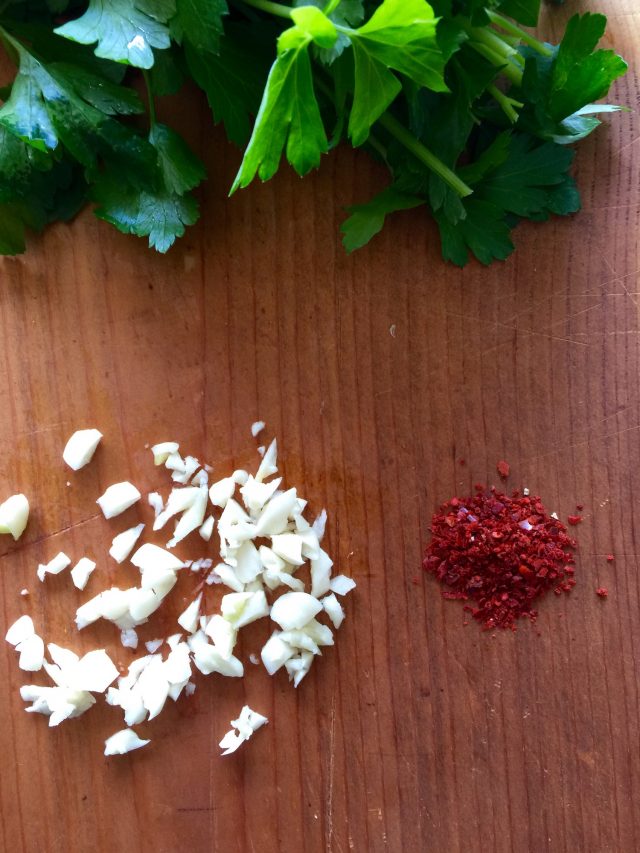 Is it just me, or do any of you get cravings for specific types of pasta? Italians are pretty stern about pairing certain shapes with certain sauces. I am the same, but this isn't what I mean. I'm talking about not just craving pasta, but craving a particular shape, and then building your meal around it. That is how this Capellini with Garlic & Chili Flakes came to be my lunch one day.
I wanted spaghetti, but none was to be found in the pantry. Instead, I had a whole package of capellini. Capellini with Garlic & Chili Flakes it would be.
Now, it should be known that I have a somewhat disdain for capellini. I find it to be a troublesome, tantrum-prone pasta, the strands sticking together no matter how hard I try. Of course this was Mikey's favorite shape. Opposites attract was a running theme in our relationship. So, I find myself buying it from time to time, a way to stay connected to him. After a weekend of gorging on backyard cookouts, I imagine this pasta is exactly the meal we're all craving. Quick, easy, but oh so comforting.
Seven Years Ago: Spanakopita
Six Years Ago: Chocolate Olive Oil Cupcakes
Five Years Ago: Simple Marinara Sauce
Four Years Ago: Hello, June. 
Three Years Ago: Catching up
Two Years Ago: Strawberry Blood Orange Jam
One Year Ago: Easy Raspberry Sorbet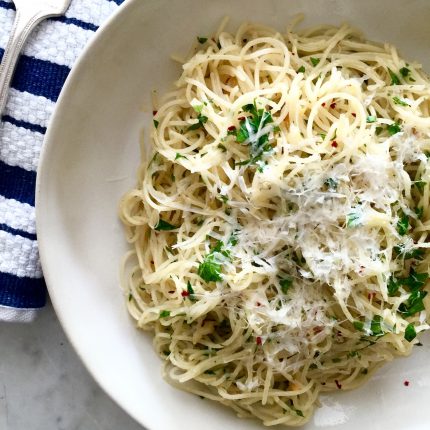 Capellini with Garlic & Chili Flakes
Once the water comes to a boil for your pasta, be sure you're ready to go if using capellini, as it cooks super fast. Be sure to reserve some of the cooking water, too—you'll need a little to loosen the sauce, if we can even call it that (really, it isn't). Regarding the chili flakes, dried ones have a shelf life, so best to buy it in small quantities, unless you use it every day. And store it in the fridge or freezer to keep it fresh (a good tip for all of your dried spices).
Ingredients
Capellini or Spaghetti

cooked according to package directions

Olive oil

3

cloves

of garlic per person

Chili flakes or chopped pepperoncini

as much as you can handle

Fresh chopped flat-leaf Italian parsley

optional

Freshly grated Pecorino Romano or Locatelli cheese
Instructions
About 2 minutes before the pasta is done cooking, heat some oil in a deep skillet over medium-low heat until shimmering. How much you need depends on how many people you're feeding. Let's say 2 tablespoons per 2 ounces of dried pasta (that's equal to 1 serving).

Add the garlic and chilies to the pan. Shake it a few times to swirl the garlic and chilies, and prevent them from burning. Remove from the heat.

Drain the pasta, reserving some of the cooking water (1/4 cup per serving). Add the pasta to the skillet, and give it a good toss to coat the pasta evenly. Stir in some of the water just to loosen the strands of pasta (capellini is especially tricky), if needed. It shouldn't be soupy, or even saucy.

Stir in the parsley, if using. Finish with a swirl of olive oil and Pecorino. Serve immediately.