Ciao Bella Plain Gelato Base
It takes exactly six footsteps to reach the other side of my kitchen. The oven door only opens 90% of the way because the fridge was originally tucked behind the door leading to the back porch, a behemoth smacking you in the face as you entered the shoebox of a kitchen, and also arbiter of darkness, blocking any natural daylight from filtering in.
I chose light over darkness—the possibility of what I could do in a tiny place, even with an obstructed oven door, over the impossibility of more darkness creeping into my life.
It's easy to get lost in daydreams, staring at the 80 year old cabinets behind me, thinking about knocking them down, painting the walls, and hanging shelves in their place. The other day thoughts of attempting to lay down new flooring on my own swirled in my mind. Apparently it's an easy task, according to so many people, but I keep thinking, "what if you screw it up, Jennie?" I didn't know how to use a drill before buying this house, and using a level leaves knots in my stomach. Am I crazy to still keep dreaming after all these years that one day I'll find a new normal that doesn't feel like an ill-fitting dress?
Regardless of my tiny confines, I remind myself the imagination resides in a place of infinite square footage.
I may never get around to making the changes I'd like in my kitchen but that is neither here nor there because seasoned cooks know it's not about the kind of appliances you own or space you inhabit. The only real challenge to creating good food is lack of inspiration or imagination. After all, even the fanciest of mixers and blenders need someone to operate them, and to have an understanding of what ingredients to add to them.
Ice cream is a good example of needing few tools beyond a whisk and mixing bowl if you're really determined to enjoy some homemade. This weekend, though, I decided to pull the old ice cream maker out of the basement. I needed to connect to days from the past, the slow whir of the ice cream maker humming in the back porch, reminding me of summers past when Michael was our ice cream maestro.
I bought the ice cream maker around the same time I was pregnant with Isabella. I think, but you know how easily the mind confuses what really happened with what you think happened, right?
One thing I'm not mistaken about, though, is the way Michael fell in love with the whole process of making ice cream after I bought it, and it quickly became his domain. As he often liked to remind me, Michael fed himself mostly homemade meals before we met (and a good thing, since he was 35 at that point). During our time together, my love of cooking was matched by his love of eating what I made. There was one downside to this symbiotic relationship. Michael began feeling intimidated with my proficiency in the kitchen, and it led him to spend less and less time cooking.
Making ice cream, he insisted, needed to be the one thing he could have to himself without fear of me encroaching and taking over. I was more than happy to oblige, especially since the sound of the machine grated on my nerves. Twenty five minutes of a slow, faint, yet somehow loud enough dragging sound of the motor running was more than I could handle, and I'd ask for advance notice so I could make sure I was out of the apartment while the ice cream was churning.
Strawberry was an annual favorite, and to this day, I've yet to taste one as amazing as the early spring strawberry ice cream he made with the first berries of the season. There was also the Sicilian Pistachio Ice Cream he made while I was pregnant with Isabella. Or was it Virginia? I do wish my mind wouldn't play such tricks with me.
Michael found some pistachios imported from Sicily at the Italian shop in Chelsea Market. The flavor of those Sicilian pistachios was more vibrant than any I'd previously tasted. He knew pistachio was my favorite flavor ice cream, and one of the best things about making it from scratch is you can enjoy a more pure flavor sans the green food coloring often used to tint, sometimes hideously, pistachio ice cream.
I remember opening the freezer a few days (or was it weeks?) after he died. A rectangular plastic container held the last few spoonfuls of Snickers Ice Cream he'd made. It was a vanilla base with broken bits of Snickers bites. I scraped a teaspoon of ice cream out in hopes of bridging a connection back to him.
The ice cream sat on my tongue, unable to slide down my throat. The appeal was gone; the flavor no longer matched the memories of when he first made it. The ice cream maker stayed packed up for the better part of the last seven years, making a reappearance once for Virginia's 5thbirthday when she requested a cookies and cream ice cream cake for her birthday just a year and a half after…
I thought I was stronger than the memories that haunted me, still unaware of the long game grief plays, a proficient player able to bluff, convincing you you're ready, only to flop midway when you realize the illusion being played.
It's taken more five years, but the ice cream maker came out again this past weekend. My craving to be away, strolling the streets somewhere in Italy, inspired me to make gelato, and revisit Michael's favorite method from the Ciao Bella Cookbook that came out back in 2010.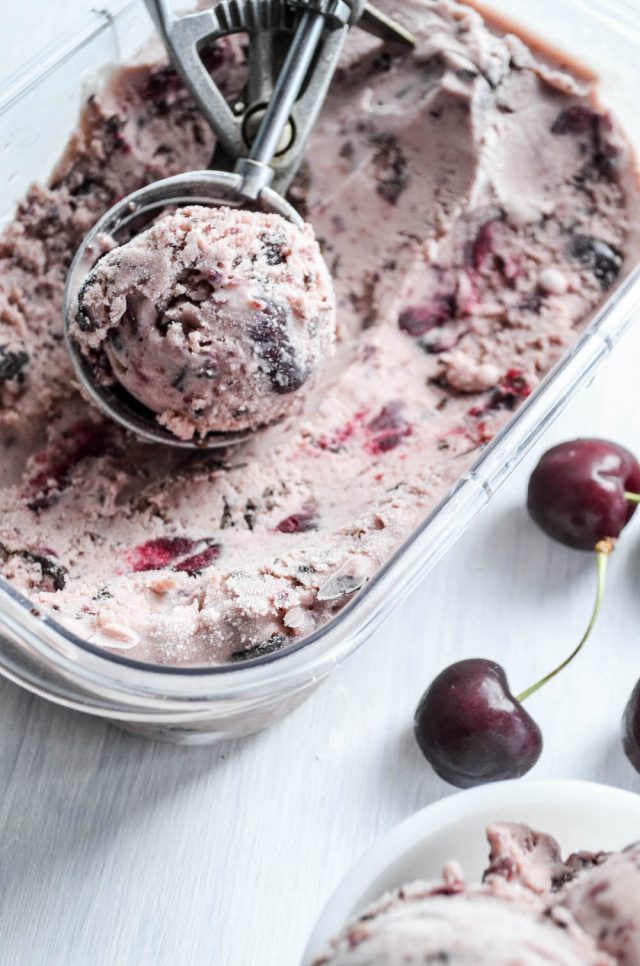 The recipe starts off by making plain base, a step that always tripped Michael up only because it requires thorough chilling before you can proceed with adding the flavoring. Ideally, the base should be made the day before, and if you're really planning ahead, I don't see any reason you couldn't make it as far as three days in advance.
I was tempted to rush the process a bit, and skip the full day of chilling. I wanted my gelato that day, not the next day. Who knew what the following one would hold?
Patience prevailed, and the resulting Sweet Cherry Chocolate Ripple gelato was amazing, filled with plump pieces of fresh picked cherries, and thin, crisp waves of bittersweet chocolate, similar to a straciatella, only better if you can imagine such a thing.
But first, baby steps.
Let's start with the base, and go from there.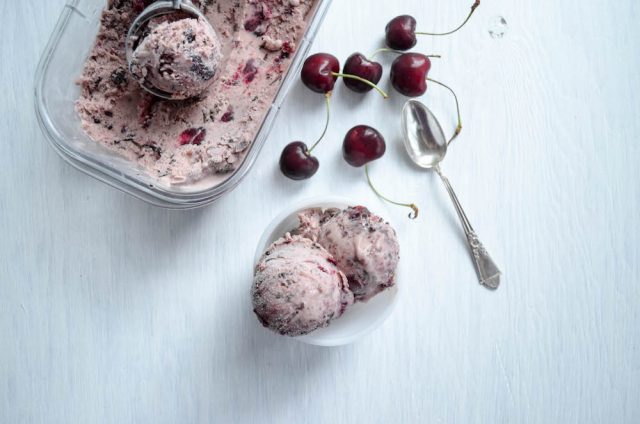 Nine Years Ago: Chocolate Peanut Butter Cupcakes, Zucchini Parmesan Hummus
Eight Years Ago: Zucchini Coffee Cake, DIY Cold Brewed Coffee, Cherry Lime Biscuit Muffins
Seven Years Ago: Milk-Braised Zucchini, Homemade Nut-Free Nutella, 20-Minute Marinara Sauce
Six Years Ago: Rustic Lemon Cake
Five Years Ago: Blackberry Old Fashioned, Raspberry & Chocolate Mint S'mores
Four Years Ago: Cantaloupe & Lillet Sparkler, Sweet Corn Ice Cream, Mixed Berry Muffins
Three Years Ago: Basil Pistachio Pesto, Raspberry Sorbet, Sour Cherry Jam
Two Years Ago: Chickpea & Fennel Tartine, Cherry Cashew Milk, Sweet Cherry Coffee Cake
One Year Ago: Summer Peach Cake, Penne Primavera, Sweet Summer Corn Soup, Roasted Peach Scones, The BEST Chocolate Cake Ever, Chocolate Cherry Banana Bread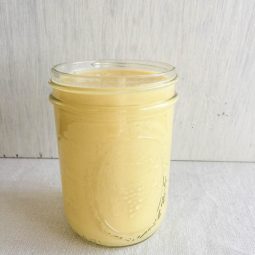 Ciao Bella Plain Gelato Base
Ingredients
2

cups

whole milk

1

cup

heavy cream

4

large egg yolks

2/3

cup

sugar
Instructions
Combine the milk and cream in a medium saucepan. Cook over medium-low heat until bubbles form around the edges, and the temperature reaches 170ºF.

Meanwhile, add the egg yolks and sugar to a deep bowl. Whisk until the yolks become thick, airy and pale yellow.

Slowly whisk in the hot milk mixture (do not rush this process, called tempering, or else your eggs will curdle). This is now your custard base.

Pour the custard back into the pot. Cook over low heat, stirring constantly with a wooden spoon, until the custard becomes just thick enough to lightly coat the back of the spoon, about 10 minutes.

Pour the custard through a sieve to strain out any bits.

Fill a very deep bowl with ice and cold water. Nestle the bowl with the custard on top, and stir to quick cool the custard. Transfer to a glass jar, and chill overnight before using as a base to make your gelato.