Apricot & Lemon Thyme Syrup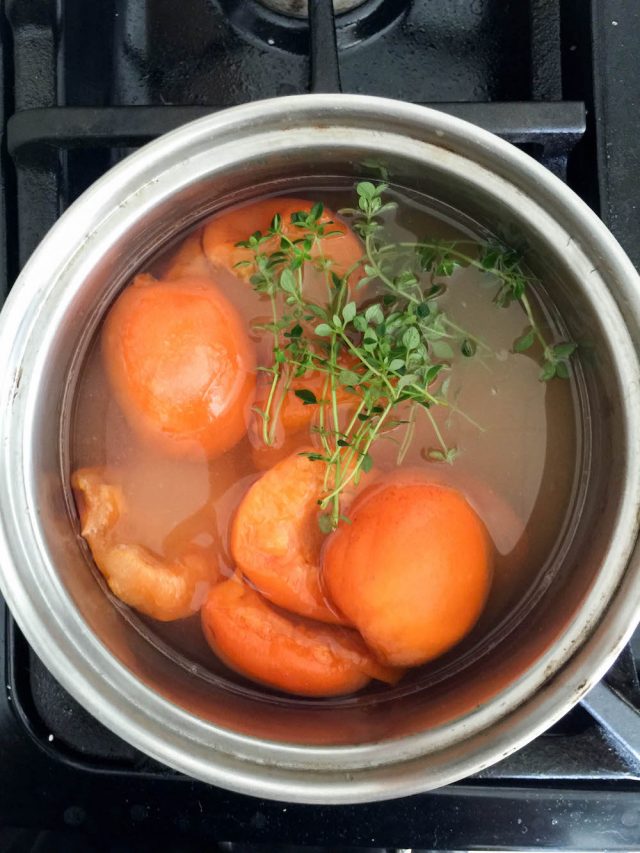 There's about to be an apricot storm here, so please forgive the flurry of posts. I've been compiling so many recipes to share, but finding the time to write lately has gotten away from me. I've been focusing a lot more time in the kitchen, and with the kids, than in this space. That's a good thing in a way, but summer seems to be moving faster than I can keep up with, and I'd be sad to miss out on sharing some recipes that have been bringing me so much joy lately. And so, here we go!
This Apricot & Lemon Thyme Syrup, which you'll see is the base for the next two recipes to come. It was a quite spur of the moment syrup, as I had been tempted by apricots I saw at the local grocery store. I must've had foresight in picking them up because, a week later, I learned my favorite farmstand lost their whole crop, so this will be the second year without local apricots. California apricots would have to satisfy any cravings this summer.
We ate a few, but not enough before they began getting too soft for any of our likings. A little simmer in a pot with sugar, water, and I added lemon thyme for a twist, and less than 10 minutes later this syrup came into my life. It makes a refreshing, and rather surprising, soda, or can be drizzled on ice cream, if you like. As for the resulting poached apricots, they're amazing in this ice cream I made a few days later (I've honestly never crushed so hard on an ice cream, and this one is no churn, too!).
This recipe is now part of my new site, Simmering. Join thousands of other subscribers now for only $5/month or $30/year (that's six months free!)
SaveSave
SaveSave
SaveSave