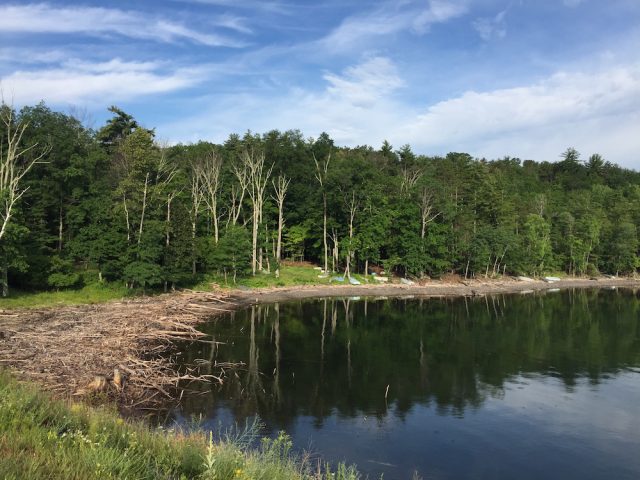 Someone recently posed the question: do you ever feel like you're living on a different planet from everyone else? All. The. Time. It occurred to me that's what grief feels like—a solo existence, apart from the rest of the world. While the saying goes "no man is an island", grief leaves you feeling stranded on one. Deciding to rebuild, starting from scratch within, is one of the biggest challenges.
I went to see Beatriz at Dinner the other night (a little spoiler, so sorry if you haven't seen it yet). The movie was nothing I expected it to be. Even the trailer doesn't allude to the fact that this is really a tome on loss. I wonder if the filmmakers even realize the impact that final scene will have on anyone who's waded the depths of such deep loss. 
As Beatriz wandered into the ocean to end her pain and suffering, tears flowed freely down my face. I left the theater with salty, sticky cheeks, feeling blindsided. A movie selling itself as part comedy had touched on something I've felt at least a few times over these past almost six years. There are days I've just wanted it to stop— the pain, the hurt that reaches so deep down into my being, a cancer within, except there are no skilled surgeons to remove the mass. It lives within you every single day.
I looked around as the movie ended and people scattered from their seats. No one else seemed to be impacted in quite this way. Did I misinterpret something, or is it because the grief was hiding in plainclothes in front of them that they didn't even notice it, or perhaps just wrote it off as Beatriz having suddenly snapped?
It was at that moment I realized I've conquered so much by just still being here. Regardless of how many mistakes I think I've made with two failed relationships and four moves in six years, I wake every day and continue to put one foot in front of the other. That has not been an easy feat, and every day that passes feels harder in a way, not easier, than some people will tell you.
Someone else who suffered a loss recently said, "I just want to hide most of the time. It's not even agonizing pain and sadness. It's just emptiness. Total emptiness. Does it pass? Will I feel again?" I told her it's a series of waves, and never goes away. Sometimes the grief feels a little less loud, like a whisper that's always there, but not so disruptive you can't go about your everyday.
My emotions have been in a rigorous tug of war game the last few weeks. There have been moments of pure peace and happiness, only to find myself suddenly sitting in my car in a pool of tears, wondering WTF to myself? How? Why now?
The answer is there's no answer. Some things just are, and that is how grief goes. Each day I wake up, surfboard in hand, hoping I've got enough energy left to keep riding the waves.
Podcast pairing: Terrible, Thanks for Asking
Music Pairing: Photograph by Ringo Starr