Cheesy Pesto & Fennel Roasted Potatoes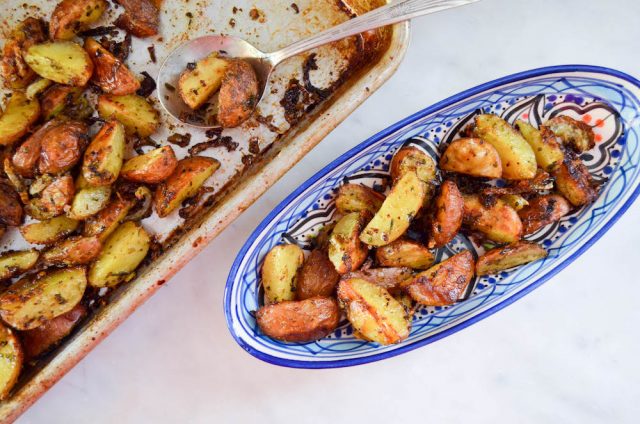 I'm chuckling a bit to myself as I write this. I'm sitting in Lagusta's Commissary, a vegan cafe in New Paltz, and there's a funny story about pesto and veganism, or cooking for vegans. A few years back, actually six, I was in New Paltz at a friend's house for Memorial Day Weekend. One of the dishes I brought that weekend was my Asparagus & Arugula Panzanella. I knew there would be a few vegan eaters there, so served the salad with the mozzarella on the side.
I also made a grilled pesto bread, and omitted the knob of butter I usually add so it would be vegan-friendly. This was long before I'd created the recipe for my vegan parmesan cheese. You see where this is going don't you?
After a few bites, the husband of this couple commented how amazing it was, and asked how I managed to make pesto vegan. I said, oh it's not a big deal, just basil, garlic, olive oil, salt, pepper, and…OH MY GOD. Yes, I fed a couple that had been vegans for decades cheese. My Italian mind had autocorrected the fact the pecorino cheese is dairy-based, hence not vegan at all.
The husband was a good sport. I think he actually loved that he had inadvertently had a taste of that sharp, salty pecorino. The wife? Oh, the look of horror that washed over her face. I'd never felt so awful, to think the food I so lovingly prepared could repulse someone so much. It was an honest mistake, and one I've never made again.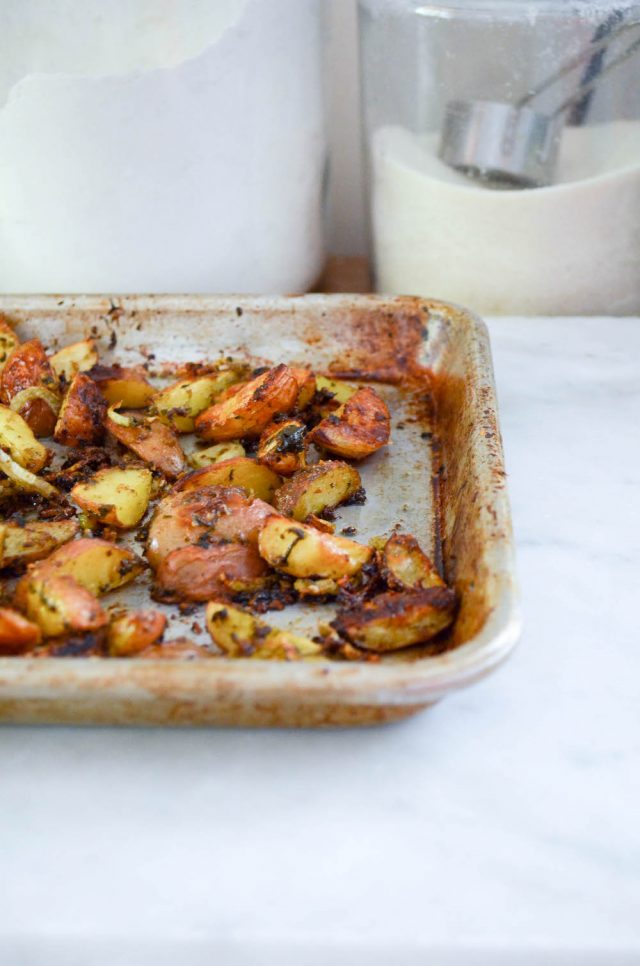 So, while I sit here, sipping my vegan Socialist Sliding Scale Breakfast Soup (really, that's the name!), it feels a full-circle of sorts to be writing about these crispy roasted potatoes, flecked with nubs of pesto. They're a result of a craving that nagged me for days. How would roasted potatoes and pesto taste together?
Certainly this isn't a revolutionary idea. Something I did that you might not expect, though, is roasting them in the toaster oven. Yes, a toaster oven. Since my kitchen is the size of shoe box, my toaster oven resides outside, on the enclosed back porch. This means I can enjoy the benefits of baking and roasting in the summer without heating the house up too much.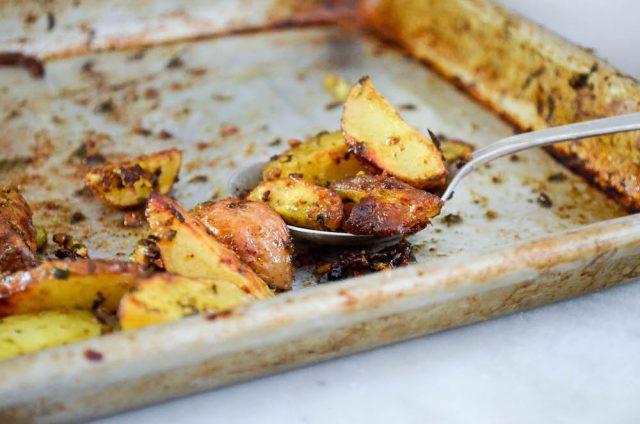 As Americans, we're so accustomed to our large, full-size ovens, but in Europe tabletop ovens are quite common. Having cooked in a few of them during my visits to Paris, I now view my toaster oven as a second, bonus oven, instead of just something to heat leftover pizza. I'll preface it isn't a rinky dinky one, but not quite a behemoth, either. KitchenAid sent it to me a few years ago to test for work, and it's been my portable oven ever since, traveling in and out of the kids' classrooms, too.
The potatoes comes together quite easily, and this is more a suggestion than a hard and fast recipe. The measurements are both slightly ambiguous, and precise (a quarter fennel bulb, and 400 grams red new potatoes). Omit the fennel if you don't have it, or don't like it. Swap in whatever potato you have on hand. As for the pesto, you can this recipe, or this one. You can even swap in my vegan parmesan for the pecorino.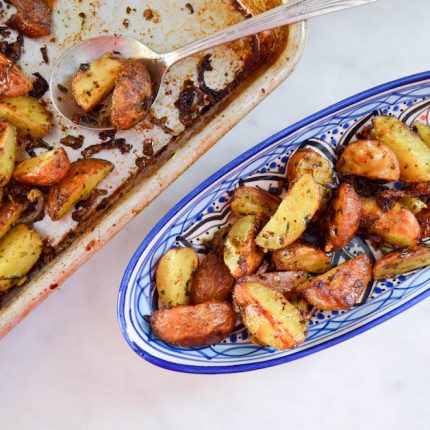 Cheesy Pesto & Fennel Roasted Potatoes
Ingredients
400

grams

red new potatoes

cut into quarters

1/4

bulb of fennel

thinly sliced

2

tablespoons

44 grams pesto

Fresh grating of Pecorino

as much as you like

Drizzle of extra virgin olive oil
Instructions
Preheat the oven to 425ºF.

Add the potatoes, fennel, pesto, cheese, and oil to a small roasting pan. Rub everything together until well coated.

Bake 35 to 40 minutes, stirring once or twice, until crispy, Serve hot.
SaveSave
SaveSave
SaveSave