Creamy Peanut Butter Pie, take two
This pie has become a symbol of love for so many, and I tend to only make it twice a year—the day he was born, and the day he passed away. Why can't I still say the word "died"? Does it speak to a bigger discussion on how we handle death in our culture? Is it something to be talked about in hushed tones? Should we be looking for the magic cure all with costly therapy bills and self-help books to muzzle the ache of our grief? Or just maybe we should give it the proverbial time, live with it, feel it, let it run its natural course until it plants roots deep inside?
I realize the latter might seem to hard to understand. Surely, I wouldn't have agreed with this theory in the days, months, and weeks after Michael's death (and yes, there was a lot of therapy, too). This summer will be six years since it happened, and it's taken almost as long to realize running from it is the wrong answer, for me at least. Grief isn't one size fits all, regardless of what anyone will have you think. There are no strategies to employ. You can write all the books you want about the experience, but the process of putting one foot in front of the other when your world seemingly falls apart is different for everyone. 
There was a thick layer of tension in the house yesterday. I'm tempted to say it was a necessary cleansing, as we near the end of our first year of homeschool. These last nine months went by faster than I could've ever imagined, and have been mostly amazing.
I think there was more at work, though, in our home yesterday. The subject of living with grief is ever present on my mind, but even more so heightened since Sheryl Sandberg's recent book came out. I've so many feelings about it, her book that is, but I'm hesitant to call her on any of them. She's too early in her own process to realize that it's a book she had no business writing less than a year after her own world fell apart. It's important to understand that's how soon she likely wrote that book, taking into consideration the production schedule of publishing.
Yesterday I happened upon some posts I wrote five years ago, just ten months after Michael's passing. Some days I feel like we've all come so far, and others are like we've been pulled right back into the moment, that moment. I know enough now to realize we bounce back, and usually stronger than before, but that time stuck in the murky in-between is almost harder than riding the constant waves of grief back in the early days. Just when you think you're in the clear, you're reminded you have to carry that weight a long time, a very long time indeed.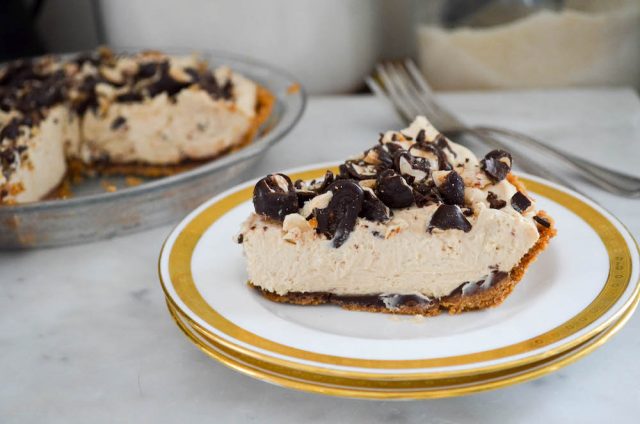 Virginia collapsed into a pile of tears at dinner. I can't ever say I understand what she feels. Her daddy, her super hero, her funny man, and favorite dance partner died when she was only three years old. I do know something similar, the hole she feels, and the emptiness you can't fill, just surround with so much love that there's something to soothe the ache it leaves within. It's days like yesterday that make parenting alone all the more challenging. I am everything rolled into one, with no one to act as a safety net at the end of the day.
By time dinner was done, we'd managed to smooth things out. I glanced at the dishes piled in the sink, then at the swing bench in the backyard. The dishes could wait, for a bit, at least. Virginia and I curled up in the swing, watching the sky transform as the last lights of day melted into the darkness of night. I looked up at the tree in our yard, and noticed for the hundredth time, perhaps thousandth, the roots jutting out of the ground. What bursts above the surface is but a glimpse of the deep roots that lie beneath, as the tree stands tall, accepting whatever fate the weather bestows upon it.
We are all trees in a way, or at least we should be—our roots firmly planted, securing us to our past, regardless of what the elements of life challenge us with daily.
The heart and soul of Mikey's peanut butter pie is the same, though I do wish he could taste this new incarnation I began making. I can't really say it's a healthier version—it still has cream cheese and whipped cream, but it is nonetheless lighter, and I think surpasses the pie I created for him back in the spring of 2008. I've done away with the refined sugars completely, and used maple syrup as a sweetener. Genius move, seriously. I'll never go back to the old recipe—the thought of that pains me a little, but the ability to move forward, to keep moving forward, is one I welcome. I know it won't always be easy, and that's okay.
Eight Years Ago: Classic Sangria
Seven Years Ago: Whole Grain Pizza
Six Years Ago: Dairy-Free Carrot Cupcakes
Five Years Ago: Crispy Chewy Walnut Cookies
Four Years Ago: Strawberry Rhubarb Crumble
Three Years Ago: Eating Our Way Through Philly
Two Years Ago: Perfect Chocolate Chip Cookies
One Year Ago: Strawberry Rhubarb Margarita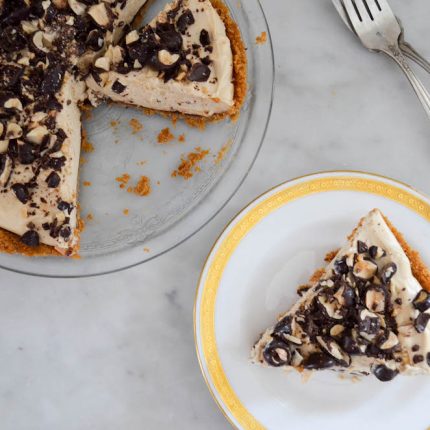 Creamy Peanut Butter Pie
This is a lightened up version of the world famous peanut butter pie I first shared back in the summer of 2011 when my husband Mikey, passed away. I've nixed the sweetened condensed milk, and swapped in maple syrup for the confectioners' sugar. If you're looking for refined sugar-free chocolate chips, I like to use the Lily's brand, sweetened with Stevia. Sometimes I also opt for a graham cracker crust, and use six 2-inch by 4-inch graham crackers instead of the chocolate cookies. The lemon juice might feel odd to add to the filling, but trust me on this—it brightens the flavors without imparting any taste of citrus.
Ingredients
14

chocolate sandwich cookies

pulses into fine crumbs

4

tablespoons

butter

melted

1/2

cup

79 grams bittersweet chocolate chips

1/2

cup

heavy cream

8

ounces

cream cheese

softened

6

tablespoons

96 grams creamy peanut butter

4 to 6

tablespoons

pure maple syrup

1

teaspoon

pure vanilla extract

1

teaspoon

freshly squeezed lemon juice

1/2

cup

70 grams dark chocolate covered peanuts, chopped
Instructions
Add the cookies to the bowl of a food processor and pulse into fine crumbs. Add them to a small bowl, along with the melted butter. Stir with a fork to mix well. Press the mixture into the bottom and up the sides of an 8-inch pie pan.

Set up a double boiler to melt the chocolate: fill a medium pot one-third of the way up with water. Set it over high heat, cover with metal or glass bowl that fits securely on top of the pot. Bring the water to a boil. Once the water comes to a boil, add the chocolate, and reduce the heat to a simmer. Give the chocolate a stir with a spatula once it begins to melt. Continue until the chocolate is completely melted. Pour over the bottom of cookie crust, and spread to the edges using an off-set spatula. Place pan in the refrigerator while you prepare the filling.

Pour the heavy cream into a bowl, and beat using a hand mixer or whisk until stiff peaks form. Transfer to a small bowl, and store in refrigerator until ready to use.

Place the cream cheese and peanut butter in a deep bowl. Beat on medium speed until light and fluffy. Add the syrup, vanilla extract, and lemon juice. Increase speed to medium and beat until all the ingredients are combined and filling is smooth.

Add 1/3 of the whipped cream to the bowl with the peanut butter mixture. Gently stir to combine. Fold in the remaining whipped cream.

Spread the filling into the prepared pie crust. Sprinkle the chopped peanuts over the top. Chill in the fridge until set, at least 4 hours, or overnight.