deep chocolate cherry cashew cookies
There is a lot that vies for my attention on a daily basis. The girls obviously take up much of that, and for good reason—they are my heart and soul. Along with the Mr., I cannot imagine my life without them.
Come 2:45pm, my professional life stands still and the focus shifts to my mom life. Picking up the girls from school and daycare. Maybe a playdate or snack at the local pastry shop. And, homework. God how I hate 1st grade homework. If your kiddies are still young, enjoy it while it lasts. Public school will suck the life out of your afternoons, evenings, and weekends if like me, you let it pile up until just before it's due.
That said, I wouldn't trade a world without Isabella and Virginia, and the craziness that motherhood has inserted into my life. There is a mom I know, that would agree with me and for good reason. Gretchen has been fighting for her son, Liam, day and night since he was diagnosed at the age of 2 with a deadly form of childhood cancer called Neuroblastoma. I met her a few months ago while attending an event for the charity she started called Cookies for Kid's Cancer.
Man, oh man, what an upbeat woman she was for all she and her family have been through. She casts a ray of hope and determination miles long. I want her to have a lifetime's worth of Mother's Day to spend with her sweet son. Want to help me? It's easy. Make a donation to Cookies for Kid's Cancer. They are now battling another relapse and working with an amazing staff of doctors at Memorial Sloan Kettering, but they need our help. They need the means to keep funding research to find the cause and a cure.
With all the media attention swirling around big corporate, I'd like to take a minute to thank one that is channeling some profits towards this good cause. Glad has partnered with Cookies for Kid's Cancer to help raise awareness and funds for research into childhood cancers. Buy a specially labeled Glad product and go online here to enter the code on the package and Glad will donate $1 to Cookies for Kid's Cancer. Glad is also looking to reward readers like you who believe helping our community can make a difference. Tell them how your family gives back through food-related activities and you just might win a "voluntourism" trip to St. Lucia.
Now you know, I'm not one to push products, but there are enough voices out there telling us what companies are doing wrong. How about we focus on the companies like Glad that are doing something right and use our hard earned dollars to support them so they can fund great causes like Cookies for Kid's Cancer. Another bonus—they're packaging is BPA-free.
We've got some wonderful sponsors who also believe in this cause and they have graciously donated some cool gifts as part of giveaway. You're eligible just by making a donation between now and Mother's Day, Sunday, May 9th. Thank you to OXO, Breville, GLAD and Gail Dosik (aka One Tough Cookie) for your generosity. Together we can all help make a difference. Giveway winners will be chosen at random and can only be shipped to addresses in the U.S. Donate between now and Sunday May 9th for a chance to win one of these great prizes.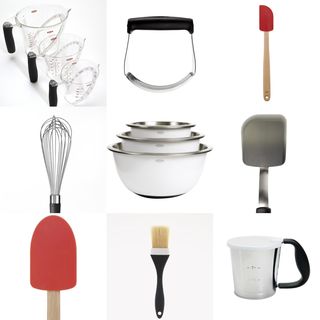 OXO has everything you need to get started on your next batch of cookies. This gift includes a 3 piece stainless steel mixing bowl set, medium cookie scoop, an 11" inch balloon whisk, flour sifter, dough blender with blades, wooden silicon spatula and spoon spatula, cookie spatula, pastry brush, 3 piece angled liquid measuring cup set, plus a set of measuring spoons and dry measuring cups. (total value of gift is $156)
The Breville Smart Oven is an 1800 watt countertop oven that does the thinking for you. Automatically adjusts the independent heating elements ensuring an exact cooking process. Nine menu functions suggest the ideal temperature and time, and the oven remembers them for the next use. Toasts evenly, makes delicious cookies, bakes perfect pizza, and roasts succulent meat. BONUS: The convection option speeds your cooking time by as much as 30%. (value $250)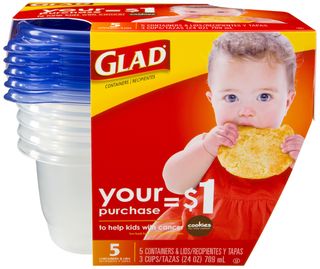 Whether you're hosting a bakesale fundraiser or bringing a homecooked meal to family and friends, don't fret over lost dishes. Pack it up in style in a BPA-free reusable GLAD container. Look for this specially marked package and GLAD will donate $1 to Cookies for Kid's Cancer. One lucky winner will get a month's supply of containers delivered to their doorstep just for making a donation.


I love Gail for many reasons—her cookies and generosity are neck in neck for 1st place. Back in December, Gail won a $100 gift certificate to 1-800-Flowers for her donation during the 12 Days of Cookies fundraiser. She's paying it forward, and has kindly donated it to this fundraiser. Next time you need a gift, think edible and give her a ring at One Tough Cookie.
Oh, and remember that fudgy chocolate cookie I tweeted about a few months ago? Well, I've been saving the recipe for this post. It is one of Isabella and Virginia's favorite cookies. I plan on baking it for them for years to come. I've got a batch ready to bake for a special person too—it could be you. A fresh-baked batch will be sent to one winner in the U.S., chosen at random, who signs up to make a monthly donation of $10 or more to Cookies for Kid's Cancer because I really do believe a cookie can make a difference.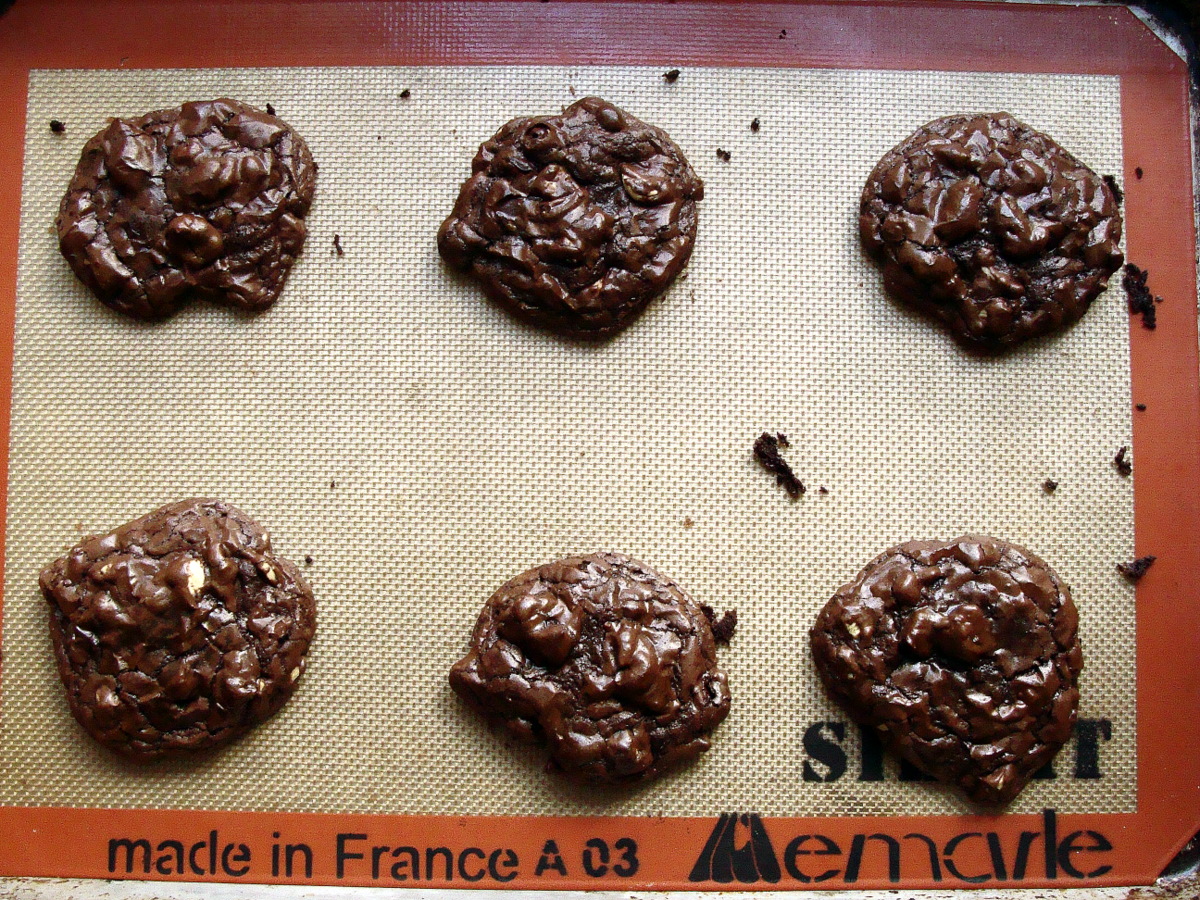 deep chocolate cherry cashew cookies
makes 18 cookies
3/4 cup (3.25 ounces) flour
1/2 cup (1.5 ounces) cocoa powder
1/2 teaspoon salt
1 teaspoon instant espresso granules
8 ounces bittersweet chocolate discs (reserve 2 ounces)
8 tablespoons butter, cut into pieces
2 large eggs
1 cup (8 ounces) sugar
1 teaspoon vanilla extract
1 cup chopped, toasted cashews
1 cup dried sour cherries
Preheat oven to 350ºF. Line 2 baking sheets with silicon liners or parchment paper, In a small bowl, whisk together the flour, cocoa powder, salt and instant espresso until combined; set aside.
Place 6 ounces of chocolate discs along with the butter in a microwave-safe bowl. Cook on HIGH for 90 seconds. Stir until smooth and chocolate is completely melted. Let cool a few minutes.
In a medium bowl, whisk the eggs and sugar together until thick and pale yellow. Whisk in the vanilla and melted chocolate-butter mixture. Using a wooden spoon, fold in the flour mixture until just combined—do not over mix. Stir in the remaining chocolate discs, cashews, and cherries.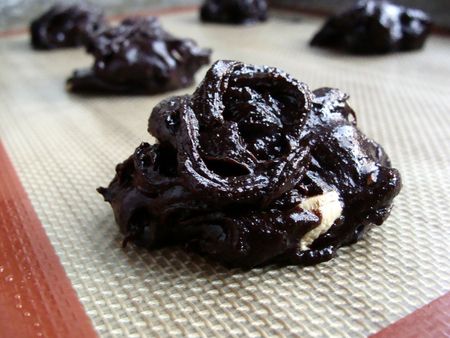 Drop by generous tablespoonfuls onto the prepared baking sheet (9 on each on each sheet). Bake one sheet at a time on the center oven rack for 14 minutes. Let cool for 2 minutes, then transfer to a rack and cool completely.