carefree cooking…and a surprise recipe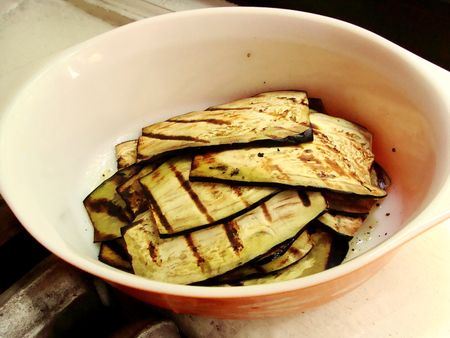 I clock more hours in the kitchen in one day than many people spend there in a whole week. It's not a surprise since I do this professionally, but sometimes I hit a breaking point and just want to enjoy cooking without writing and recording every ounce and gram. So, as I fold the myriad piles of laundry and get ready to pack for a quick trip to Yahoo's headquarters in Sunnyvale, CA—actually I should be boarding the plane right about the time this post publishes, I'm going to leave you with a few insights of what goes on behind the scenes when scales and measuring spoons are cast aside.
This week I couldn't resist some lovely roma beans from Bradley Farms. They're flat, with a taste very akin to green beans, and very popular in Italian families—though not mine that I could remember. Trying to will myself back to Venice, I decided to make a simple salad by boiling and chopping them, then tossing with thinly sliced onions, lemon juice, red wine vinegar, extra virgin oil, salt and pepper, freshly ground of course. While I prefer most vegetables on the "just-tender to the bite" side, green beans are a different story. So these roma beans got the same treatment, and honestly, most Italian-American friends' families cook them to death too. I don't care if that's not how they do them in Italy, it's how we do it here and I like them just fine. Of course, should you pick up some roma beans and prefer some bite, then certainly cook them to your tastes, not mine.
Having been inspired by a friend and my interview earlier this year with Elizabeth Karmel, I've also been relying on the grill a lot more to do the jobs I'd normally rely on the oven for, like roasted vegetables or the baked eggs you see above. I found that Calphalon pan you see at a thrift shop for $5 and it's one of my favorite pieces of cookware. I cracked in two Grazin' Angus Acres eggs, added a whisper of cream—decadent for a Monday morning, and a couple of dollops of homemade tomato jam. The lemon thyme from the garden added a fragrant finish. After preheating the grill, I turned off the center burner and let the eggs bake for about 2 minutes with the heat from the out burners circulating inside. This method is called indirect grilling, and let me just say, that breakfast was THE way to shake any case of the Monday morning blues.
The eggplant above yonder was part of an experiment: grilled lasagna. Back when I was a personal chef and cooked for clients on Weight Watchers and the Zone, I used to make a baked version of this dish. I simply substituted the pasta noodles for roasted slices of eggplant. Being the pasta addict I am, it's been ages since I've made it this way. Kim has inspired me a bit to rethink the balance of my meals. While I'll never give up carbs, I figured restraint might be a nice idea if I don't want to scare any swimmers when I need to don a bathing suit for two weeks during our vacation to North Truro next month. And, so, those grilled slices of eggplant fulfilled their destiny in the "grilled" lasagna you see below, using that indirect technique I mentioned for the eggs.
Of course I wasn't going to let a little heat kick me out of the kitchen all together, so along with the dozens of hand pies I've been baking, I also made the tough choice and decided my sole 1/2 pint of raspberries would be betrothed to some Scharffen Berger bittersweet chocolate for this variation on my biscuit muffins.
Yes, they were as good as you're imagining. I must confess I had no intention of posting a recipe today. I just wanted to give you a glimpse into my kitchen habits when I'm cooking "off the clock". Now it just seems cruel, though, to mention these muffins without sharing, so here you go.
raspberry bittersweet chocolate muffins
makes one dozen
The kids weren't thrilled with these—at first, that is. When I reached for the bittersweet chunks, I hesitated and wondered if I should use the semi-sweet knowing they might go over better. Then I decided to be selfish, and they didn't like them, their loss. The first bites were met with a scowl, but by day's end they were both begging for more. It just took a few bites for them to realize mommy was on to something good here.
2 cups (8.5 ounces/240  grams) all purpose white flour
1/4 cup (2 ounces/58 grams) granulated sugar
1 tablespoon (15 grams) baking powder
1/4 teaspoon (1 gram) baking soda
1/2 teaspoon (2 grams) coarse salt
6 tablespoons (3 ounces) cold butter, cut into 12 pieces
2 ounces bittersweet chocolate, finely chopped
1 1/4 cups (280 ml) buttermilk milk
1/2 pint fresh raspberries
2 teaspoons (10 grams) coarse sugar, optional
Preheat oven to 400ºF. Grease one 12-cup standard size muffin tin; set aside.
Add flour, granulated sugar, baking powder, baking soda and salt to a deep bowl. Whisk to combine. Add butter and using a pastry blender, or your fingers (my preferred method), blend until it forms a sandy-looking mixture. Stir in the chopped chocolate.
Pour in the buttermilk and stir, using a wooden spoon, until just mixed and there are no visible traces of flour. Gently fold in the raspberries. Spoon into the prepared muffin tins and sprinkle tops with an even amount of coarse sugar, if desired.
Bake 24 minutes, until tops are golden and a skewer inserted comes out clean. Remove from oven and let cool 15 minutes in the tin, then transfer to a wire rack to cool completely before serving.
Note: Yahoo invited me, along with some other very lovely women who are part of their Mother Board, to join in a one-day summit at their headquarters in Sunnyvale, CA. All travel arrangements, including airfare, hotel and transportation are being paid for by Yahoo.

As some of you may already know, Scharffen Berger graciously stocks my test kitchen with an abundance of chocolate. It is both a blessing and curse to have a pantry filled with all sorts of bars, chips and cocoa. Willpower doesn't always win in the battle of midnight cravings.