Fettucine with Sauteed Mushrooms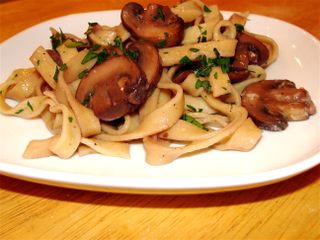 After years of Catholic school, I'm not particularly involved in any organized religion, to my mom's dismay. In fact, my mother-in-law is Jewish, and this year I'm preparing a belated Seder on Easter Sunday. At 77, she's put her cooking days behind her (and that's actually better for but all involved. Remind me to tell you the "hairy-chicken story one day). I do, however, try to refrain from eating meat on Good Friday—old habits are hard to break. Here's a delicious, easy dish if you need an idea for tonight.
The shopping list: mushrooms, garlic, parsley, butter, broth and Parmesan cheese, includes lots of ingredients you may already have on hand, and the dish is super easy to make. As for the wine, I use whatever I'm serving with dinner. The key to sautéeing mushrooms is high heat, space and patience. Mushrooms release a lot of water, so you want to keep your heat high and use a large enough skillet, otherwise they'll steam instead of getting that nice brown caramelized flavor. You also don't want to stir them too much. One or two shakes of the pan is enough to make sure they get an even golden color.



What really elevates this dish from ordinary to extraordinary is homemade pasta. I've found my pasta dough comes out much better using room temperature eggs. If you forget to take them out ahead of time, let the sit, uncracked, in a bowl of warm water for a few minutes to take out the chill.
Fettucine with Sautéed Mushrooms
There's lots to love about this dish but the best part is it adapts to whatever mushrooms you like, or can find locally. I've used cremini, white button, and oyster—all with delicious success.
Serves 4
1 recipe basic egg pasta
2 tablespoons extra-virgin olive oil
2 cups sliced mushrooms (see headnote)
1 large clove garlic, chopped
Salt and freshly ground pepper, to taste
1 cup chicken or vegetable stock
½ cup red wine
2 tablespoons butter
2 tablespoons fresh chopped parsley
Freshly grated Parmesan cheese, to taste
Prepare pasta and set aside. Bring a large pot of water to a boil.
Meanwhile, heat oil in a large skillet over high heat. Add the mushrooms and let them cook, undisturbed for a few minutes. Sprinkle the garlic on top. Toss after another two or three minutes, once the mushrooms are golden. Season with salt and pepper to taste. Continue cooking until the mushrooms are caramelized all over, about another five minutes
Stir in the stock and red wine. Bring to a boil. Reduce to a simmer and cook until the sauce is reduced by half, about 10 minutes. Add the butter and cheese and stir well. Keep warm over low heat.
Add pasta to the boiling water and cook until al dente. Drain and add to sauce in skillet. Toss to coat, sprinkle with parsley and serve immediately.