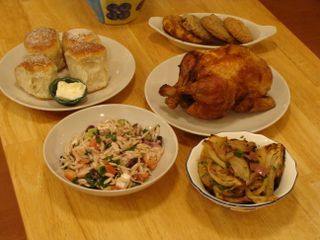 I came across this amazing dinner deal by accident. I trekked the kiddies down to Cobblestone Foods on Court Street to get a shortcut ingredient for dinner: rotisserie chicken. I could've gone to the much closer GourmetFresh but figured since I was saving some prep time, then it was worth the walk for a better-tasting and quality bird.
I entered intending to buy just the chicken and stir fry it with the rice noodles, mushrooms and bell peppers stowed away under the stroller. Honest folks. I have the dated receipt as proof. Then my eyes glanced to the sign "Dinner Special $19.99 whole chicken, 2 sides and 4 cookies" (I added on those dinner rolls pictured above). The rotisserie chicken alone costs about $10-$12 and I knew there'd be leftover for stir-fry another night. I'd also be able to use the carcass for soup. The extra $10 started seeming very worth it since it was already 5pm and the minions would soon needs baths and bedtime. I chose roasted fennel with red onions and a Greek orzo saald for the sides. Chocolate chip, oatmeal raisin and snickerdoodles made the cut for dessert.



The chicken was some of the best rotisserie ever. The skin was crisp even after a reheat in the oven and the salt and pepper seasoning was just right. I found out the store buys its chicken from Los Paisanos Meat Market one block over on Smith Street, so my purchase supported two local stores too.
IRP ate more chicken than usual (both drumsticks, wings and a thigh!) so there wasn't enough left for tacos after me and the Mr. ate, but we do have left over fennel which I'm going to toss in the soup pot with the bones. I was so pleased that I picked up another dinner after tap class two days ago. This time I took a cue from Julia Moskin's meal in this week's New York Time's Dining In Section. I tore some of the chicken into pieces and tossed it with chili-flecked broccoli rabe (one of the sides I chose that night), cooked spaghetti, Manuatella Parmesan Butter and freshly ground pepper.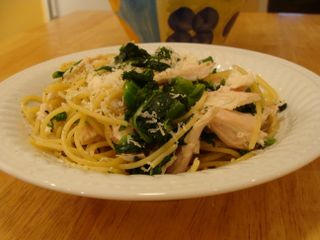 Tacos were on the menu the last night with the remaining chicken.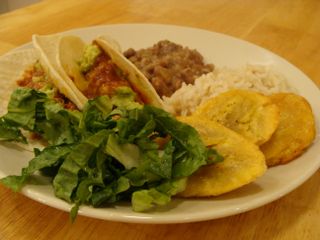 Tonight I'm using up the broccoli rabe and roasted brussel sprouts—the other side I chose, to serve with something off the grill (shopping to be done after picking up IRP from school soon). I swapped dinner rolls for cookies on my second visit. We didn't eat them that night, so now they await their turn to become homemade breacrummbs. That's a lot of meal power for less than $20 bucks, right? I'll post a recipe for the tacos next week, but the pasta dish is so easy you can really make it sans recipe. I'm already thinking about what I'll do with next week's leftovers.