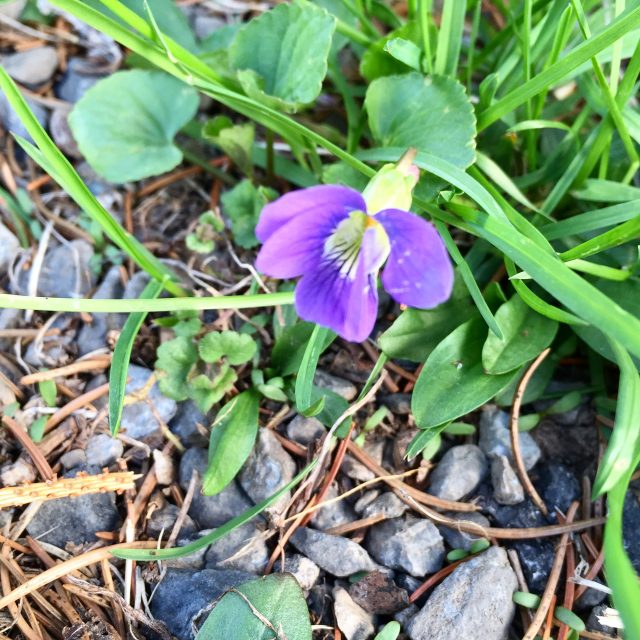 Violets seem a little magical to me. Just a few days ago I looked around the yard, and there was no sign of them, though I knew it would be soon. Then I came home yesterday, glanced down, and low and behold, little purple buds peppered the landscape. A thick patch right outside the back porch door. Another cluster in the back of the yard, behind the garage. And yet more on the field next door which my neighbor graciously lets me and the girls use as our own.
I promptly told the kids which areas were off limits, lest they stomp all over my precious bounty. The buds are almost ready, and I figure by Saturday morning they should be perfect for picking. We have a small window before heading to school for the annual Book Fair. The girls have been bugging me about the secret theme (I know what it is), but it's a secret for a reason. They'll have to wait until the grand unveiling on Saturday. If you find yourself up near Woodstock, come join us at Woodstock Day School for some merriment, a bouncy castle, face painting, and a celebration for our love of books. Twenty percent of all book sales will benefit the school libary (plus, you'll get to help support The Golden Notebook, a local bookstore in town).
With my thoughts of violets, my mind wanders to what weekends will look like as the growing season wakes up from its winter slumber. It'll be a balancing act of taking time to enjoy the little victories from my garden (blueberries, raspberries, and lots of fresh herbs), visiting my favorite farmstands here in the Hudson Valley, and getting familiar with the farmers' markets in the D.C. metro area since we'll soon be starting a new chapter in North Bethesda, MD.
Yes, we're on the go again. But this time rather than running away from fears, I'm facing them head on. I'm taking the chance that I'm strong enough to do this all over again. I know the rules—someone has to go first, but I also know the benefits. And with one swift motion of my pen, I have a new lease on life.
***
Video Pairing: It's All Happening
Homemade Violet Syrup from Use Real Butter
My two cents on making violet syrup.
Flower Power: Cooking with Violets from The Telegraph.
Violet Jelly from Healthy Green Kitchen.
Desperately Seeking Spring from Iris Weaver.
Raspberry & Violet Tarts from Chocolate & Zucchini.
Make you your own candied violets! from Use Real Butter