radish & cucumber crostini + spicy peanut noodles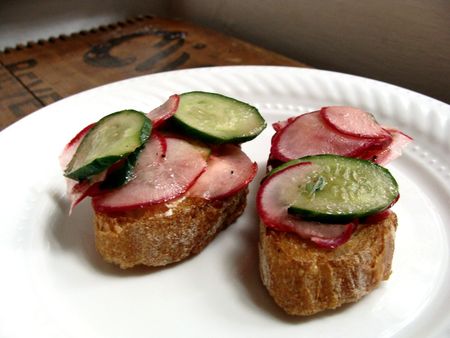 Years ago, the Mr. worked with someone whose mother used to send him off with a home-packed lunch. Being an Italian-American guy, I wasn't surprised he still lived with his mother into his mid-to late twenties. Frankly, hearing she prepared his lunch every day wasn't a shocker either—us Italian mamas have trouble letting go.
What did make me raise an eyebrow was when he mentioned mama packed the bread separate from the meat so it didn't get soggy. Honestly, it was a brilliant idea, and I must confess I now use that trick when packing roadtrip lunches for my own family. There are sometimes, though, when you want your bread to soak up some flavors.
Soggy, no.
Drenched in juices, yes.
Slathering bread with butter and topping it with radishes is not a new phenomenon, though it is pretty trendy these days. The creamy, saltiness of the butter compliments the peppery, crisp bite of paper-thin radish slices. On a recent visit to the farmers' market, I decided to get creative and add some thinly-sliced cucumbers.
As I contemplated the taste in my mind, I decided this afternoon snack needed one more thing to bring the flavors together. It needed some acidity, and a squeeze of fresh lemon played pinch hitter to marry the creamy, peppery and refreshing characteristics of each ingredient.
If I still worked an office job, this would be the kind of lunch I'd pack for myself, all the components packed separately of course, since really all the bread needs is a few minutes to soak up the dressing. Though I imagine a crisp Reisling wouldn't taste quite the same from an insulated thermos.
I must admit I was very surprised when Isabella asked to give it a taste—the crostini, not the wine silly. As expected she didn't like it, but she was curious enough to try it, and that's what's important. She knows I respect her right to have an opinion about what she eats, as long it's based on taste and not simply appearance.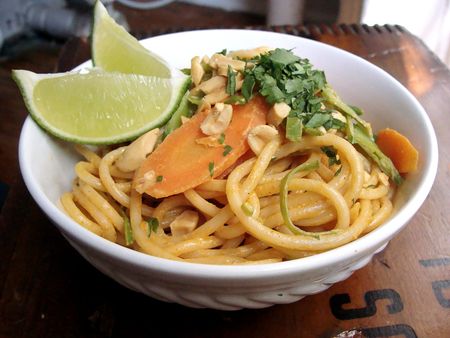 One dish she does like, and it packs very well, are these spicy peanut noodles featured on my Relish blog. The also stow away nicely in her new Laptop Lunches bento-box kit. Next month I'll be posting a recipe there for Trick or Treat Trail Mix—sure to be a favorite at home and school well past Halloween.
p.s. I started a new giveaway series, Mystery Cookbook Mondays, exclusive to the In Jennie's Kitchen Facebook fan page, so go take a peek here for the details.
radish & cucumber crostini
serves 2 to 4
If I were making this for a party, then pulling out the mandoline would've been worth the effort, Instead, I found a hand-held vegetable nicely shaved thin slivers of radish and a sharp pairing knife was all I needed to prepare the cucumber.
Freshly squeezed juice of half a lemon
1 teaspoon extra virgin olive oil
Sea salt and freshly ground pepper, to taste
drizzle of honey
4 radishes, cleaned & sliced paper thin
1 small seedless cucumber, thinly sliced
Eight 1/2-inch thick slices of baguette, toasted
In a small bowl, whisk together the lemon juice, olive oil, salt, pepper and honey until well combined. Add the radish and cucumber slices and toss to coat. Let sit for a few minutes so the flavors can marinate.
Meanwhile, spread a thin layer of butter on one side of each toasted baguette slice. Arrange pieces on a serving plate. Using tongs, top each buttered side with an even amount of the radish-cucumber mixture. Pour the juices over the crostini and let stand 1 minute before serving.
Note: Laptop Lunches sent me a free kit through Working Mother magazine. Isabella has been using it for two weeks now, and is easily able to open the kit and individual containers inside too.