cheddar & dried basil waffles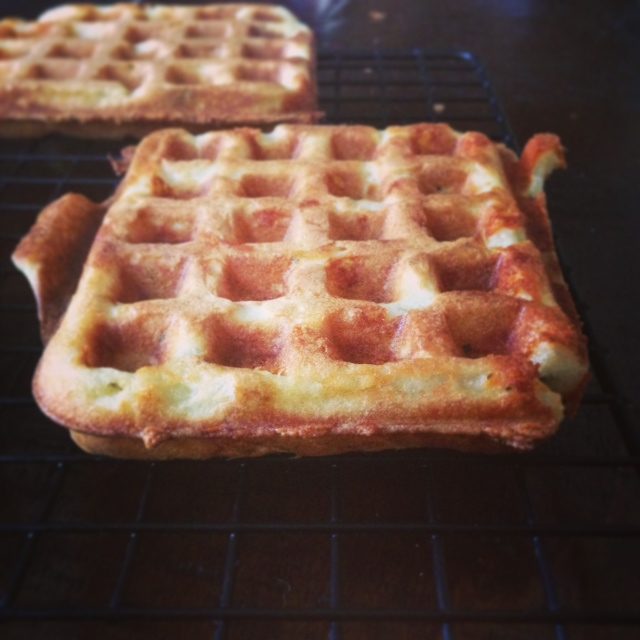 To say I've been feeling overwhelmed would be a severe understatement. It's just been one of those weeks where all that I'm responsible for in my life is apparent. Back to school routines have been like a jolt of caffeine to my schedule. I certainly welcome the undisturbed work time while the girls are in school, but that morning crunch of getting two kids ready and out the door by 8:20am has tipped the balance of calm at my core. Back to school was yet another reminder that I'm alone in this job as a parent. I may be used to it, in terms of the delicate dance, but my heart is just not into being a single mother. I don't think it ever will be, truthfully.
It's not about wishing there was someone else there to help lighten the load. It's about wishing there was someone there to remind me I'm doing an okay job. It's the longing to share a funny story about something one of the girls did, like when Virginia told me she wished she had a enough money in her piggy bank to buy a new mommy while we were in the middle of a very comprehensive room clean-up. Sure, that post got a lot of laughs on Facebook, but it just isn't the same. It never will be, and I know it's something I have to work through on my own. No one can give me a magic remedy to resolve these feelings.
The house is not helping my worries either. I'm sitting here with knots in my stomach, wondering what the flea situation will be like when I arrive there tomorrow. I can only hope all my effort last week has had a lasting effect. I left the house on Sunday, and it seemed to be flea-free. I keep telling myself not to stress, but I'm not very good at taking my own advice. I've been doing deep breaths all week, reminiscent of preparing for childbirth.
In a way, I guess the last two years have been a gestation, of sorts. I'm simply not the same person I was before August 7th, 2011. That makes sense, and yet it is a constant struggle to face. Most of me remains familiar to myself, but there's this one little mess of wires at the core that I'm trying to untangle. I seem confident on the outside, but that's mostly to try and convince myself that I can do this, this thing called life and all the wonder that comes with it. I want so much to believe I can do it, and not just fake it until I make it. I'm working on it, and this week made a little headway as to where the deep-seated issue lies. Now it's time to figure out how I can dispel the notion from my mind. It's time to be my own cheerleader, so I'm going to dig deep and find those proverbial pom poms.

Cheddar & Dried Basil Waffles
makes 12 four-inch square waffles
music pairing: Under Pressure by David Bowie
My friend Catherine McCord's new cookbook, Weelicious Lunches, came in the mail this week, just in time to help ease a little of my back to school anxieties. I love knowing my daughters have a healthy, yummy homemade lunch at school, but I will never, ever, love packing lunch (sorry to break any illusions of perfection here folks). I always admire Catherine's photos on Instagram of her kids' lunches, and secretly wish she lived next door to pack one for me.
As a total aside, imagine how much easier it would be to provide healthier, affordable school lunches if schools went to a 100% vegetarian menu. Non-animal protein sources are not only healthier, but less expensive. Okay, I'll step off my soapbox for now.
The recipe for these cheddar cheese waffles was inspired by Catherine's recipe for Cheesy Waffles (on page 91 of Weelicious Lunches). I'm quite late to the savory waffle game, and fear the weight gain that will follow now that I've discovered their addictive quality. I'm not kidding. I wolfed down two in less that five minutes (not my proudest moment). I made my own version using my All-Purpose Baking Mix from Homemade with Love, and opted for a mild cheddar cheese because that's what Isabella likes. Virginia discovered American cheese this summer, and is completely rebelling against cheddar now, so I knew she wasn't going to like these. Whatever, she'll come around. Besides, she loves nibbling on wedges of Grana Padano, so all is okay in this Italian mama's world.
As a former PB&J devotee in my elementary school years, I especially love Catherine's take on all the different ways you can enjoy this delicious duo. I can't thank her enough for giving me the kick in the pants I needed to not dread the 500+ lunches I'll have to pack this year. You can buy her book here!
Why dried basil? I gave an explanation for this with the recipe over at Simple Scratch Cooking, along with ideas for some swap-ins to make it your own. Go take a peek at the post to read more.
1 1/2 cups (215 grams) All-Purpose Baking Mix
1 teaspoon dried basil (watch this video to make your own!)
1 1/2 cups (122 grams) shredded cheddar cheese
1 cup (250 ml) buttermilk
2 large eggs, beaten
2 tablespoons (30 ml) grapeseed oil
In a medium bowl, combine the baking mix, dried basil and cheddar cheese. Stir with a fork until just combined.
In a clean, separate medium bowl, beat the buttermilk, eggs, and oil with a fork until well mixed. Pour over the dry mixture, and stir until just combined, and there are no visible traces of flour.
Let the batter sit for 5 minutes.
Meanwhile, preheat your waffle iron, making sure to grease it if it is not nonstick. Scoop batter onto each waffle mold, filling it by two thirds. The amount of batter you will need depends on the size and type of your waffle iron. Close the waffle maker and cook the waffles according to the manufacturer's directions. Serve hot.