Ring of Fire | Thankful Thursdays 10.13.2016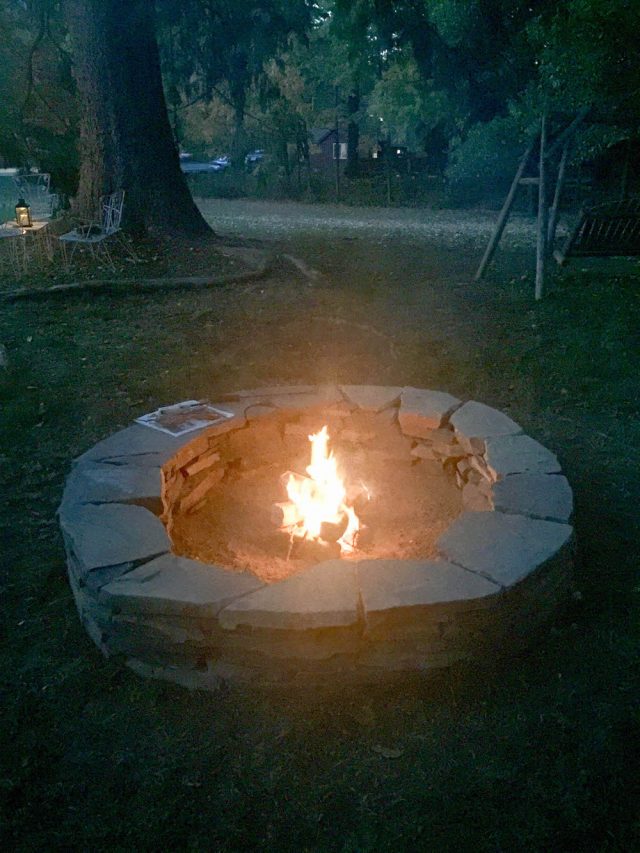 It occurred to me while setting out to write today's post that next month marks one year of writing my Thankful Thursdays series. Many weeks it's been more sharing what's on my mind, a virtual therapist of sorts. While I veered a bit from the original intent, I'm so happy to have stuck with this weekly post.
When I first set out to write these posts, I was a bit nervous. Could, or rather would I, be able to keep the commitment to myself? With the exception of a week or two missed, I have, and that feels like something for which to be thankful. And all of you have read my words with open minds, and caring encouragement on the weeks when it was so apparent that my body was playing the game of life, but my heart wasn't in it. As November approaches, I wonder if I should keep this going. It's something I'll continue to ponder.
A couple of weeks ago, I asked a neighbor who's known for his stone work about building us a firepit. The one I bought from Lowe's two years ago bottomed-out. Like, the bottom rusted out, and embers collapsed onto the ground below it. Thank heavens I'm neurotic about making sure our fires are out before going in for the night.
As I researched a bit more, it turns out most of those firepits aren't made for longevity. The metal is too thin, and can't withstand the heat from the flames, even though this particular model came with a grate to place the wood on. Rather than spend another $100 on something that would only last a year or two, I asked Mikey what it would cost to build one for us. Yes, Mikey. My neighbor's name is Mikey. Kind of crazy, right?
He's a kind soul, and lives a pretty rough and tumble life, somewhat to his own choosing. His cottage sits on 20+ acres that he wants to sell, and use the money for retirement one day. Until then, Mikey lives in a cottage without electricity or running water. He uses a wood burning stove to heat the cottage, and heats water on it to take some sort of modified shower. An old friend who lives nearby invites him over often for meals.
I'm in awe when Mikey talks to me about this. His feeling is since it's just him, he can do it. He never met the right person to build a life together, or as he puts it, his insecurities about himself wouldn't allow him to. When the temperatures dipped earlier this week, as I covered my herbs and plants with sheets to protect them from the first frost, I wondered how he fared that night.
My bell rang around 7:00am, and I knew it would be him. He wanted to do a little more work on the fire pit, and I told him it was fine to stop by early since I'm awake from 5:30am. The cold air slapped me in the face the moment I opened the door. Mikey asked for some hot water for his thermos. I'd already put the kettle on.
I invited him inside, and offered to toast an English muffin since I was already preparing some for the girls. we chatted in the kitchen, me clad in yoga pants, fuzzy slippers, and wrapped in an old lady sweater, as I packed their lunches, and got ready to drive them to their weekly mobile classroom in Hudson, NY. Mikey seemed grateful for the conversation, but really it's I who have so much to be thankful for in getting to know Mikey a little more this week.
We're all carrying around scars, regardless of who can see them. And we all figure out how to get by, day after day. The candor with which he talks about his life is refreshing in this sanitized Instagram world. It reminds me of what my Mikey used to say about me on our first date. I sat across from him at Albuquerque Eats on Park Avenue South 21 years ago, a 21 year old girl who'd already weathered a lot in life, and spoke about it all very matter of factly. For me, they were the facts of my life. Mikey told me he admired the strength that glowed from me on that first date, and how I seemed unshaken, and optimistic regardless of it all.
This Sunday will be our 12th wedding anniversary. I will miss him, as I do every single day. But, I will also curl up with our girls around our new fire pit, looking at the stones that had once been a pile of nothing, and were sculpted into something that now brings me so much joy. To some it might just be a firepit, but not me. My little firepit is a reminder to keep on building the pieces back up, regardless of how many times life knocks them down.
Music Pairing: Ring of Fire by Johnny Cash