Thankful Thursdays | Cape Cod 2016
You know me. I said I wasn't sure I'd write my Thankful Thursdays this week. And yet here I am, sitting at the dining table, clicking away at the keyboard. I'm a bit out of sorts here on the Cape this year. It's so interesting that just as both my girls found their stride being here again, now I'm the one feeling unsettled.
Am I trying too hard to recreate footsteps with shoes that no longer fit? Did I overstay my welcome, transforming the happy memories into sadness with each year spent without Michael here to bask in the sunshine, and catch hermit crabs at low tide? Or is the melancholy overshadowing my trip this year fueled by the knowledge that it may be our last, at least in the house we've come to know as our home away from home, due to circumstances out of my control.
The family we rent from owns the cottage we stay in (#9), and another diagonally behind us. When we arrived I saw a for sale sign on #7. I don't know what this means for the fate of the cottage we rent. There are a few other particulars involved that have me wondering if our little cottage will be available to us next year.
So, I've spent part of my time doing exactly what I shouldn't—recalling the past, which is stopping me from living in the present. Isabella took her first steps here 12 years ago. She never did the cruising thing so many children do. Our Bella was content to crawl until she was 14 months old. Michael worried, but I knew better. She was waiting, mastering it all with her observations, working out the mechanics in her mind. And then one August day, she stood up, ever so slowly, almost like that scene in the Karate Kid where Ralph Macchio prepares for the crane move, and she was gone. Off and running, down the hallway, giggling with triumph.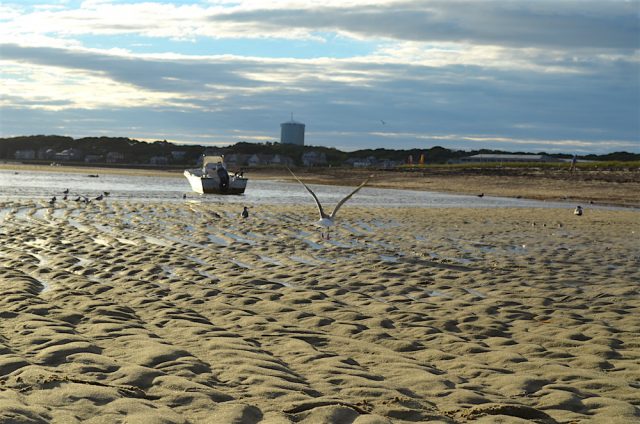 That's just one of thousands of memories weaved into the walls of the house we've rented the last 13 years. For all the change we've experienced the last five years, this house here on the Cape has been our constant.
It wasn't always a place of solace for Isabella. The first couple of years, the memories were salt in the wounds for her, not a salve, reminding her of what she would never have again. Last year I saw glimmers of her being happy here again. This year her love for this place is back again, full force.
So, we shall see what happens next year. Just not right now. For these next nine days I really am going to try my best to enjoy the moment since I have no idea what tomorrow, let alone next year holds for us.