Grilled Mediterranean Pizza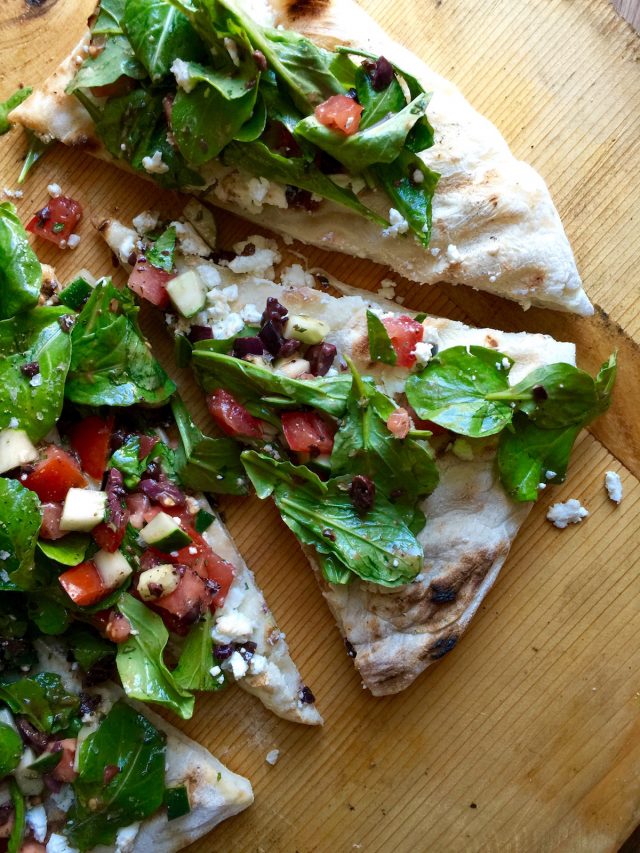 Tuesdays after a long, holiday weekend are tough going, right? After a leisurely few days, it's back to business a usual. For me, today also signals my first day back in an office in 9 years. I've been working this solitary freelance life for so long. It's had some amazing perks, mainly the ability to be the kind of mom I wanted to be when my kids were young. Working from home, and for myself, has meant that motherhood and my career didn't have to compete with each other. Both could be equally important.
Of course, it came with its own set of challenges. I never really seem to take a day off. Even on the weekends, I squeeze in a couple of hours of work. But I do love what I do, so I'm not complaining—only sharing a reality of my work life. Also, I miss being a part of something bigger than myself.
About three weeks before I moved from Maryland, a work opportunity came about for a company based in Bethesda. I did a little homework; read up what I could about the business. I even went to the farmers' market to sample their product to make sure it felt aligned with my own tastes. I didn't hear anything at first, and then a friend of a friend connected the dots between me and the owner. I found myself in my car, on a call with her, while waiting for Virginia to get out of school. We hit it off instantly, and that vibe carried over to our face to face meeting a few days later. So, for the next few weeks, if you follow me on social media (here, here, and here), you'll see me going back and forth between Bethesda and New York as we begin working together.
If you bought the spring issue of City Girl, Country Kitchen, then this pizza might look familiar. It's a variation of the recipe in there, but this time I adapted it to fit with my summer cooking habits. Instead of baking the crust, I fired up the BBQ, and grilled it. I swapped in some baby arugula from the farmstand, instead of romaine hearts from the original recipe. Use it what you have on hand—baby spinach, mixed greens, even kale would work well. I'm thinking of adding some fennel from my garden next time, too. It was such a serendipitous moment to have all my worlds happily collide as I worked on this recipe. I hope you love it as much as I do.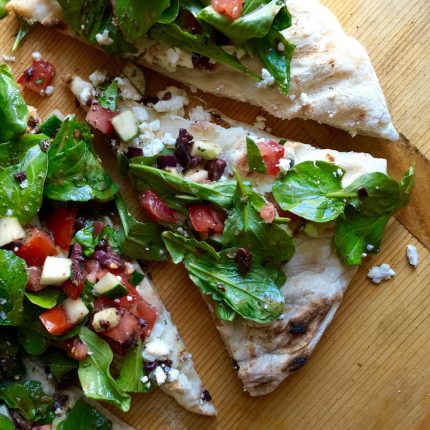 Grilled Mediterranean Pizza
Ingredients
Olive oil

to grease the grill

2

cups

of arugula

1/4

cup

pitted kalamata or niçoise olives

chopped

1

small beefsteak tomato

diced

1/2

cucumber

diced

8

mint leaves

chopped

2

stalks fresh Greek oregano

leaves chopped (compost stems)

2

tablespoons

vinaigrette dressing

Flour

for rolling out the dough

1

pound

of pizza dough

divided (recipe is here)

3

ounces

feta cheese
Instructions
Wipe the grates of your grill with a bit of olive oil. Just enough so the pizza won't stick. Preheat the grill.

Meanwhile, prepare the salad topping. Add the arugula, olives, tomato, cucumber, mint leaves, and oregano to a deep bowl. Spoon in the dressing, and toss until well coated.

Prepare the dough for the grill. Sprinkle some flour on a board or counter. Take one half of the dough, and roll it out into a ¼-inch thick rectangle, sprinkling additional flour on the dough and board, only as needed. Repeat with the remaining piece of dough.

Use a pizza peel or the back of a sheet pan to slide the dough onto the grill. Cook until slightly charred underneath, 3 to 4 minutes. Using metal tongs, turn the dough over, and cook on the other side until slightly charred. Remove from the grill.

Sprinkle an even amount of feta cheese over each crust. Divide the salad, scattering it on top of the crust. Cut into slices, as desired, and serve immediately.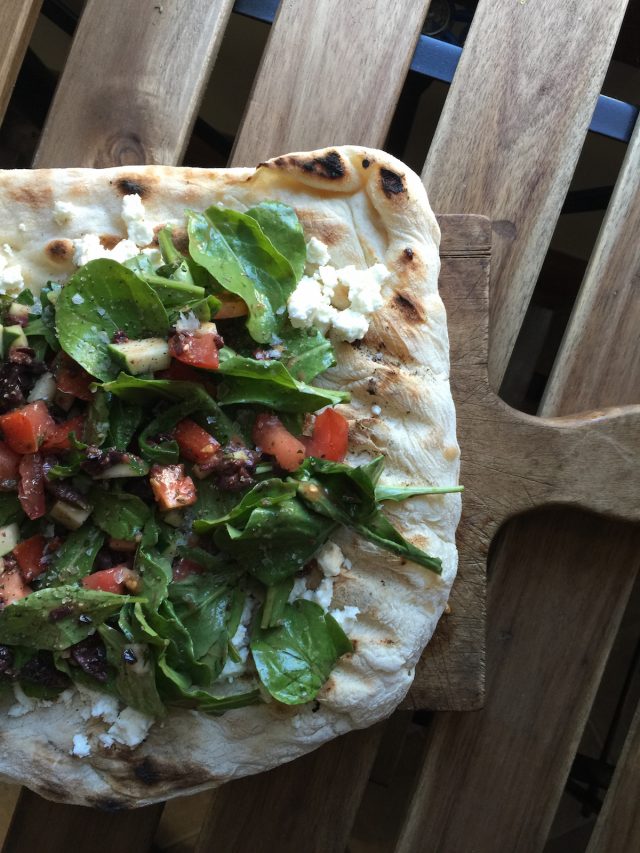 SaveSave
SaveSaveSaveSave