homemade pasta + 10-minute bolognese sauce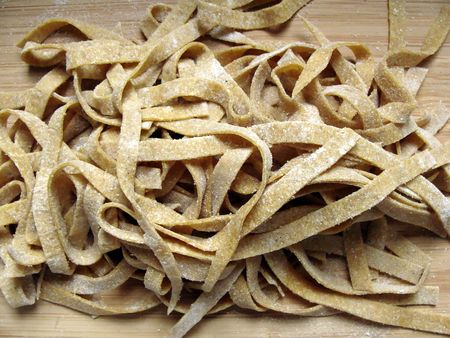 By now most of you know I'm a big supporter of local farmers' markets. It's where I do most of my shopping, including buying eggs, beef, chicken, pork and an assortment of in season fruit and vegetables. A couple of weeks ago, someone asked me on twitter how to know which produce was organic. It was a great question and one I hadn't really considered myself until a year ago.
Before the tomato blight hit us in the northeast last year, it never occurred to me that those small family farms would use anything but organic farming methods, even if they can't keep up with the paperwork or application fees required by the USDA to attain the official title of organic. Then I read an article about the blight. In it the owner of one of my favorite farm stands was quoted as saying he'd be using pesticides to treat his tomatoes.
I understand this from an economics point of view. Tomatoes are a huge crop for many of these local farms, and the prospect of losing an entire season of them could put some families in the poorhouse. Still, I couldn't bring myself to buy one tomato from that stand last year. And gosh, I can tell you from seasons past, those tomatoes were so good.
After asking around, it seemed most farmers were spraying and not using an organic method to combat the blight. Luckily, I was able to find someone at the Carroll Gardens' market who clearly labeled which crops were pesticide-free. Tomatoes, yes. Berries, no. Now one can argue that once any part of the land has been sprayed it will seep into the surrounding soil, that is very true. And one of the reasons the USDA requires such extensive record keeping. Before certifying any farm organic, a three-year history of what went into the soil is among the list of necessary paperwork.
And this isn't just about produce. It affects the meat you buy too. Take cattle, for instance. Even if the cows are grazing on grass and not stuck in a feedlot, what about the fallen apples they may be munching on? Have they been sprayed? What kind of feed are they given in the cold winter months, when grass isn't available? Dan and his family at Grazin' Angus Acres spends a good deal of the late summer gathering hay to support their cattle during the long, cold winters of upstate New York.
I've been wanting to write a post about this for some time, but as you can see from the length already, making the choice of what to buy isn't an answer I, or anyone else, can easily give you. It all depends on your comfort level. And, unfortunately much of that comfort level is determined by each individual budget. So, the best advice I can give is to say do your research.
And then take a deep breath. Trust me, once you scratch the surface it can be overwhelming. I have found myself almost paralyzed in the supermarket with guilt and hopelessness. Then I remind myself, food is supposed to provide comfort and good memories. I think about the positive changes I can make for my family, the environment, and my local agriculture.
Another guide I use in making some produce decisions on organic vs. non-organic is the Environmental Working Group's (EWG) Shopper's Guide to Pesticides. Did you know this year celery ranks #1 as the worst crop in terms of pesticide use? I'm adding that to my list of only buy organic.
So, there you have it. Like most everything else in life, you should enter the farmers' market or supermarket, knowledge in hand, and make the decision that is right for you. Maybe one day, our government will change the way subsidies are dolled out, in turn making decisions that are better for all of us.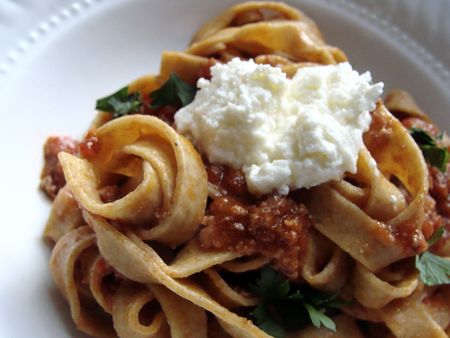 Until then, here's a very satisfying, easy homemade pasta. And that chunky bolognese sauce you see on top is the quickest recipe you'll ever make. All you need is marinara sauce—a pantry must, and some cooked meatballs. And you know my weakness for homemade ricotta. It's all about accentuating the positive!
homemade whole grain pasta
makes about 10 ounces uncooked pasta, enough for 4 to 6 people
I start my pasta dough off in a deep metal bowl, and I'm not issuing any apologies. If you've mastered doing it straight on the countertop without having any runaway egg, then kudos and feel free to adapt using your current technique. I acquired my manual pasta machine from the Mr. when we met 15 years ago. I'm not sure he ever made pasta, but nowadays it gets a workout at least once a week.
8.5 ounces half white flour
2 large eggs, at room temperature
1 large egg yolk, at room temperature
1/2 teaspoon salt
Add the flour to a deep glass or metal bowl. Using a spoon, make a "well" in the center of the flour, leaving a thin layer of flour at the bottom of it. Add the eggs, egg yolk and salt. Using a fork, stir the mixture, starting at the outer edge of the flour, until it forms a wet dough. All the flour will not be incorporated, and that's just fine.
Scoop the dough out of the bowl and place on a clean counter. Pour the remaining flour into a strainer and shake over the pasta dough. Disard any large bits. Knead the dough, working in as much of the remaining flour, until it becomes smooth, but not dry. Cover dough with a slightly damp kitchen towel and let rest 20 to 30 minutes.
Divide dough into 4 equal pieces. Roll into thin sheets according to the directions on your pasta machine. Can be used to make sheets of lasagna, ravioli, fettucine—you name it really.
10-minute Bolognese
Serves 4 to 6
Normally Bolognese sauce takes about an hour to allow the meat to soak up the sauce and get nice and tender. Using cooked meatballs gives you the same rich flavor, leaving you an extra 50 minutes to spend quality time with the kids.
2 teaspoons extra virgin olive oil
4 leftover cooked meatballs (about 6.5 ounces), crumbled
about 1/4 cup dry red wine
2 cups prepared marinara sauce
8 ounces fettucine or linguine, prepared al dente according to package directions
Freshly grated Parmesan cheese or ricotta, to taste
Heat the olive oil in a skillet over medium heat. Add the crumbled meatballs and saute for two minutes. Add the wine and bring to a boil. Add the marinara sauce and reduce heat to a simmer. Let cook for 10 minutes, until meat is tender. Serve over hot, cooked pasta. Top with freshly grated Parmesan cheese or ricotta, if desired.
SaveSave