I've been having a very hard time lately watching my girls grow up. While kind-hearted and good-natured are strong personality traits, I'm also a pretty tough cookie, and am usually exceptionally good at plowing along and not letting things get to me.
Then I became a mommy.
Trust me there are no awards for patience racking up around here. I often wince at the mere thought of a whine. My general rule of thumb is if it's not bleeding, then buck up.
But lately—I just find myself feeling melancholy at the thought of having to one day say goodbye. Sure not forever, but I'm guessing they'd be horrified if I packed up a winnebago and camped out in front of their college campus for four years.
The calendar I keep on my desk has stood still at May 11th. Silly as it sounds, my subconscious is willing time to stand still.
No, this blog has not become a soap opera. My girls have not suddenly aged ten years overnight. But I'm a planner, and I guess I'm trying to prepare my heart for the day they go off and live their own lives. A time when their sleepy faces will no longer greet me in the morning. A time when my smile and kisses will not be their last before their heads hit the pillow.
I know this is one event I cannot plan. My memories will have to suffice and get me through every day after they embark on their own untethered lives.
Being in this state of mind, you can imagine my reaction to Toy Story 3. I'm pretty sure the tears started five minutes into the film. They subsided for the most part and then came back like someone opened the floodgates at the end.
But some of those tears were a little selfish. They were not just for the girls. They were for me, and corny as it sounds, they were tears of joy. Sometimes I think I'm the worst mommy because playing pretend is not my strong suit. Honestly, sitting around dressed up with a bunch of bears and bunnies to a tea party requires a degree of imagination I often feel lacking.
Without giving away any spoilers, there came a point at the end of the movie that the figurative light went off. My sense of imagination and play did not dither and die with childhood. Becoming a mother and adult has not whittled away my sense of adventure or fun.
It just transformed and grew with me.
It lives inside me everyday I am in the kitchen.
Being a professional recipe developer is the ultimate form of imagination-based play, except I also get to be a real magician. I make my recipes come to life.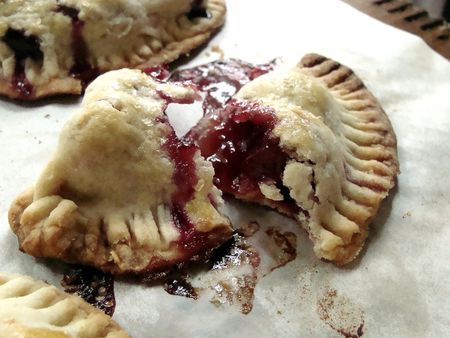 And those recipes create memories that will last my lifetime and beyond. They are edible heirlooms and literary breadcrumbs I'm scattering along the way so my girls will always know how to find their way home.
sweet cherry pie pockets
makes 16 individual serving pies or two 6-inch free form tarts
When I went to the farmers' market a few weeks ago, my intentions were to make a cherry pie. I remembered making an excellent one last year, that had just the right amount of starch to keep the center from oozing out all of the place. Since I hadn't written the recipe down, and wasn't in the mood to have all my pitted cherries be for naught, I decided upon these hand pies. The bonus is they made for a fun, homemade treat to pack in Isabella's lunch for a few days until they were all gone.
sweet butter pastry crust
8 ounces all purpose flour
8 teaspoons (40 grams) granulated sugar
1 teaspoon (5 grams) kosher salt
4 ounces cold butter, cut into 16 pieces
4 to 6 tablespoons ice cold water
cherry filling
14 ounces sweet bing cherries, pitted (should yield about 2 cups)
1/4 cup (2 ounces) granulated sugar
1 tablespoon (15 grams) all purpose flour
pinch of salt
1 egg, beaten with a bit of water
coarse sugar for sprinkling, optional
To prepare the dough, add the flour, sugar and salt to the bowl of a food processor. Pulse to combine. Add the butter and pulse until it forms a sandy crumb. Starting with 4 tablespoons, sprinkle the water over the flour-butter mixture and pulse until it forms a ball, about 45 seconds to 1 minute. Add another tablespoon or two of water if necessary. Dump onto an unfloured counter and form into a flat disc. Wrap in plastic or waxed paper and let chill until firm, but still pliable, about 1 hour (you can quick chill it in the freezer for 20 minutes too, which is what I tend to do while pitting the cherries).
Preheat oven to 400ºF. Line two rimmed baking sheets with parchment paper.
For the filling, combine the cherries, sugar and all purpose flour and salt. Stir to mix well and set aside.
On a lightly floured surface, roll the dough out to 1/8 to 1/16-inch thick. Cut out 5-inch circles. It's okay to re-roll the scraps until all the dough is used up. Place cut circles on the prepared baking sheets (do not forget to place on parchment before forming pockets or they will be too delicate to transfer). Spoon 1 to 1 1/2 teaspoons of filling into the center of each circle, fold over, making sure the filling is not spilling out the edges, and crimp the edges with a fork. Pierce tops with the tines of a fork to create steam vents.
Brush tops with egg wash and sprinkle with coarse sugar, if using. Bake for 15 minutes, until golden. Let sit on sheets for 2 minutes, then transfer to a wire cooling rack. Serve warm or at room temperature.

Note (added 7/11/10):
After hearing about Amy's experience making these, I thought I'd add a note about making the dough. Pie crusts are one of those miracles, almost. Really it just takes patience and a close eye. One second it seems as though those crumbles will never make dough, and the next, voila, you've got a ball gathered at the bottom of your food processor.

Heat and humidity, two things we've been experiencing a lot of lately here in NYC, where Amy and I both live, also greatly affects baking and how flour absorbs the water. If after adding the full amount of liquid, you still haven't achieved a ball of dough, it's okay to use your judgement and add more one teaspoon at a time. It sounds like a small amount but makes a huge difference. Same goes for adding too much liquid, so it's always better to start off with the lesser amount, otherwise you will throw off all the dry proportions if you try to add more flour.